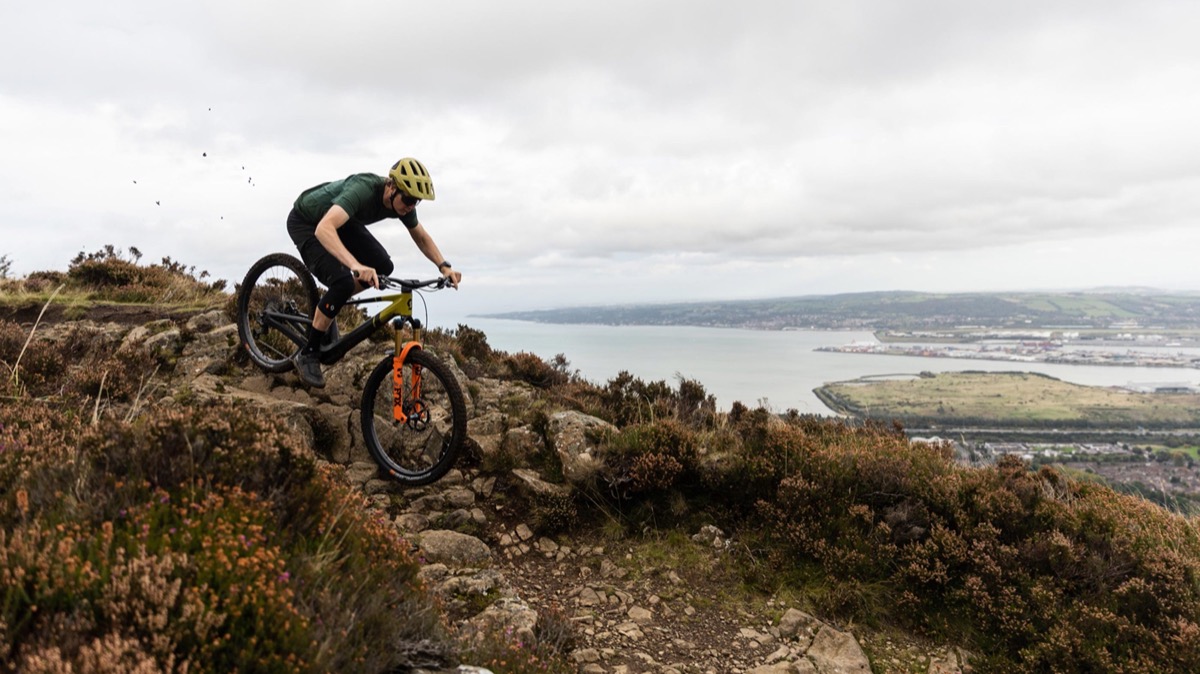 Videos
IRELAND - Chasing Trail Ep. 37
---
On the Westernmost front of Europe is Ireland, an island relatively unknown for what's on offer to visiting MTB'ers.
Well, let me tell you, after my trip, I've discovered it has a little bit of everything. Whether you like flowy trails, jump lines or technical descents - you'll find it here.

I had 5 days to explore the trail networks and enjoy the Irish hospitality. Our trip started early as we took the boat from Scotland and arrived in Belfast harbour early afternoon. My first riding spot would be straight off the boat at Cave Hill, nestled in the grounds of a castle overlooking Belfast Harbour; it was the perfect opportunity to stretch the legs after a morning's travel.

We climbed up through greenery and emerged out of the forest with views of the city of Belfast and the Irish Sea. The trails here were well shaped and feature rich, this was perfect for a shakedown and an afternoon's explore - every trail was hand built, natural and weaved its way through luscious green ferns under a dense canopy.

We were staying that night in Belfast and went out to get a feel for the city. After sampling the goods of one of the breweries, we headed home as it was an early rise to head south. Passing by Dublin, our next stop would be Glencullen Adventure Park which I'd say is Ireland's premier bike park. After a stacked Irish Breakfast bap, we'd spend the day using their shuttle system of minibus and trailer. Here, there's a trail for everyone, from fun and flowy blue lines to orange jump lines full of gaps and drops to black-graded natural and technical trails. The quick turnaround of shuttles meant it was easy to get in multiple laps of each and find all the right lines.
The furthest point South we'd travel to would be Ballinastoe. Sitting just below Wicklow Mountain, the landscape was utterly breathtaking. It really felt like you were in the middle of nowhere, yet I was riding purpose-built mountain bike trails. Ballinastoe had seen a huge investment in trail building with two new blacks running from the highest point on the hill - one a built flow line and the other a natural technical line that towards the bottom had some perfectly shaped berms that had you grinning from ear to ear. Nearest to the car park and cafe were their new blue trails that effortlessly flowed thanks to the humongous berms with rollers in between.

After a big day's riding, I stopped off at what was dubbed as a MTB'ers 'must visit', Round Wood Stores. Here, I found freshly baked cakes, coffee, lunch options and local Irish provisions. It's worth a stop before and or after your ride to stock up. From now on, the road trip would begin heading North again and the next stop would be Dublin's closest Mountain Bike trail centre of Ticknock. We chose to start early to try and catch the sun rising over the city and upon reaching the top, it emerged out of the clouds and the light was beautiful.

The trails here were contrasting to what we'd ridden over the last few days. There were large sections of machine-built berms and jumps with man-made rock gardens. The hard packed surfaces ensured their longevity and capability to welcome riders of all abilities year round. I surprised myself on these, they flowed so well and if you looked in the right places there were some gaps to be found. What struck me is that having a network of varied levels of trail, complimented with facilities like car parking and a café, so close to the city is a great way to encourage MTB'ing within the local community.

After our early start, we headed down to the city and spent the afternoon exploring it. Visiting the renowned Guinness Storehouse, we discovered that the water used to brew comes from the very mountains we'd been riding over the last few days. On the top floor of the tour, and included in your ticket, was a pint at the panoramic bar. Sip, sit back and enjoy the outlook of the city. On a clear day like we had, you can look on to the Ticknock trails!

Our final destination would be an hour and half north of Dublin. Arriving late, we reached the renowned riding location of Rostrevor. With our accommodation just outside of the village, East Coast Adventure Centre put us in touch with World Cup rider Chris Cumming who kindly showed us around. Thanks to him, we rode hand built single track that carved its way down through the forest and with perfect dirt conditions, it felt like paradise. After a morning on natural trails, we'd spend the afternoon riding marked flow trails with jumps and berms before moving on to technical downhills. We finished up, after a full day of riding, and headed back to harbour to catch the last boat out of Belfast.

For this trip, I took my SCOTT Genius Super Trail Tuned. Equipped with Fox's 36 Grip 2 Fork and Float X Nude, it handled everything and was a great balance between efficiency for climbing and enjoyment on the descents thanks to the TracLock system.

How would I sum up my time in Ireland? Well, after visiting all 5 locations, I rode 5 very different styles of trail, each unique to the landscapes they were set in, and it allowed me to discover some of the culture and hospitality on offer. All I can say is, I'll be back!