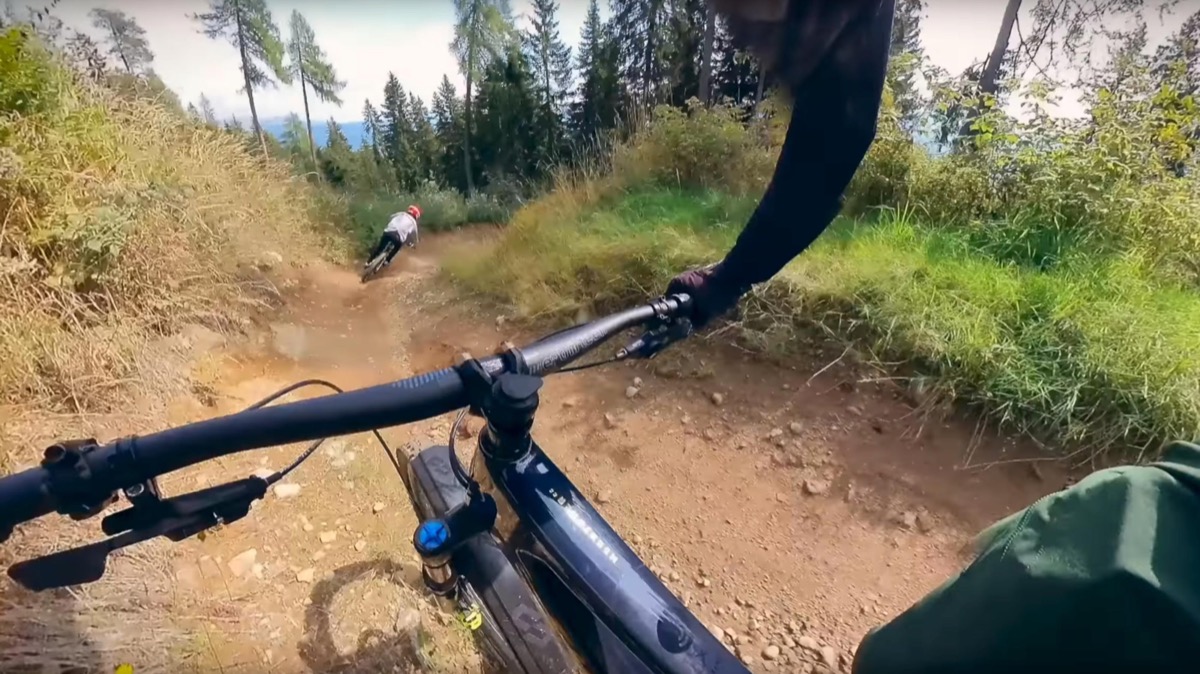 Videos
Gabriel Wibmer shows Jasper Jauch his Osttirol homeland
---
Bike parks Lienz and Großglockner Resort in Osttirol are still considered relatively unknown, a place where you can go blow off some steam on your mountain bike without many people around.
With the help and support of "tour guide" and local hero Gabriel Wibmer, who knows the mountains like the back of his hand, Germany's best-known mountain bike YouTubers, former downhill ace Jasper Jauch and shred buddy Oreo, go take a closer look at the gorgeous mountains and trails the region has to offer.




In the short Q&A, the two review their trip:

Two days shredding together and being able to spend time in the mountains, how was that?

Gabriel: That was really mega cool! Above all, I was able to convince Jasper that Osttirol has a lot to offer. That is also clear in the video! I think he saluted the Osttirol total experience: Mega Bikeparks, the mountain panorama, and also that the Bikepark Lienz ends more or less in the city.

Jasper: It Was a great honor for me! Gabriel has a very large fan base, and to go riding with him by myself was definitely on my bucket list. I was also very curious to see what he could do. In the bike park, as a former World Cup racer, I can still keep up. But when it came to the tricks, I had to swallow hard. I'm too old for that. But it was mega cool to check out his home trails and see where such young talented riders come from.

What was the most exciting part for you?

Gabriel: Definitely the lower section of the Gornerwald Trail, especially because it was still raining heavily when we got into the gondola. The first section up to the middle station was still relatively relaxed - but it's not as difficult as the lower part. Really family-friendly and perfect for warming up. Below it is a technical trail, which is quite challenging even without rain. Jasper, who is also a really good mountain biker, and I challenged each other a bit, and both went directly all-in despite adverse conditions. That was really good and pretty fun.

Jasper: For me, the Bikepark Lienz with pizza and a jump into the lake at the end of the day was definitely the highlight. I think the combination of a bike park, pizza, and a dip in the lake can attract any MTB rider. Especially my dog, which I had with me at the start. He also very much liked sitting at the vantage point with a good view of the lake.

Gabriel, you know Osttirol inside out. Do you have a favorite trail?

Gabriel: It's hard to say because I think all the trails are really great. But if I were spoiled for choice, I would choose the Flow Family Trail in the Bikepark Lienz. As the name suggests, it's a super flowy trail that puts you in a good mood. You can ride the trail in any condition and especially with everyone. It has a few tough jumps in store, but they can all be comfortably ridden around. The constant panorama is really hard to beat, and you have gigantic views - no matter where you are. Plus, the trail ends right in the city. That's great if you want to go out for a bite to eat after biking. You don't have that at many bike parks.

Jasper, you have now gotten to know Osttirol. What makes the bike region so special?

Jasper: I think that Osttirol is characterized by the absolutely stunning panoramas. After all, there are 266 three-thousand-meter peaks. The Lienz Dolomites are always in view at Bikepark Lienz. Not to forget, of course, the awesome trails!

Could you imagine working as a bike guide someday? Or was that an exclusive pleasure for Jasper?

Gabriel: Phew! In a few years for sure, but right now, there are so many other projects on my list that definitely take priority. It's definitely mega fun to share your passions with people who feel the same way, and I think in a few years we could talk about it again, but until then, this was exclusive to Jasper.