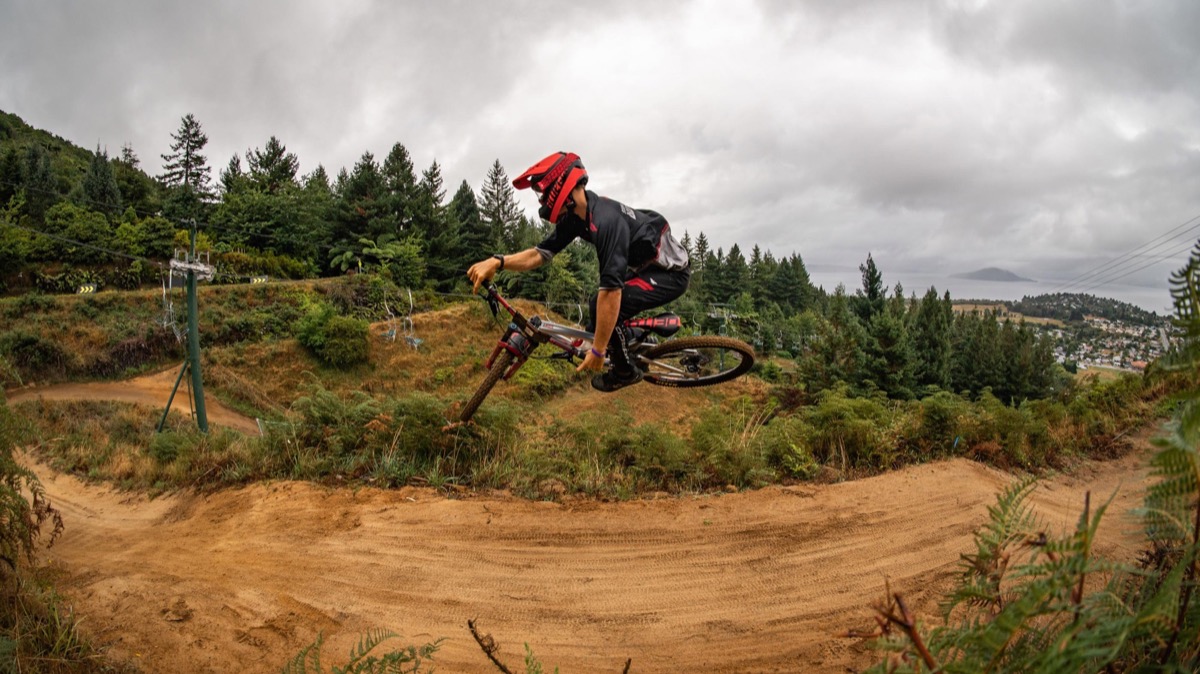 Videos
Crankworx Rotorua will have live broadcast of DH race.
---
Full March schedule released, and athlete registration now open, for first stop of 2023 Crankworx World Tour.
The Crankworx World Tour is getting ready to kick off 2023 mountain bike competition season in New Zealand, March 18-26. The Rotorua festival is going back to its roots with its return to the March slot in the calendar, while also breaking new ground with some exciting changes coming in DH.

For the first time, Crankworx will be bringing fans live coverage of DH racing on Red Bull TV from the famed Whakarewarewa and Tītokorangi forests. The RockShox Taniwha Downhill will see top downhillers get loose on, what's been described as, the OG DH track in New Zealand, known for high speed, high risk, and high adrenaline racing.

Not only will the DH kickstart Crankworx Rotorua 2023, but the event, and the festival overall, will launch the international mountain bike competition season. This is a role that Rotorua played for six years, before shifting to November during the pandemic-affected years. From 2015 to 2020, Crankworx Rotorua was the place for mountain bike family reunions, where pro riders would line up at the start gate to race against their international peers for the first time each season. In 2023, the season kickoff energy and excitement return to Rotorua.

"Having Crankworx as the kickstart of the season is always epic," says Jenna Hastings. The young rider dominated in DH in 2022, and says she's keen to push for Queen of Crankworx points in 2023. "Seeing all the pros come into my hometown and use it as the start to their season is always amazing to watch, and now being able to be a part of that and use it as the start of my season…it's going to be epic."

Athlete registration is now open for pros and amateurs. Loris Vergier (FRA), Neko Mullaly (USA), and Red Bull's Kade Edwards (GBR) are the first out of the gate to confirm their attendance. It will be the first time the French downhiller has competed at Crankworx Rotorua since 2015, and the first time, full stop, for Edwards and Mullaly.

Details and registration for pros and amateurs for Air DH, Dual Slalom and DH, and for the Pump Track for CWNEXT racers can be found here: crankworx.com/athletes/locations/rotorua/

In addition to athlete reg, the full schedule for all pro events has now been released: crankworx.com/rotorua/schedule/

This includes (events marked with an * will be live on Red Bull TV):

RockShox Taniwha Downhill*
Official New Zealand Whip Off Championships
Specialized Dual Slalom Rotorua*
Crankworx Rotorua Air DH (back in the mix!)
Crankworx Rotorua Pump Track Challenge presented by Torpedo7*
Speed & Style Rotorua*
Maxxis Slopestyle in Memory of McGazza*

For those looking to snag tickets, festival passes are available here: crankworx.com/rotorua/passes/

The Riders
Jenna Hastings (Rotorua local, 7x Crankworx pro podiums, Junior DH World Champion):
"[My goals in 2023 are to] do my best and have fun…I want to try and do some, if not all, of the Speed & Style events this year and hopefully rack up some more points. I want to do all the stops this year and try to podium in the Queen of Crankworx standings. But the main goal is to have fun, and these events make it really easy to have fun."

"I've come from a full blown grom, and managed to turn myself into one of the people I used to look up to... hahaha. My first years at Crankworx I was a mega fan girl, I had a white shirt that I absolutely covered in signatures of all my heroes that I was soooo proud of, so to now be doing things like signing kids shirts, it's a weird one for sure. It's pretty cool though, to see myself start as a little kid racing Crankworx events and now I'm racing the Crankworx World Tour. I also think for a lot of up-and-coming kids, to be able to see someone from their hometown/country do what they want to do, I think it's cool for them to see it and realise that they can do it too."

Erik Fedko (2nd place in 2022 Crankworx FMBA Slopestyle World Championship standings, 7x Crankworx Slopestyle podiums):
"I'm feeling good. I've been riding loads. I've been in Spain the past couple weeks, and more riding's coming up, so I'm feeling super good and ready for the upcoming season. With a start in Rotorua, it should be super good. The course should be ready and should be ridden in. I'm looking forward to a good time."

"For sure, as always, having fun is one of my biggest goals, see all the boys and ride with them. But obviously I want to win a Crankworx stop once in my life. So, my goal for 2023 is a Crankworx win, in at least one contest. That would be sick. I'm motivated. I'm hyped. But I know the other riders are super strong as well, and training hard. So I'm just going to try my best and see where I end up."

"This year the course was brand new. Some features we couldn't really train on. So now, knowing what the course will be looking like, I have some other tricks in mind, especially after riding it a couple months ago. I have some more ideas of what I could do on that course. So, I'm gonna prepare some new tricks, and get back into it in Rotorua."

"I'm looking forward to being there [in Rotorua] a couple weeks earlier. Go surfing with some of the other boys in Mount Manganui, maybe Queenstown for a week, just enjoying New Zealand. And super hyped to go sledging again. It was so fun in Rotorua. I can't wait. Looking forward to the season, 2023."

Next up, watch for the full preliminary rider lists for Rotorua, set to be released four weeks from now.

The good times, they are a rolling, friends.