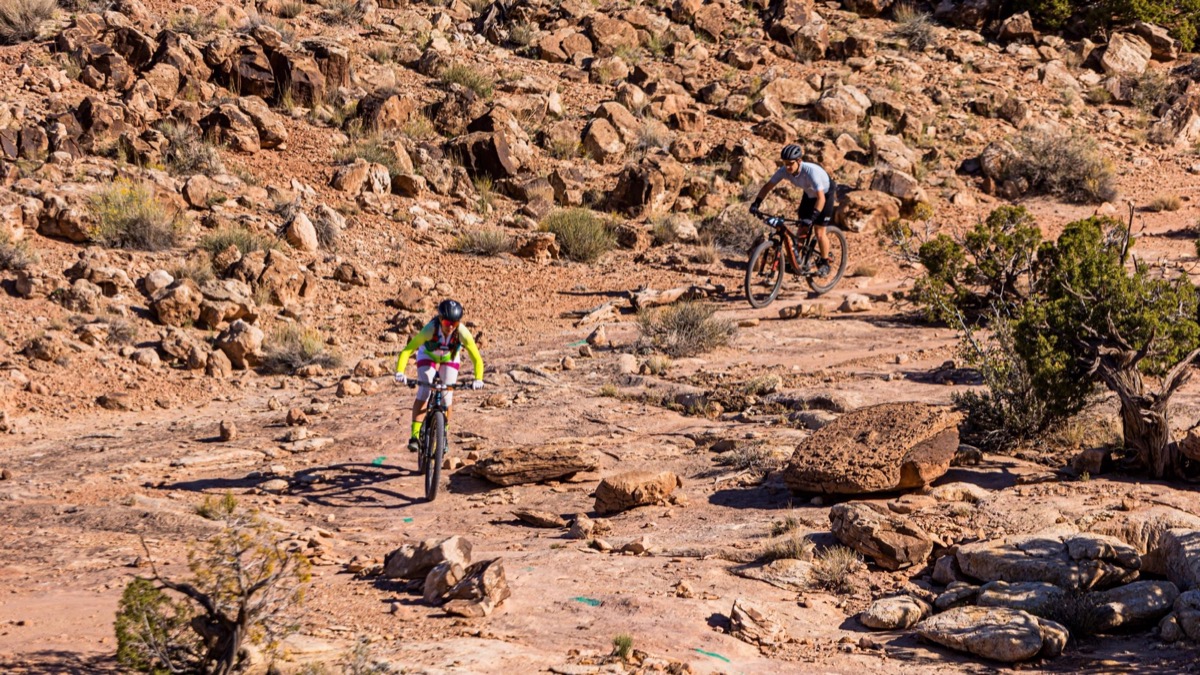 Articles
Transrockies: Moab Rocks stage 2: Klondike Bluffs.
---
Moab Rocks - Stage 2 - Klondike Bluffs Today's stage was a bit of a chilly one to start. The sun was hiding behind the clouds and the wind had a cold bite. But that didn't stop the racers, they were out in full force as the pack headed out to take on Klondike Bluffs.

Stage 2 was another long day in the saddle for all of the riders at 26 mi (42km) and 2650 feet (800 m) of climbing. Once off the dirt road starting the race, the riders were out on this classic route. The slickrock sections can be bumpy, but much of the trail is fast and flowing singletrack, and there are very few sections that can't be ridden. The climbs aren't very big, but they tend to be bumpy and much slower than you might expect, so keeping a good, fast flow can be difficult.

The top riders rode today's course at their usual blur of a pace, with the top 3 racers coming in just under 2 hours. In first place was Geoff Kabush at 1:53:23, in second was Bradyn Lange at 1:54:08, and third went to Stephan Davoust at 1:54:12. The top women all had amazingly fast times too, with Katerina Nash taking the top spot with a time of 2:12:56, in second was Jennifer Gersbach at 2:17:51, and third went to Karen Jarchow at 2:23:28. The rest of the categories all their top rider times in and around these as well.
Tomorrow brings the final and deciding stage (Mag 7) for a lot of the GC riders in each categories, and the stage is not slouch at 28.5 mi (46km) and 2550 ft (775m) of climbing. We are sure to see some great action with some amazing views!