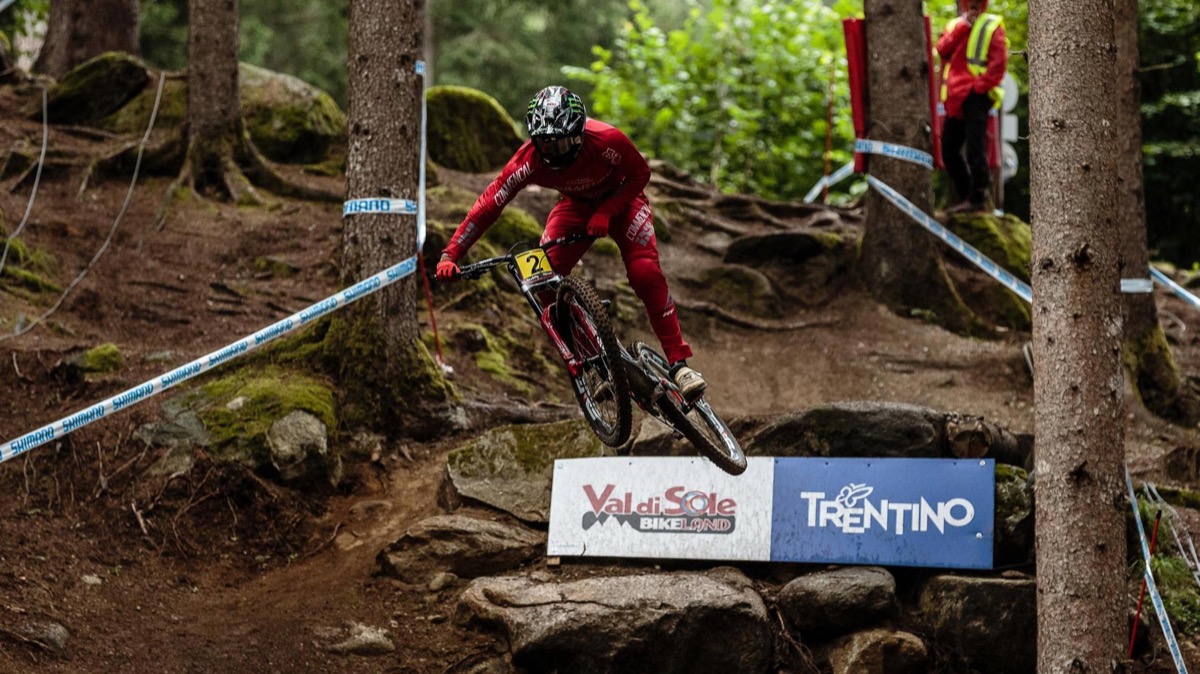 Articles
The MTB World Cup comes down to the wire in Val di Sole
---
From September 2nd to 4th, Daolasa di Commezzadura will host the Grand Finale of one of the most unpredictable editions of the Mountain Bike World Cup, as most of the general classifications will come down to the final round in Trentino.
Uncertain and balanced, these are the words to sum up a spectacular 2022 UCI MTB World Cup season, one that saw the feats of the usual suspects as much as the emergence of new faces at the highest level of the sport. It is no coincidence that, compared to recent years, most of the overall World Cup verdicts will come down to the final round, from September 2nd to 4th in Daolasa di Commezzadura, Val di Sole.
That's the case for Cross Country, where a new three-year cycle has started towards the Paris 2024 games, as well as in Downhill. That's cycling these days: fiercer competition and small details that ultimately make a difference.
SHORT TRACK: DOWN TO THE HATHERLY-COLOMBO CLASH

In the Short Track discipline, Swiss Alessandra Keller only needs fifth place to be sure to clinch the Women's title, holding back Dutch Anne Terpstra. Among Men, instead, South African Alan Hatherly and the Swiss Filippo Colombo are separated by a mere 62 points.
Friday's Short Track will also put up for grabs valuable points for the Cross Country World Cup, and will determine the starting grid for the Elite XCO races, which will close the finals program in Val di Sole on Sunday, September 4th.

CROSS COUNTRY: THREE CROWNS STILL TO BE CLAIMED

In the Cross Country discipline, the Elite Men's classification is still open: World Champion Nino Schurter holds the lead with 1483 points but must watch out for Spaniard David Valero (1358), Italian Luca Braidot (1343) and South African Alan Hatherly (1320). Things are even more interested among Elite Women, with three athletes gathered in just 88 points: Anne Terpstra (1590), Rebecca McConnell (1526) and Alessandra Keller (1502).

With 330 points up for grabs between Short Track and Cross Country, the finals in Val di Sole could give rise to major overturns in the rankings. In the Elite Men's category, in particular, the successes of Braidot and Valero in the summer World Cup events have considerably thinned the lead of ten-time world champion Schurter.

In the U23 categories, Chilean Martin Vidaurre has his crown already assured, while overall fourth-placed Simone Avondetto will have a chance to showcase his new rainbow jersey in front of the home fans.

In the women's category, World Champion Line Burquier will be called to hold back the comeback of Swiss Noelle Buri, who sits 105 points behind. Italian Sara Cortinovis will have to defend her third place from the assault of Dutch Puck Pieterse, fourth.

DOWNHILL: PIERRON TWO STEPS FROM GLORY, HÖLL HOPES FOR A FINAL LEAP

Three classifications out of four are still to be assigned also in the Downhill discipline. Canadian Jackson Goldstone has already secured the Junior Men's title, while Frenchman Amaury Pierron needs mere two points to get the better of Canadian Finn Iles in the Elite Men's classification.

Things get more interesting among Women: Junior Canada's Gracey Hemstreet has only a 25-point lead over her rival, Britain's Phoebe Gale, while among the Elites, Austria's Valentina Höll is motivated to take the World Cup against the current leader, Switzerland's Camille Balanche, who is still not at her best after fracturing her collarbone in Mont-Sainte Anne.

The Swiss leads with 1335 points, ahead of the athlete from Salzburg, with 1216 points, and France's Myriam Nicole, mathematically still in the running with 1155 points. Local favorite Eleonora Farina hopes to close her season on a high in her home race: with 951 points, she sits in fourth overall ahead of German Nina Hoffman, fifth with 933 points.

MERCEDES-BENZ UCI MTB WORLD CUP FINALS – PROGRAM

Friday, September 2nd

• 17.30 CET: Women Short Track
• 18.15 CET: Men Short Track
• 20.45 CET: 4X Pro Tour



Saturday, September 3rd
• 09.45 CET: Downhill JR Men
• 10.30 CET: Downhill JR Women
• 12.30 CET: Downhill Elite Women
• 13.30 CET: Downhill Elite Men
• 17.15 CET: Giant Mini World Cup
• 20.45 CET: 4X Pro Tour



Sunday, September 4th
• 08.30 CET: Cross Country U23 Women
• 10.15 CET: Cross Country U23 Men
• 12.20 CET: Cross Country Elite Women
• 14.50 CET: Cross Country Elite Men