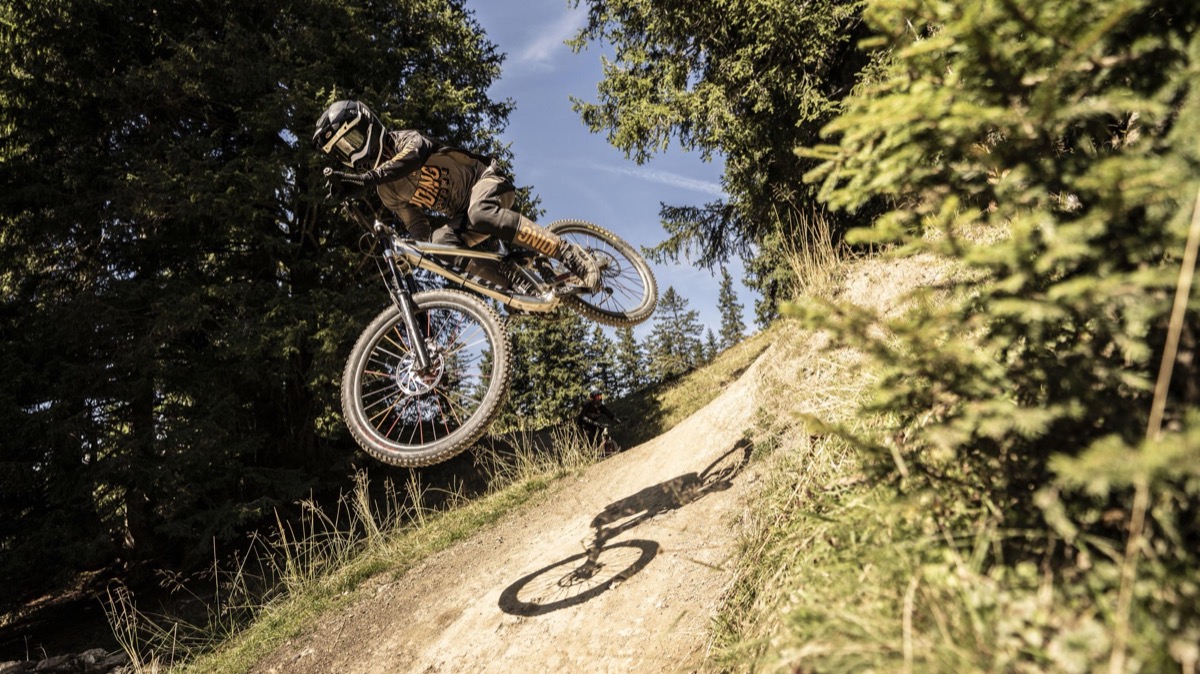 Articles
Riding Culture releases DH line.
---
Riding Culture is looking to add to its legitimacy in bike parks.
The young Swiss brand, known for its extremely abrasion-resistant pants for two-wheelers, is expanding its range with the new Sender collection. The line is dedicated to all downhill-oriented MTB disciplines. The collection is aimed at bike park aficionados but will also work great for enduro and all-mountain riders who want to shred the mountain and get all the functions while looking super stylish in their gear. Riding Culture belongs to "THE ROKKER COMPANY," which has made a name for itself with slopestyle, freeride, and BMX riders, including Lucas Huppert, Gabriel Wibmer, and Nikita Ducarroz.

With the new collection, Riding Culture expands its portfolio in the direction of downhill and enduro. The Sender collection includes two functional pants and three long sleeves. With its typical logo and slogan - Think less, ride more - the gear appeals to passionate mountain bikers. "With the Sender collection, we now cover all disciplines that are part of our DNA: Urban Commuting, Slopestyle, Freeride, BMX, and now Downhill and Enduro," says co-founder Kai Glatt, who is a passionate snowboarder and downhill mountain biker.

Among team riders and general mountain bikers, Riding Culture has been most revered for its incomparably rugged jeans and pants. The Riding Pants are made from a special fabric (denim combined with high-strength polyiamide fibers) and produced sustainably. This makes them virtually indestructible, extremely durable, and uncompromising in terms of comfort, breathability, and lightness.

Sender Pants - Details

Rugged MTB pants with reinforced knee inserts in a unique camo design.

Breathable interlock jersey and reinforced ripstop knee inserts
Optimal moisture management
4-way stretch material
Ergonomic fit with narrow leg
Reinforced double seams for maximum durability
Ratchet closure for individual adjustment even while riding
Elastic waistband with non-slip print on the back
Strategically placed laser perforated vents
Two large zippered front pockets for your essentials
Full coverage camouflage pattern with logo on front and legs

Sender Shirt - Details

Breathable interlock jersey
Optimal moisture management
4-way stretch material
Straight cut (regular fit), longer at the back
"Seamless welded" hem for ergonomic and comfortable fit
All-over camouflage pattern with logo on front, back and sleeves

While the brand had previously focused on the markets of Germany, Austria, Switzerland, France, Italy, and the Benelux countries, they are not going to rest with only those markets. Currently, Riding Culture is working to solidify brand awareness on an international level. The website, which was previously only available in English and German, was expanded in June to include French and Italian. Spanish and other languages are currently being worked on.
More Info about Riding Culture : www.ridingculture.com