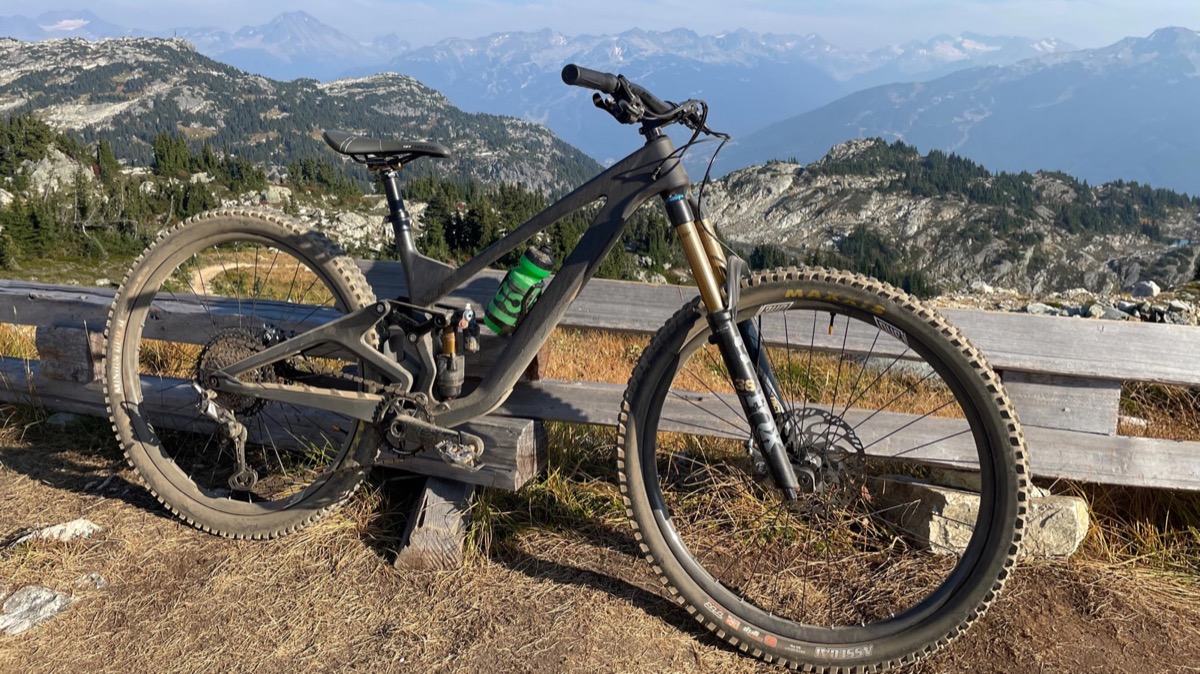 Reviews
We Are One Arrival
---
In order to buy a We Are One Arrival, there should be a pre-qualification questionnaire. It would go something like this -

A. Are you fast? Yes/No
--> No - Let's show you some bikes from other major manufacturers.
--> Yes - Like how fast?
B. Do you have some top 25 Strava Segments on Black/Doubleblack trails?
--> No - Let's show you some bikes from other major manufacturers.
--> Yes - OK, maybe an Arrival is your jam. But caveat emptor.

OK, so maybe I'm being a bit dramatic in my questionnaire above. However, the Arrival is not the right bike for everyone. But it is exactly the right bike for a select few.

How did this bike come to life?

Let's step back a bit. Who the heck are WeAreOne (WAO). WAO is a niche brand, now 5 years on, that designs and builds carbon wheels in Kamloops, BC. Their founder, Dustin Adams, is a former Canadian DH champion, NORBA and World Cup racer. WAO was born from a desire to marry expertise in the bike industry with complete control over design and manufacturing in-house. Fast forward, add Vlad Yordanov to the engineering team, and voila - the Arrival arrives. For those not in the know, and who would be unless you are a total bike nerd, Vlad is a euro fella who has tinkered with his own carbon DH frame design and built an n=1 prototype some years ago. Google his name and 'Sequence DH bike' and you can read all about it. What will strike you from the pictures of this bike is how much DNA is shared with the Arrival. I can imagine Dustin and Vlad sitting around a table working out how to design a mid-travel trail bike that could not only hold its own on the EWS circuit but in fact rode like a DH bike. And if you look at some of the nerdy suspension tech and overall engineered factors, these bikes are cousins if not siblings. Similar dual link design, suspension progression numbers tracking and even anti-squat. The big difference I see? First, a rocker linkage on the Arrival allowing for a water bottle, which I would say is a critical 'must have' on any trail bike. And then it appears they've condensed the ride characteristics of the Sequence to fit a 152mm travel frame. Progression and anti-squat changes occur ~40mm instead of 100mm on the Sequence. Now I am about as deep down this rabbit hole as I want to get, as I am not an engineer nor expert. But this does lead to some other interesting attributes of the bike we will get into.

The frame, fit, finish and spec.

The Arrival is a boutique bike, the first frame produced by a niche company that's only been in existence for 5 years and has developed their own in-house capabilities in carbon manufacturing right here in Canada. Saying this, we might expect a super cool bike but maybe quality and finish noticeably lower than the big boys of bike manufacturing. Fair enough as they've been at it for decades making thousands of bikes per year. Well, you'd be wrong. The Arrival is in fact a boutique frame but with fit and finish that defies their relative experience in the market. It's difficult to know even where to start this list of 'wows'. The frame is not a traditional paint, but coated with Cerakote, a thin-film ceramic coating intended to be far more robust that standard paint and clear coat.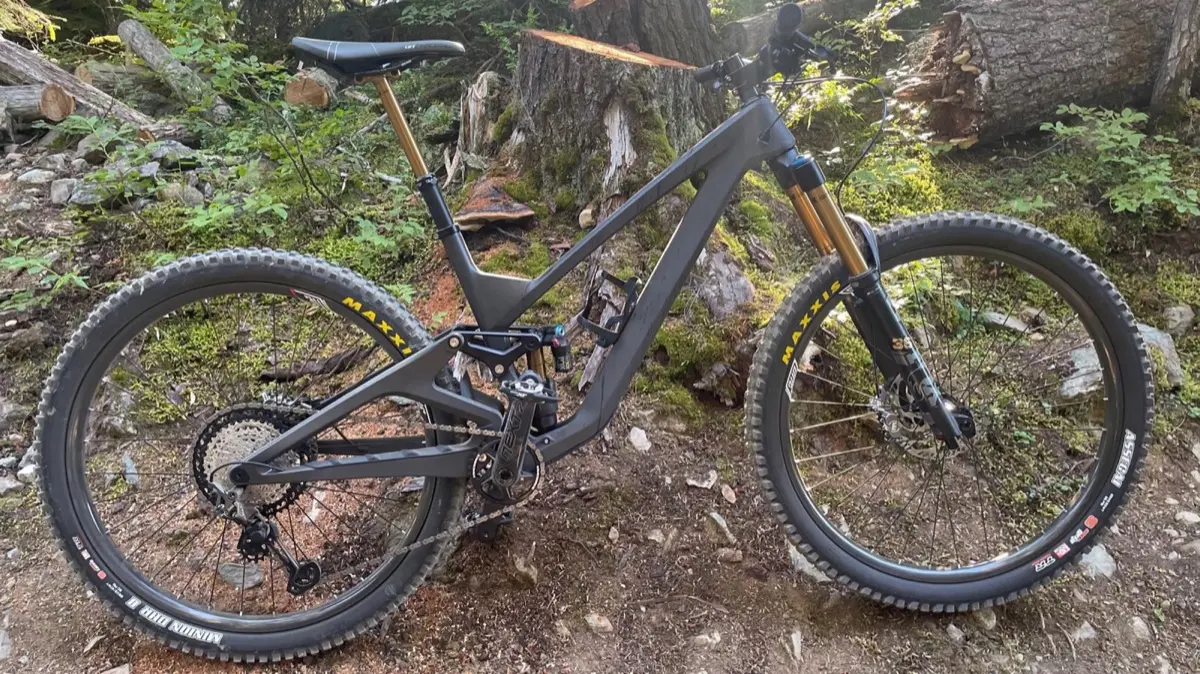 So strong, WAO suggests not applying a protective sticker such as RideWrap (and the slightly rough texture of Cerakote also makes application of these protection products difficult). I have left my frame 'unprotected' and so far so good after a ½ season of rough and rocky riding. Also striking is the lack of headbadges, logos, stickers, etc on the frame. The only badging is an embossed Arrival on the lower drive-side downtube. Classy. Did I mention that all of the pivots, bolts, and hardware are countersunk, making the frame not only look sleeker but less likely to catch or hang up on trailside obstacles. Oh, and what about the titanium hardware throughout the frame? Yes, another super bougie feature. And now for the win, the Arrival's frame components are 99% sourced within 500 miles. That's saying something given they are located over 200 miles even from Vancouver. But it cannot all be a Cinderella story. Here are the nitpicks. The rear brake uses an aluminium machined adapter, said to be stronger and have less flex than a full carbon layup. Great, except it's available only in 180mm. To run a 200m rotor, you need to source a 20mm adapter (say from NorthShore Billet or the like). WAO has said they will make a 200m adapter, then told me it was not likely in plans, now I've heard yes it will be made. Understanding it's a costly little piece, perhaps this is an opportunity to outsource to another local adapter company (see above). Certainly now that they have a 170mm frame option, many riders will be asking for this. Also available as an accessory is a shuttle pad. This custom sized stick on pad is a great edition, and arguably should be standard issue with the frame. All the trouble of titanium hardware but skimp on the sticker. Also newly available is a WAO custom chain guide to mate to existing tabs on the frame. This is a very nice refined accessory but I wonder why it's not included in a frameset purchase. For a boutique frameset, adjust the price accordingly and problem solved. As it stands, the Arrival SP1 build at $11,500 is substantially lower in total price than many premium comparables. An extra couple hundred dollars would not be a stretch in price point. And my last comment is a small one, but significant for frameset purchases. The Arrival frame does not use internal guided cable routing. I gather full bike builds include foam cable housing covers, but my frameset did not, nor instructions for me to use it. Not a huge issue, save my first ride experience was clattering cables detracting from my enjoyment. I've been a bit loath to go back and install foam on the housings as the internal cable ports on the frame are soooo tight (tight enough I've heard that SS brake housings won't fit without some filing of the port). WAO claims that no internal guides makes for a stronger carbon fabrication process, but other premium frames definitely have this feature.

And more WAO components.

Framesets, and all full bikes sold of the Arrival include a WAO wheelset and Da Package stem and bar combo. I have previous experience with WAO Revolution wheels, with their Union enduro/trail wheelset. This is where it all started for WAO, with a dream of building high quality and affordable carbon wheels in North America. Five years in, they have demonstrated they can do this in spades. My Union wheelset was an upgrade, including Industry Nine Hydra hubs and Sapim CX Ray bladed spokes. Heck, why not splurge when the wheelsets are so affordable. I've been riding now on 2 sets of these wheels, exactly the same, for 2 seasons on 2 different bikes. I'm a big fan of the Hydra hub (for which WAO has a business partnership) although my first set was due for a bearing swap with only a summer of riding (no winter riding here in Whistler). The I9 rep at Crankworx was nice enough to give me a full new set of bearings and we had a good chat about bearing lifespan and the eternal quest for better seals. My new wheelset on the Arrival was getting put through its paces over the summer, including a couple of mellow park days at Silverstar and Big White.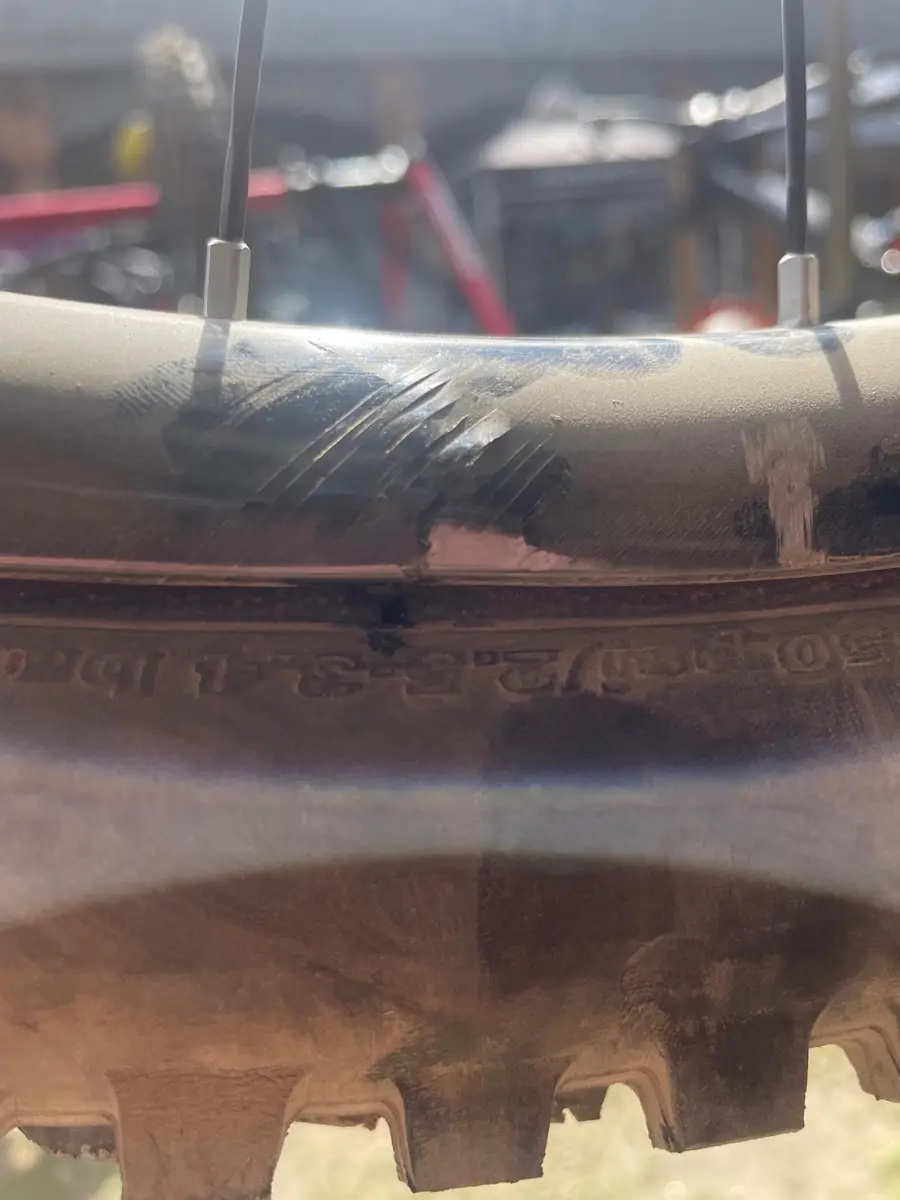 This is when I had a rim failure. Admittedly, I cased a 4-6' stepdown on a jump run and heard a big crack followed by flat rear tire. Upon inspection, the rim had fractured almost completely through across the width of rim. Disappointing, and surprising to me as I hit fairly soft, not into a ledge or rock and just didn't expect a failure. WAO warranty service has big claims of lifetime no questions asked warranty. And they delivered exactly that. For the cost of shipping, a new rim arrived on my doorstep within days, and with some coaching on spoke tension, I swapped the old hub and spokes to the new rim with ease. I still feel like it had to be a small layup deviation and unfortunately loading at that area, as my experience with carbon rims of all manufacturers is they are robust enough to withstand this type of riding. I am also sad that I did not get to test the newer Convergence wheelset. These newly designed wheels hit the market within weeks of my bike delivery. Maybe next time.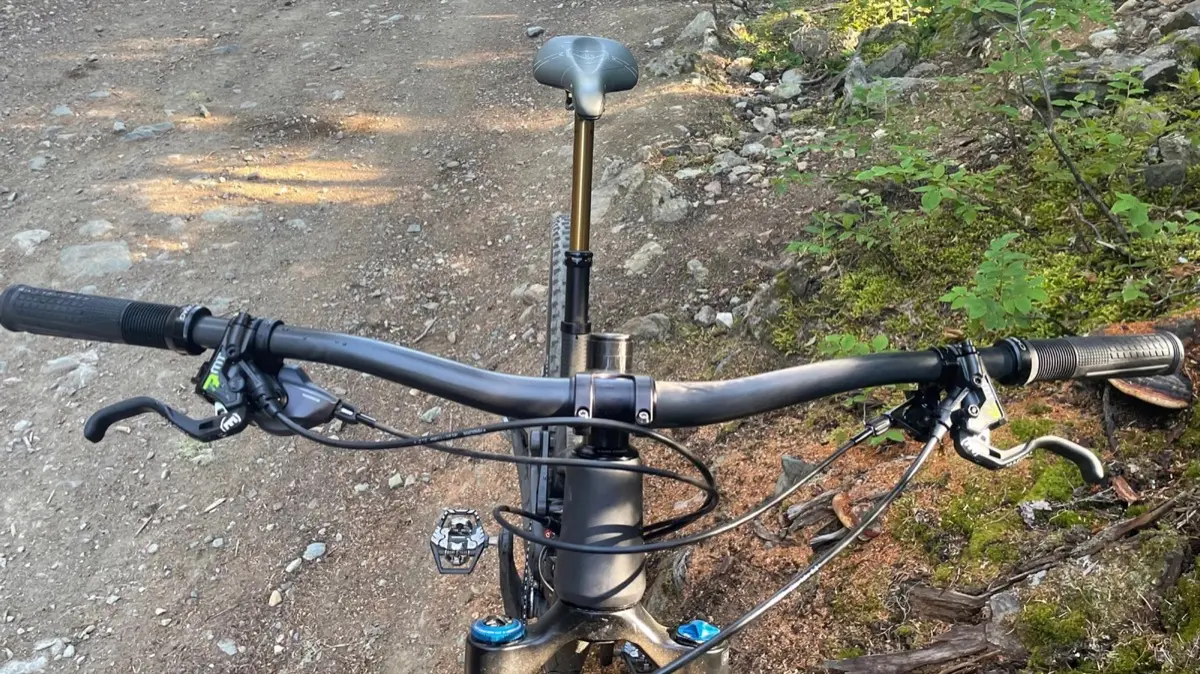 With the Arrival also comes Da Package. This is an engineered pair of stem and bar designed to work together. There are small dimples in the stem and bar providing a nice alignment and mating. The bar is actually 33mm and uses a 2mm sleeve to disperse clamping forces more evenly on the bar. This reduction in diameter may also allow for additional compliance in the bar. At 340 grams for a stem and bar combo, rated for DH, this is surely one of the lightest set ups in the market. Taking a cue from the Arrival frame, there are no graphics or markings on the bar, providing additional unstated stealthiness to the overall Arrival build. It is really quite stunning. My impressions of Da Package? I've lived now through generations of carbon bars, from 31.8mm to 35mm. In general, the introduction of 35mm bars heralded a level of stiffness that most would consider bone jarring. Last year I tested a OneUp bar, with an ovalized section designed for directional compliance and it was a big improvement. With Da Package, I feel WAO has some room still for a v2.0 that increases compliance further. This is a trade off of course, and maybe this is exactly the bar they intended to make for the Arrival. Point and shoot, ride fast and hard, with sacrifice to comfort in lieu of precision.

The ride.

For the last few years, I have been on a quest for the quiver killer Whistler bike. What are the criteria? A. It must climb well. I do most of my riding without the benefit of lifts. B. It must descend well. Sure, everyone says that. But my rides tend towards Black, Double Black and every once in a while one of those 'red' trails on Trailforks. I need confidence inspiring on steep technical fall line and rock rolls as well as soaking up trail on enduro fast chundery rock garden and rooty mazes. C. I know I said I mostly climb, but a few days a year I need a bike to handle some fun park days around British Columbia. I've moved from Range to Enduro to Megatower to Instinct and now to Arrival. No bike is perfect, but somewhere the porridge is just right. I had high hopes that porridge would be the Arrival. Is it? Yes. But with a bit of hesitancy in answering. The Arrival is exactly what I asked for, and nothing I didn't ask for.

Let's start with the climb. Set up with proper sag, the Arrival climbs very well. It's low stance, with 37mm BB drop, short headtube, 100mm, and reasonable seattube angle, 77 degrees, put the rider in an aggressive forward climbing position. The bike is stable rear to front, without any feeling of lightness of the front end. The rear tire feels firmly planted, with no wallowing in the suspension. I feel like I could comfortably climb this bike all day. There were some big climbs where I distinctly noticed a bit more struggle, and this perfectly aligned with times I did not have the shock sag set correctly and was 30% into sag. In this case, the bike felt lazy and energy absorbing on steep climbs. Listen to WAO and get that sag right!

Along the lines of the Goldilocks analogy, I've recently had bikes that either did not give me confidence in descending or bullied me down the hill. Where does the Arrival land in this spectrum? My introduction to this review answers that question. If you are riding the Arrival fast, in technical terrain, there is a fluidity under you. The 152 mm rear travel feels almost limitless. The bike soaks up trails with ease, giving the rider confidence to push hard. Interestingly, I noticed a few times that the first couple of hundred metres of a trail the Arrival's characteristics almost felt like the bike was stepping down the trail. It handled fine, but felt a bit jarring and lumpy for lack of a better description. Typically as I found the trail and increased speed, this vanished and was replaced with a feeling of confidence and control, making me want to push harder and ride faster. This is where the real intentions of the bike lie. The Arrival is the bike Dustin, Vlad, and their colleagues and friends want to ride. It's designed for riders of advanced capability who will seemingly take a mid-travel bike where it has no business being, like enduro tracks around the world.

A few more notes I've made about the Arrival and its riding character. Again shock pressure and sag come up as critical to achieve the intended ride characteristics of the bike. Personally this was hard for me, as my Fox X2 consistently would not hold more than 220 psi overnight. This meant topping up the shock each ride which is annoying for me as I'm more of a set it and forget it guy. I followed the WAO shock set up instructions, but ultimately I think I'll put in more air pressure than directed. And I still have some playing around to do on compression and rebound settings, veering away from the factory recommendations. Alas, my X2 is at Fox being rebuilt as it blew up after only 3 months of riding. While a warranty claim, I'm not impressed with the durability of the X2 (and it better be able to hold more than 220 psi when I get it back). WAO has moved away from Fox in 2023 and probably this is the right move.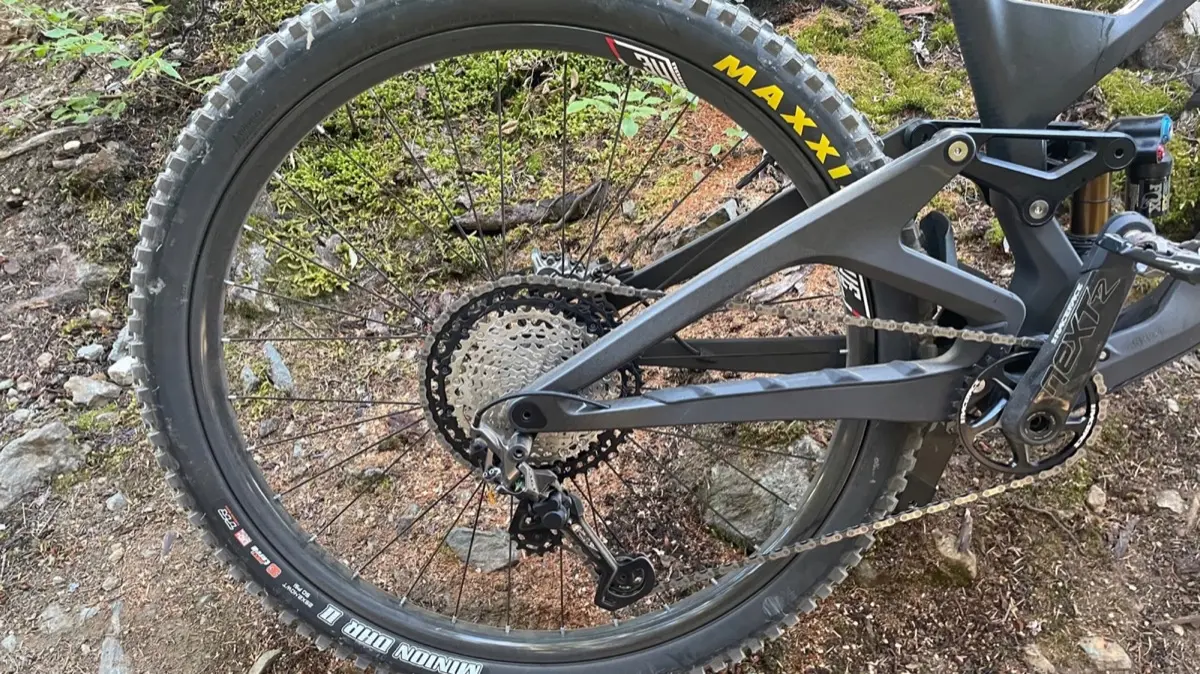 Low BB height and low front end. I did not feel like I was constantly hitting pedals, so BB height did not present itself as an issue. The short headtube was a bit more of a mystery to solve. I originally set up the bike's front end as I would normally, with headset spacers, etc. It did not twig with me that the headtube was short, but I did think about balance on the bike and forward weight on steep downhills. Then it all made sense when I saw the headtube was ~10mm shorter than typical on bikes I've ridden. This is not a detractor per se, as you can always increase stack with spacers or a higher rise bar, but it left me wishing I'd left a little more steerer tube on my Factory 36 in case I want to play with spacers in the future. A heads up here might have helped. It has been mentioned by others that the Arrival may benefit from a 170mm fork, bringing up both the BB height and front end. This is something I may try next season.

A bit more about We Are One Components.

I had the opportunity to tour the WAO facility, located in Kamloops British Columbia in late summer 2022. My host was Tyler Maine, but we got to shake hands and chat a bit with founder Dustin Adams as well. WAO seems like an improbable David vs. Goliath story. A former professional cyclist decides he's going to start his own business, in a crowded market, to develop and manufacture carbon bicycle components in North America. Start a company? Bold. Design in house? Know your stuff or pay to bring expertise in house. Steer away from overseas manufacturing and build a business focused on production in British Columbia? That's the David vs. Goliath part. Against the odds, WAO has been incredibly successful over the five years of their existence. Their original line of carbon mountain bike rims has grown into a range of products, they've formed strategic partnerships to enable growth, branched out into additional products and ultimately released a bike through both direct-to-consumer and retail channels. In that timeframe, they've grown in size, recently taking over a larger facility, purchased premium manufacturing tools, like CNC's and wheel building machines, and grow staff to nearly 100 people. They've garnered the attention of Kamloops Commerce groups, growing high value jobs, and the attention of the bike industry in general. We've not seen this kind of new manufacturing action in BC since the days of RaceFace and Syncros 20 years ago. By all accounts, they seem to be on a great trajectory building a globally recognized brand within the bike industry.

Conclusions

Do I like this bike? Hell yes is my emphatic answer. But just barely. My riding skills lie just on the cusp of what this bike is capable of, and designed to, do. I have a couple of friends riding Arrivals, both of which are get-after-it level riders, better than me. I suspect they are loving the Arrival and wondering why no one has made a bike this good before. For the other large percentage of riders, I am more hesitant to transfer my review to a recommendation to buy. WAO has also now released a 170mm version of the Arrival. There is limited feedback so far on this bike, but I'm curious to know how it will compare. Similarly, WAO have mentioned a short travel version of the Arrival - and that too would be interested to transpose its riding characteristics to a bike more fitting for marathon XC and the like.

The We Are One Arrival is an out of the box weapon, capable on steep and technical trails, including enduro circuits around the world. It's designed around the riding style and characteristics desired by World Cup DH racers when they throw a leg over a bike that also climbs.

Dale is a Whistler based rider. He's a pretty average middle aged dude, but has ridden and raced just about every kind of bike for the last 25 years. He still competes in gravel, Xterra triathlon, marathon XC and enduro racing. He is an ambassador at Corsa Cycles in Squamish, BC - who is also a retailer for We Are One Composites.