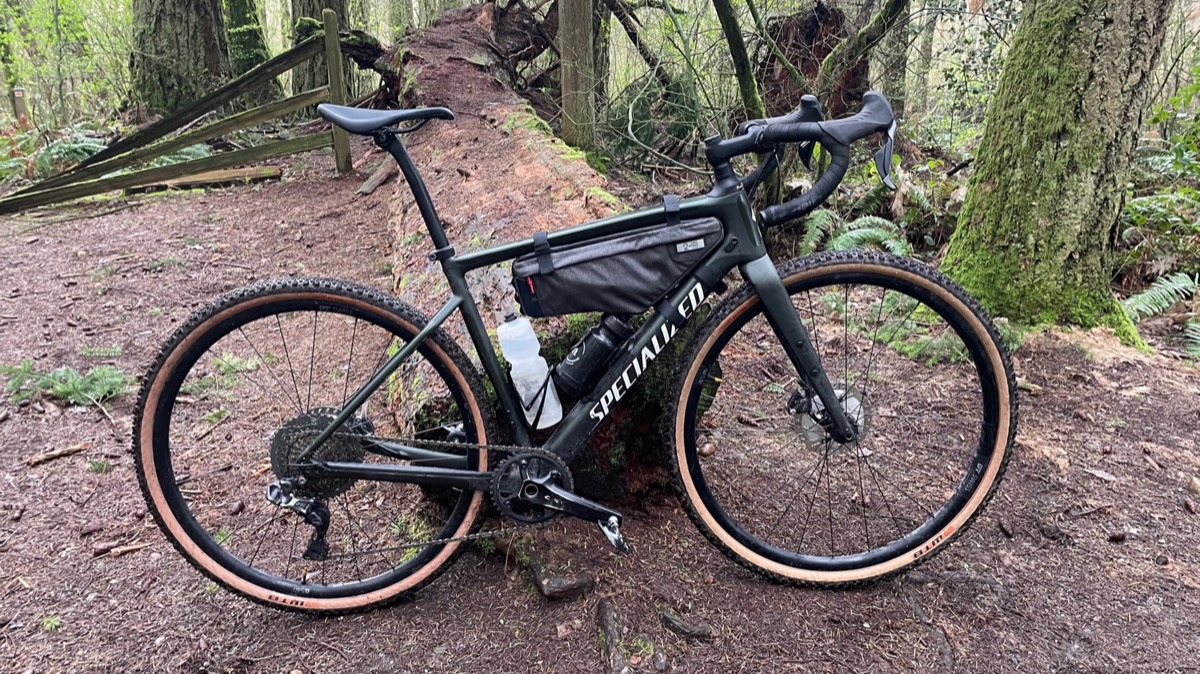 Reviews
Two wheel gear review
---
As the gravel riding scene drives toward mainstream, a proliferation of companies providing high quality on-bike storage options have emerged.
Of course, we have the heavy weights, such as Ortlieb and even Thule, who are large multi-national corporations with significant R&D and off shore manufacturing. Then there is the opposite end of the spectrum, with a multitude of single proprietor custom options, which may appeal to the grassroots nature of gravel riding and bikepacking. And maybe somewhere in the middle, there is two wheel GEAR. two wheel GEAR has been around since 1999, obviously before the current gravel craze and likely born from a desire to make high quality, locally produced panniers and bags for couriers and commuters.

two wheel GEAR clearly takes pride in promotion of its strong environmental stance and sustainability standards. All products are still designed and tested in Vancouver B.C. but with growth over time they have moved manufacturing to Bluesign certified partners overseas. Packaging is recyclable and they promote 'Green Friday' in lieu of the traditional Black Friday sales. Certainly there is a significant alignment of values that will appeal to their target market.

But how do their products stack up for use and durability in a sea of big brands and niche sewers? I managed to get my hands on a selection of two wheel GEAR products earlier this year and have used them for a few months. Based upon my current bike bag collection, which includes aforementioned big brand and 1-man-show products, I chose a Commute Seat Pack, Mamquam Frame Bags (S/M and L/XL) and a Commute Backpack.

Overall, product quality seems very high. Fit and finish of goods are excellent. Fabrics, materials and sewing are high quality on all products. Small features, like reflective logos and a modular system for attaching smaller bags to large packs are clear signs these folks are not just thinking up designs in a shop, but are actually cyclists themselves. High marks for multiple intuitive features across the product line I tested. My cycling does not involve commuting, and is more adventure gravel riding, so some of these features I really didn't get to put to full use.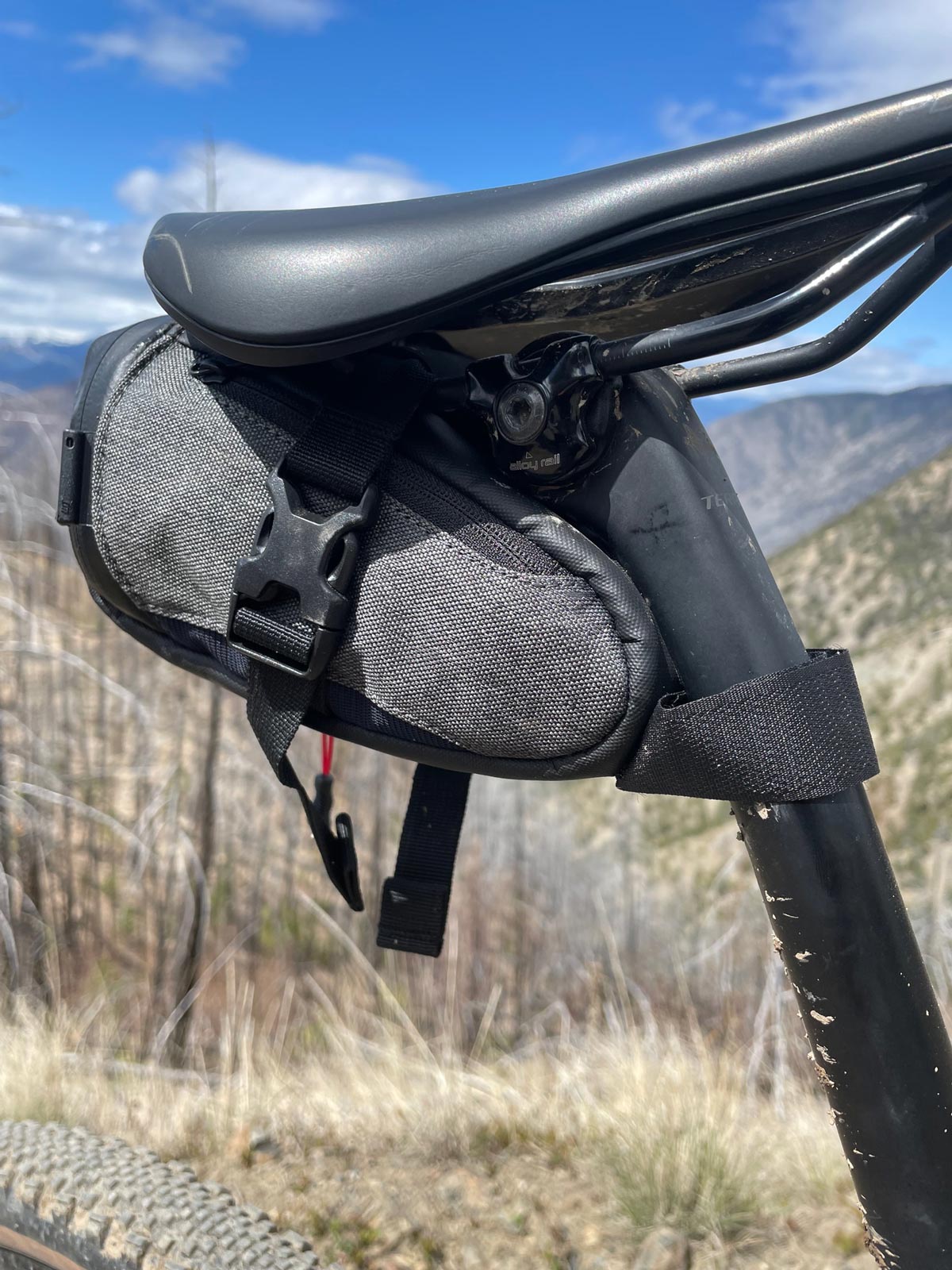 Staring small, the Commute Seat Pack is comes in at just less than 1L and is fully waterproof in material and zipper. I'll stop here, and comment just how nice a true waterproof seat back is. My bike tools, car keys and anything else I put in there are not getting exposed to elements and rusting away inside because I forgot them for months. There is a side pocket made for credit cards - I used this for my car key fob when driving to a ride and parking. It was a bit of a tight fit, but nice to know my fob was secure. The pack is nicely adjustable to fit on many different bikes/saddles. It's a bit finicky to secure the first time to saddle rails, as there is buckles on both sides with only a small strap that loops on top of the saddle rails. The straps do come a bit long, and I found myself thinking about cutting them to limit the dangle below the pack. The seat tube strap is simple velco, worked well, but did seem to sit at an odd angle, making the straps fold a bit and look slightly less clean. I didn't try it on different bikes, but would generally think that saddle rails are perpendicular to seat tube, and thus should be a similar fitment on most bikes. The size was perfect to hold an extra tube, CO2 and multi-tool, I even stuffed a small pump in there. I also jammed in a windbreaker a couple of times, but it was very tight and the larger 1.5L pack would be perfect for day trips where you want to bring a windbreaker. The only other comment I have, is that when I tried to use the pack with my Garmin Varia radar on my road bike, there was interference with the straps (saddle and zipper) making my radar signal erroneously. I could fix this by removing the zipper string and trimming the saddle straps.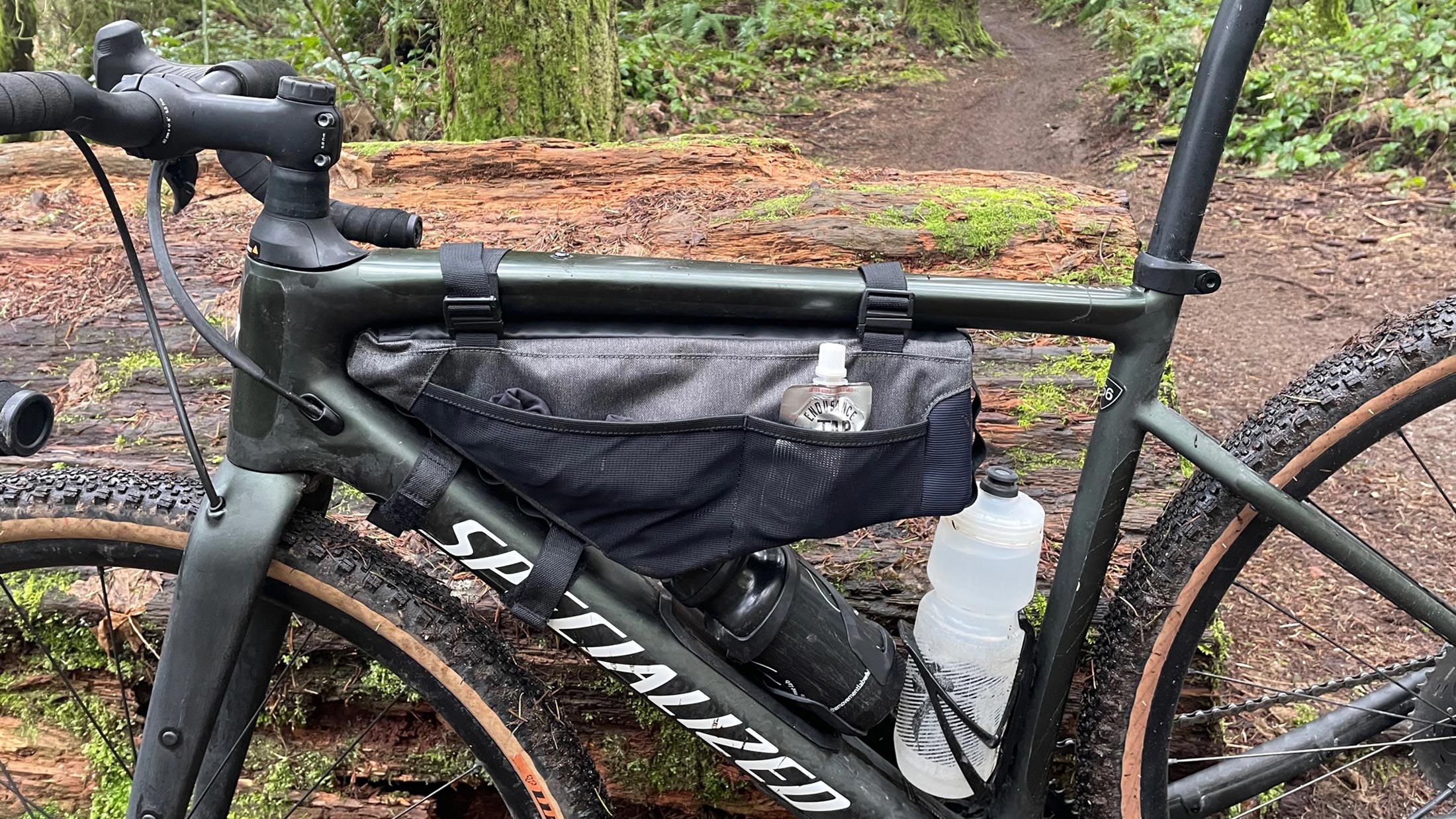 A mainstay for day adventures for every gravel enthusiast is the beloved frame bag. two wheel GEAR makes two sized models, smaller and larger. Alas I only ended up testing the smaller bag, as the larger did not fit my 56cm frame. It was a real squeeze to jam the large bag between the seat tube and head tube and made the back not fit without excessive puckering/bagginess that would have rubbed on my knees while riding. This is 100% my fault for not pre-measuring but I would say the L/XL is for 58cm frames and above only. The S/M bag of course fit nicely in both my 56cm Specialized Diverge as well as my wife's medium Landyachtz AB1. I actually really like the fit of the smaller bag on my Diverge as it allowed me to carry 2 water bottles since, albeit it was a tight fit for the small bottle on my downtube. Similar to the seat pack, the frame bags seem very high quality. Fitting them on my bike was a breeze. The bag has 3 open mesh pockets on one side, and I thought this was an absolutely amazing place to store my ride food (gels) right up until I looked down at some point wanting a gel only to see they had bounced out. I really do like this feature on the bag, as those quick access pockets would be good not only for gels/bars but also for the phone. As a graveler, you have to keep up your social media influencing by posting all the time! I don't want to try and redesign these, but may just a tab of Velcro to secure things in these pockets? Aside from this, the smaller bag was the perfect size for an all day adventure. We used this back for day long rides when visiting the Tutti Gravel Inn. Up in the Caribou in May, it pays to bring extra layers of clothing and other supplies - and this bag was a perfect size.

Lastly, while I'm no longer a bike commuter, I opted to try out the Commute Backpack. I do most of my commuting these days on a plane, and many times I'm looking for a more comfortable bag to carrying my work essentials, but also my shaving kit, an extra layer and my travel pillow. It needs to look 'smart' enough that I can roll into a corporate setting and not look like I'm a middle aged guy reliving his courier youth. This backpack fits this look perfectly. Of course it has great features, including waterproof materials, reflective elements, and even a hidden removable rain cover, but it's also super comfortable walking around. It can snug up well with available adjustments but also has some breathing room on your back so you don't get all sweaty. At 26L, plenty of room for laptop and office paraphernalia. External side pockets for a bottle of water. Top loading but also with a size zipper to sneak out the laptop. At one point, I did try to pull out the laptop sleeve as I thought it was removable to use away from the rest of the laptop. Alas no. The only real disappointing thing in using this pack now a few months is that I've repeatedly snagged a pen while it's in the pen sleeve of the pack and ultimately I've torn the sleeve open rendering it useless now.

So what are you looking for with your two wheel gear? In a sea of options now available, two wheel GEAR delivers well designed high quality bags obviously designed and tested by cyclists. If you regularly hug trees (and not just when falling off your bike) then their commitments to sustainability in manufacturing, shipping, recycling all make it easy to throw your purchasing power their way. As a local BC boy, I also like to support local businesses.
Website: https://www.twowheelgear.com/

Dale Tiessen is a cyclist based in Whistler, BC. He adventures across lots of riding, including XC, trail, enduro, road, CX, gravel and even a bit of triathlon. He's a lifelong cycling advocate and continues to be involved in community groups as well as coaching.