The Boomslang pedals are a completely new pedal designed by Jason Chamberland at Specialized head office in Morgan Hill, CA. Immediately you can see that they are thinner than the average pedal and feature a unique design. At their thinest point they come in at 10mm, which makes it one of, if not the thinest flat pedal on the market.
Usually when you are designing a pedal the first thing you have to work around is the axle and bearings. What you choose for those, tend to dictate how you are going to have the pedals made and part of the overall shape. Its fair to say that the strength of axle and durability of the bearings are the most important parts of the design process.
Mr. Chamberland had some new thoughts about how he wanted to make the Boomslang. He started with a steel pedal spindle for the axle, but unlike other spindle design it has no steps, threads or risers on it, removing most of all the normal stress points in other designs.
On the inboard side of the pedal (closest to the crank) the Boomslang uses a sealed ball bearing and under foot in the middle of the pedal there is a single needle bearing that the axle slides into.
Traditionally pedal platforms are either cast or machined from billet. Casting is the more cost effective way of producing the bodies, and most high end pedals tend to be CNC machined. There are benefits to making them either way, it really depends on how many options you are trying to knock off of your wish list. But the Boomslang has their body produced slightly different than other pedals, as they are cold forged from 6061 aluminum.
Cold forging involves using a told & die to form the raw aluminum into the near final shape within a large press that exerts vast amounts of pressure to punch them out. Imagine a huge weight being dropped onto a die with raw material inside. Out pops a pedal body, rinse hands and repeat, over and over again. One of the benefits of cold forging is that you save material and you can get a near finished product that only requires a minimal amount of final machining, mainly setting final dimension & drill the pin threads. While there are savings on machining & materials the tooling setup cost is more expensive and in order for it to be a viable process, so it only works if there is significant cost reduction and savings.
Each pedal has 11 removable pins on either side, with four spares in the pedal body in the inboard side. The pins feature an undercut design, which makes them look like an hour glass while giving it an place to snap at in case of contact with something harder. The platform size is 110x108mm, which is comparable to many other designs, but with the axle length being shortened, the Q width makes it feel smaller.
Pedal Comparison
| | Specialized Boomslang | Chromag Scarab | Hope F20 | DMR Vault Mg |
| --- | --- | --- | --- | --- |
| Size: | 110mm x 108mm | 110mm x 105mm | 100mm x 100mm | 105mm x 105mm |
| Thinest point: | 10mm | 13mm | 15mm | 17mm |
| Pins: | 22 | Up to 42 | 20 | 11 |
| Weight: | 440gr | 430gr | 390gr | 366g |
| Price: | $180 | $160 | $170 | $275 |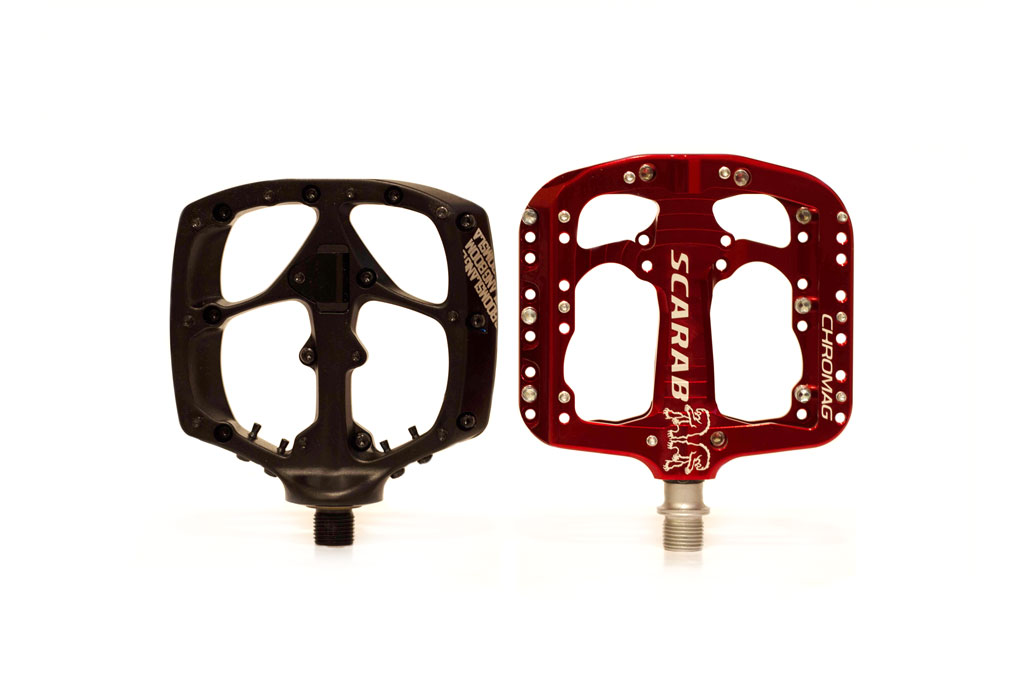 I haven't put enough hours on these pedals to be able to speak about the durability of them, but the fit and finish is very good and they feel great under foot.

The Boomslang pedals are targeted at the upper end of the market at $180 usd, but that is close to what some machined pedals cost like the Chromag Scarabs ($160) or the Hope F20 ($170), but not as expensive as the DMR Vault Mg which are a staggering $275 or the Point 1 Podium at $189.