Leatt is well known for designing the first commercial neck brace outside of auto racing, and over the last few years they have been slowly expanding their products in all directions of protection. Helmets, gloves, hydration systems are but just a few of the areas they have moved into.
Another is body protection. Makes sense right? We got ourselves one of Leatt's 3DF Airfit Body Vest. Now I'm not one too wear a crap ton of protection when out riding, but i do believe in covering your chest & spine when possible, and that is what the 3DF Airfit is designed around.
The design of the 3DF is based on a soft shell platform with layered foam inserts for the chest & back. The chest has three layers of different thickness 3DF Airfit foam while the back has four layers of two different thicknesses. The pieces of foam are from different densities and glued together into, but they are separable if you want to tweak the how much in is there to adjust to your liking, but taking some out will effect the ability of the piece to absorb impacts. All of the inserts are perforated to help with ventilating, and when they were glued together they aligned all of the perforations so they actually work. Score.
The 3DF foam is similar to other energy absorbing materials that we have seen before. The harder you introduce the force to the foam, the quicker it absorbs it. So flexing it slowly doesn't have much effect on the 3DF, but hit it hard and it will deform to absorb the energy and quickly return back to it's normal state. With all the foam that is in the 3DF Airfit it passed CE Level 2 testing for impact protection on both the chest and back. While Level 2 doesn't sound like much, that is the highest level and it absorbs 100% more than Level 1.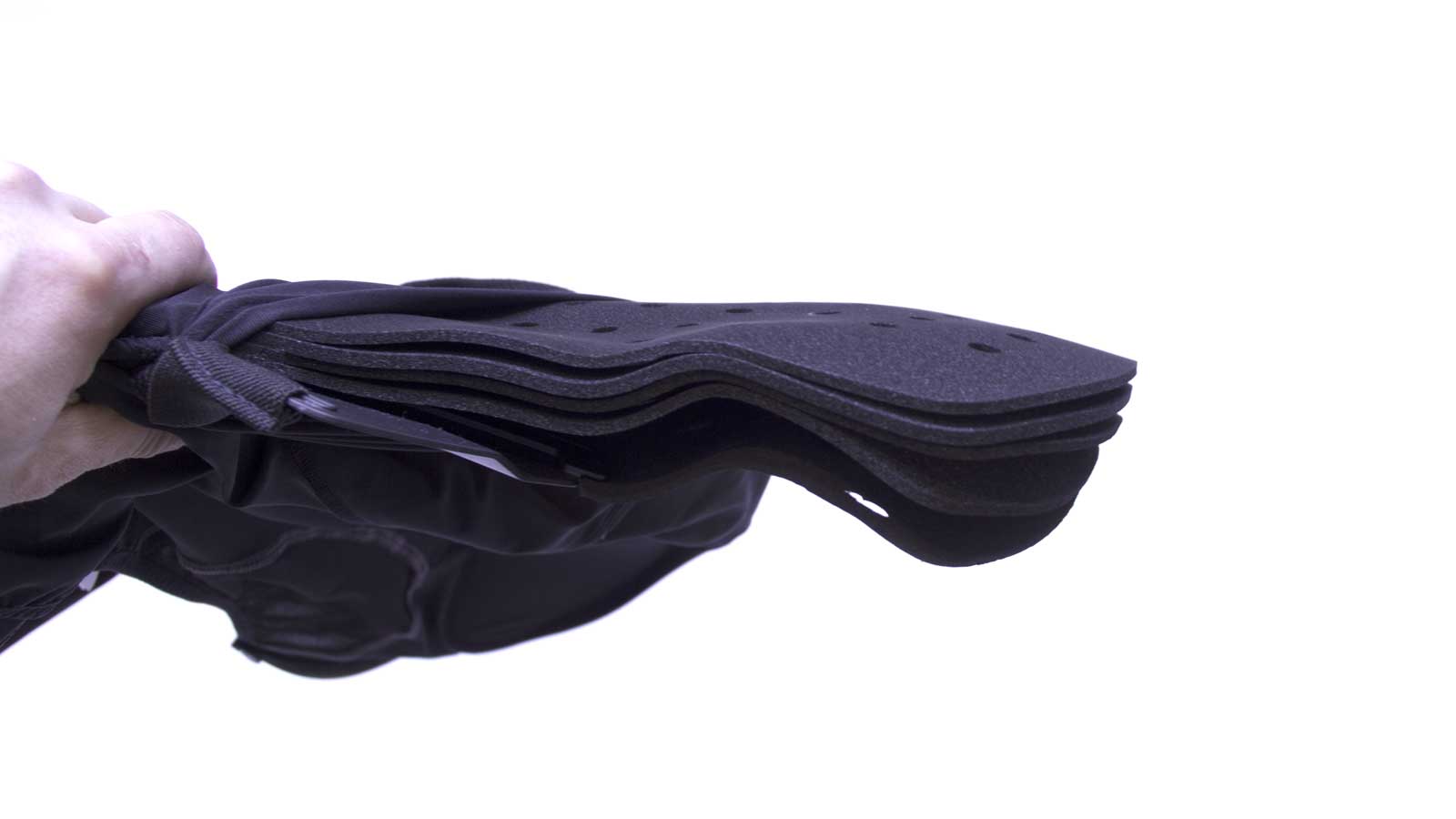 The 3DF is built with the BraceOn integration, which is designed around marrying the two different systems together. There are tabs on the collarbone area that a Leatt neck brace can hook onto as well as a velcro section on the back. Both of them allow the neck brace to still move independently, while being attached to the vest without the need for the chest straps.
Connecting all the pieces together is a four way stretch, wicking fabric. Initially the piece feels a bit snug, but I would say that it fits true to sizing. I have had three different body vests over the years, but I must admit, the fit and finish of the piece is extremely good. I got it near the end of the season, so frankly I have worn it more times for hockey than I have for biking. But I really think that is a testament to how good the piece works.
Website: www.leatt.com
Price: $199 USD