Frankly I hadn't come across Bontrager clothing before a couple months ago. I had no idea that they were producing anything other than bits for bikes and have been doing it for over five years. So not being something that had been on my radar it was a sweet surprise to meet the Lithos short & Rhythm shirt.
The Lithos short falls into the loose fit category over at Bontrager, some would call it enduro clothing, others, me included, find that the 15" inseam is darn near perfect length. So on a middle aged, average height male that would end up being around middle kneecap length. Coming in at that length works out pretty well for the type of riding that I like, where you are moving around on the saddle, and I didn't find it getting hung up when riding. The fabric that the shorts are made from has a good feel to it, 90% nylon/10% spandex mix, one of substance, without feeling like you are in a suit of armour, while giving a bit of texture that holds well on the saddle.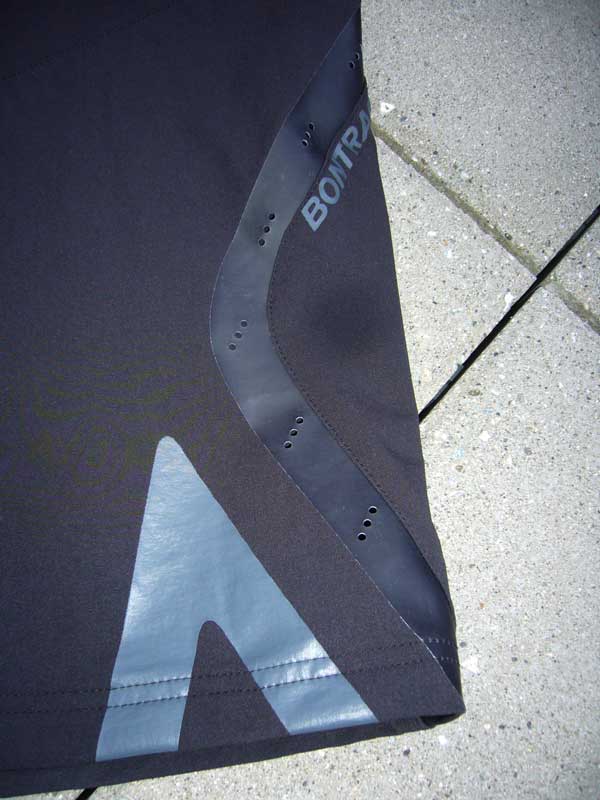 Sizing wise my 36" waist manged to squeak into a size large with a bit of room to adjust with the velcro side adjusters. Even though it is just numbers, the cycling community bases it's sizing off of european road riders where no one seems to be over 5'10" and 160 lbs. It was nice for my fragile Psyche to not put XXL.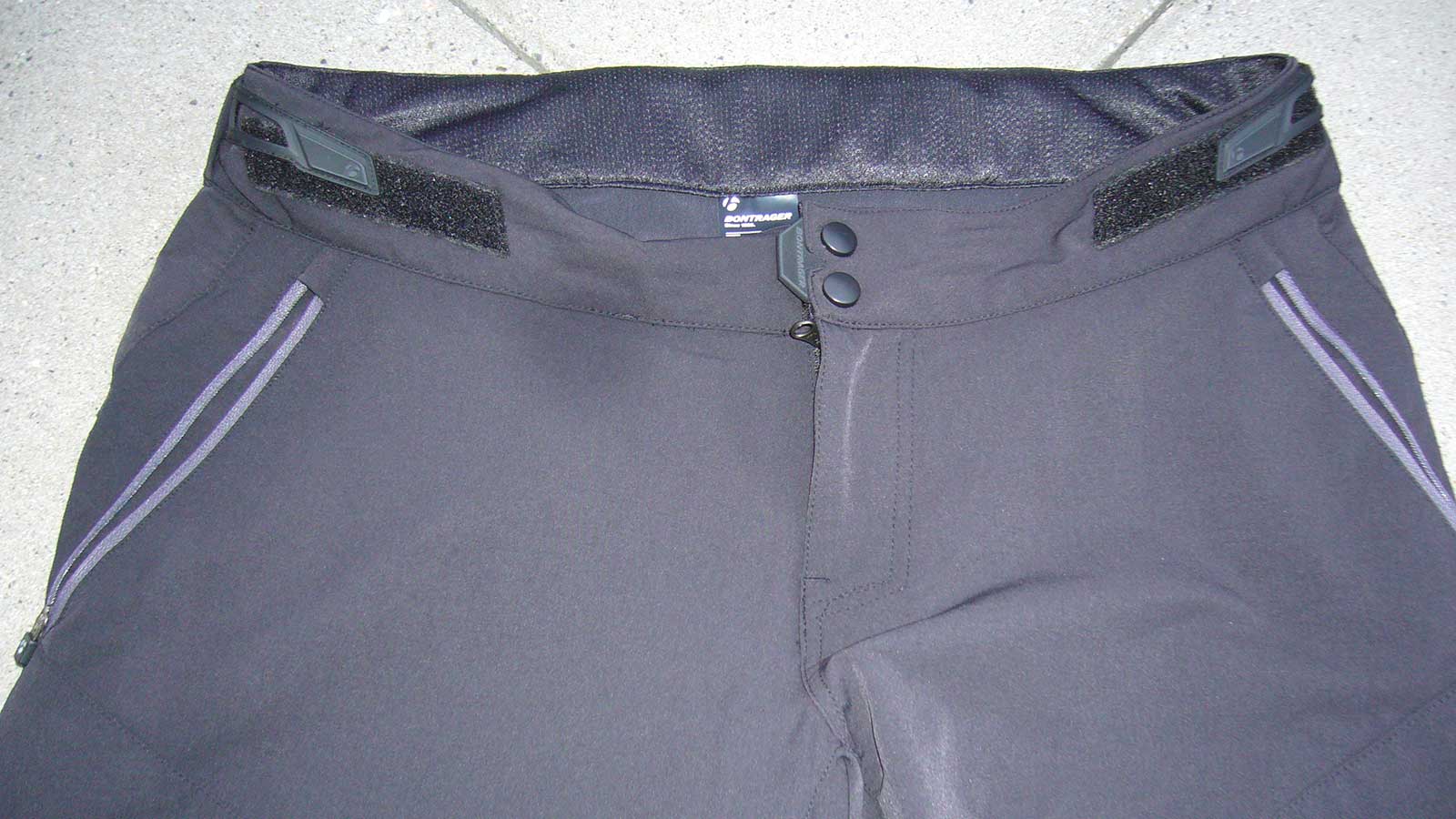 The Lithos come with a detachable Chamois, as do all of the competition at this price point and it snaps in nice and quickly. Chamois aren't really my gig, so they came out quickly and were relegated to the shelf of neglect and I can't speak to how good or bad it was.
Printed onto the legs of the Lithos shorts are a stylized rubberized print with laser cut venting holes. They do a nice job releasing some heat from within, and ad a nice, different style to the shorts. Up top there are 2 zippered hand pockets which are sized well enough to fit a phone or tool. The waist has a fit adjuster on each side which worked well to fine tune the fit. Up front and centre there are two snaps over some vecro at the top of the fly zipper. That does a great job of holding the waist together, but the one thing that I would change on this short is the size of the zipper. It's just too small to be of any use when making a pit stop.
Up top, the Rhythm Tech Tee follows in the foot steps of the Lithos short with a loose comfortable fit based around a v neck and 3/4 length sleeves, which are my go to choices in the jersey market. The body of the shirt has white lines printed at 45• which breaks up the solid block of orange. There are a couple nice contrasts around the neck and simple logos printed, which give the jersey a nice understated aesthetic, even if it is orange. There are mesh inserts sewn into each side to aid in air flow and a sunglass wipe is tucked away on the left font area by the helm, sewn into the seam.
I found the fit to be good and comfortable, especially the 3/4 sleeves and the v-neck doesn't strangle you out, even with a backpack on.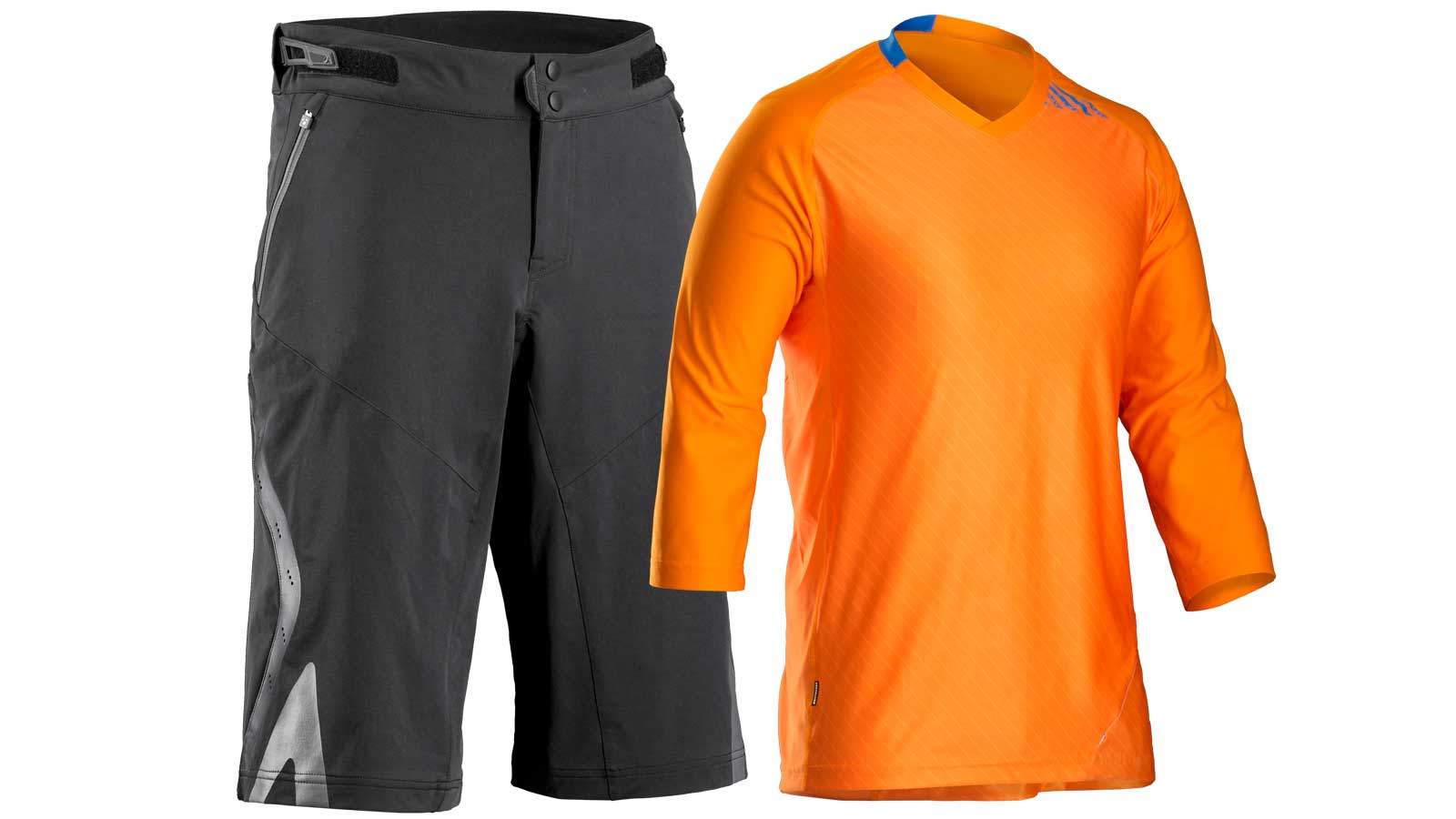 Opinion: Great fitting gear, that has been durable and enjoyable to wear.
Lithos Shorts
MSRP: $129 USD
Website:bontrager.com
Competitors:
Royal Racing Drift - link
Sombrio Supra - link
Rhythm jersey
MSRP: $59 USD
Website:bontrager.com
Competitors:
Royal Racing Drift - link
DaKine Vectra - link