With winter refusing to go away this spring, i have been late getting the bikes out and working on my dirt tan. Slowly, but surely I have been getting the dust off and pumping up tires and even sneaking out for a quick rip around the close trails.
After a merciless mocking session on a trip last summer by my peers about an outfit that they called the "Liberace", getting something a little more subdued was in order.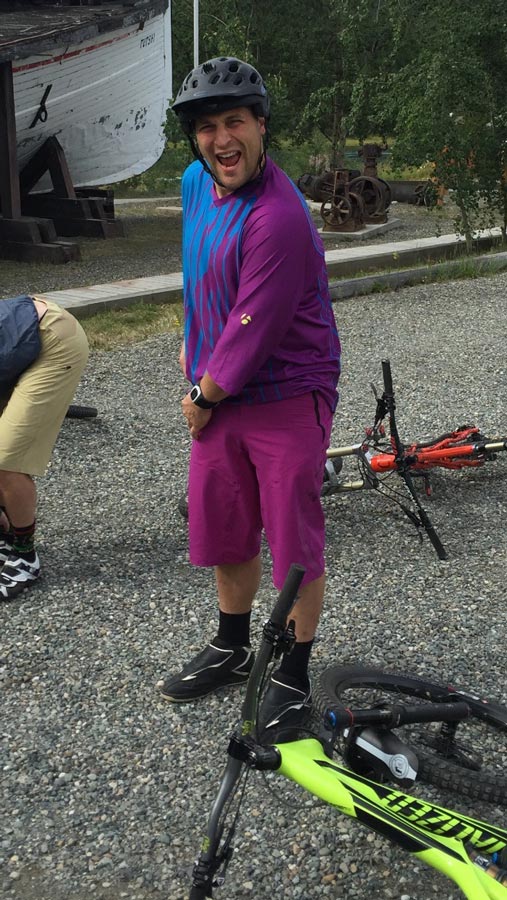 Yeah, and I can't believe Liberace was gay. I mean, women loved him! I didn't see that one coming." - Austin Powers.)
I ended up picking up a pair of Pearl Izumi Launch shorts & the Big Air Jersey.
The Launch shorts have a very clean, three pocket design with belt loops. Made from a blended nylon ripstop that is stretchy and has been treated with a DWR water repellent formula to keep you dry, they feature a inseam of roughly 15", making them fall around the knee.
The shorts have two main pockets in the normal location, with a third pocket on the right thigh and is sewn flat on three sides, but with an expander on the right side. The inside of the third pocket has a microfibre or taffeta separator sewn in too hold a phone or small tool in place and away from scratches from other things in the pocket. I preferred to use the upper pockets but I did find the angle of them a little hard to get things in and out of. The pocket material is made from a mesh fabric that is backed with a finer weave of mesh so nothing can get caught in it, but with the angle & material, my hands don't smoothly move in and out of them.
On the yoke of the Launch short there are silicon grippers screened onto it to help keep your jersey tucked in, and it does a pretty good job. The front closure is a custom double snap with hook and loop backup and features the same YKK mini coil zipper as the pockets.
The Launch shorts come with the Tour 3D Chamois which has smooth, preshaped interface. I can't speak to it, as I tend not to wear chamois unless i'm heading out on a very long ride.
I ended up with a size large, and while they are working ok I think an XL would have been a better overall fit for me. Pearl Izumi isn't quite European sizing, but I wouldn't call it North American either.
Price: $135 USD.
Website: http://www.pearlizumi.com
I paired the Launch shorts with the Big Air Jersey and it hasn't disappointed. It's a full length arm, (I would love to see it in a ¾ length) made from a 100% polyester mesh fabric and features a v neck mesh collar. The lower arms (elbow below) are made from a contrasting blue which matches the collar and has a screened design on the chest. The quality of the screen print looks to be great and it has stood up to several washings without any loss of quality, and at a quick glance it's hard to tell that it is a print, but other jerseys I have had in this price range have been sublimated. Mine is a size XL and the fit is spot on for me.
Price: $60 usd
Website: http://www.pearlizumi.com