At the start of winter I picked up a Bontrager Lithos softshell jacket. It's not the first time I have had a softshell and it won't be the last. They are just a great addition in the closet. On their own, layered with another jacket on cold days.
The Lithos jacket has been my daily go to jacket for cruising around town. The semi fitted cut of the jacket is wearable with a sweatshirt underneath without making you feel like a stuffed sausage, and down right roomy for riding in.
The Profila fabric is rated at 5,000mm waterproofness with 5,000g/m2 breathability. Those numbers put the jacket on the lower side of waterproof rating, but for a jacket designed for non-storm riding I think it is a great number. The second number refers to how breathable the fabric is, and how much moisture it will allow to pass through in a 24 period.
The design of the jacket is different from other ones I have owned or seen in the past. On the riders left side there is a large double sided zipper that opens up for two separate pockets. Both pockets are mesh lined and the upper one is a great size for a phone. On the inside there is a laser cut hole for slick and snag free passage of your earphones cord. On the lower riders right side is a matching pocket to the lower left with tons of space to stuff full with goodies. From tubes to Cliff Bars you can fit a bunch in.
The lower of the jacket has a 5cm drop tail which starts close to the front, so the transition is gradual and less noticeable. Two strips of reflective detail are sewn into the rear seams giving you some added visibility at nighttime. The waist has dual adjusters to fine tune the fit, with the barrel locks sewn right into the hem. The elastic and pulls are tastefully tucked up and away so you won't ever have them poking out.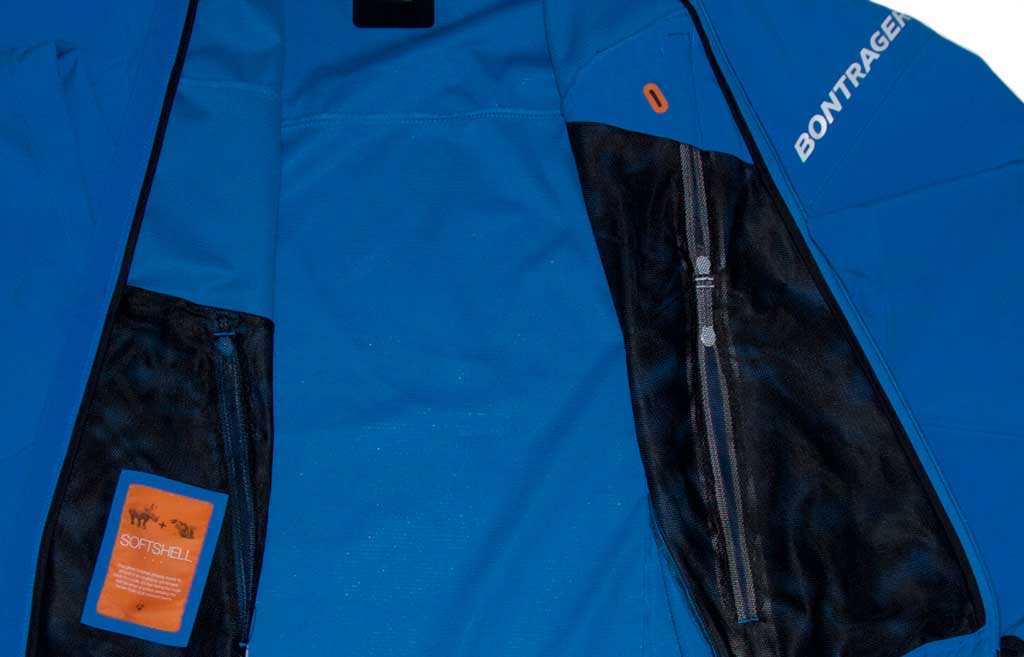 Up top, the hood is three way adjustable with a draw cord around the face of the hood and under the small brim, a second draw cord horizontally from eye to eye with a single barrel lock at the rear & a velcro height adjustment to bring the volume of the hood town. All of it is well thought out and has worked well for me. A couple quick adjustments and the hood can be adjusted to be worn with a helmet on or without.
Down on the wrists there is a simple elastic cuff that is sized well to the jacket and stays in place.
The Lithos Softshell comes in either Stratosphere blue or black and in X-Small to XX-Large. I found that the blue does show the dirt pretty easily, so if I was to get another one I would most likely go with the black.
Price: $174.99 USD
Website: http://http://www.trekbikes.com/us/en_US/apparel