I'm a bit skeptical when bike companies stray outside of frames and dabble in soft goods. Sometimes it feels like they are just trying to make an extra sale to someone that doesn't really know what they are buying and want something that matches their bike. Not to mention that there have been many companies that have tried to make the the transition and have failed.
If you haven't noticed, Specialized has their hands in almost aspect of biking, and in all honesty, they aren't too shabby at it.
I got my hands on a pair of the Specialized 2FO shoes just after a crash put me out for 14 weeks last summer. By the time I was allowed to ride again, snow was starting to cover the ground and the 2FO had to hold up in the closet.
Last month, with bated breath, I cracked open the box and slipped them on for a ride.
Specialized went all out and developed a new rubber called SlipNot (get it? no slippin') for the soles. That SlipNot sole was formed into custom pattern that they call shark-skin which has a tighter pattern under the forefoot, while it opens up under the heal & toe for greater traction. The design of the shoe has integrated some features for durability: injection-molded toe cap, built up areas on the sides for durability, reinforced heal cup and a super tough material on the forefront of the shoe that doesn't get waterlogged after a meeting a deep puddle or rain storm. The uppers use a technique called thermobonded construction that makes them lightweight and sleek looking with virtually no visible stitching.
Aesthetically they are nice shoes. Simple, timeless colorways with a design that is pleasing to the eye. You could wear these shoes out on the town and no one would notice that they are riding shoes.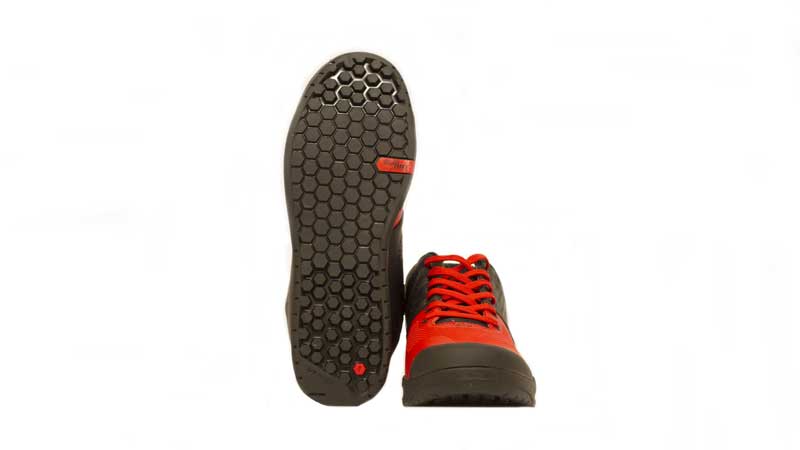 Unfortunately I found the fit of the 2FO to be a bit of a challenged for me. Years of trying silly things has left me with feet that gives my podiatrist nitemares and makes finding good fitting shoes a challenge. I ordered up size 44 (10ish in US sizing) with a wider foot, I found them to be about a 1/2 size too snug for my liking and I should have gone with a 45. With all the reinforcement around the shoe, I'm not hopeful on it stretching/packing out any way, so if you are internet buying them, bump up a size, unless you want to chance it.
So the 2FO didn't last long in my closet, but ended up with a friend who has been wearing them. Time will tell how durable they will end up being, but after a dozen days lapping Whistler Bike Park, he has reported back with no issues.
Overall, I would say that Specialized nailed this one. The shoes look good and so far there has been no issues on durability.
Price: $130, usd. $149 Cdn.
Website: http://www.specialized.com/ca/en/ftr/shoes/mtb-shoes/2fo-flat
Comparibles: FiveTen Impact Vxi $189 cdn. Giro Jacket $109. Sombrio Float $95.