Reviews
Yakima Hookup bike rack
---
A couple weeks ago I was coming back from the bike park after some après work laps and as I went over a speed bump my DH bike came off the roof rack and the rear axel dented the roof of my car as it precariously dangled from the rear tray mount. Upon closer inspection I hadn't locked down the front wheel chock and it rolled out as it rocked back over the speed bump. After verbally abusing myself for the stupidity of my mistake I decided that I wanted an different / easier system for carrying bikes on my car.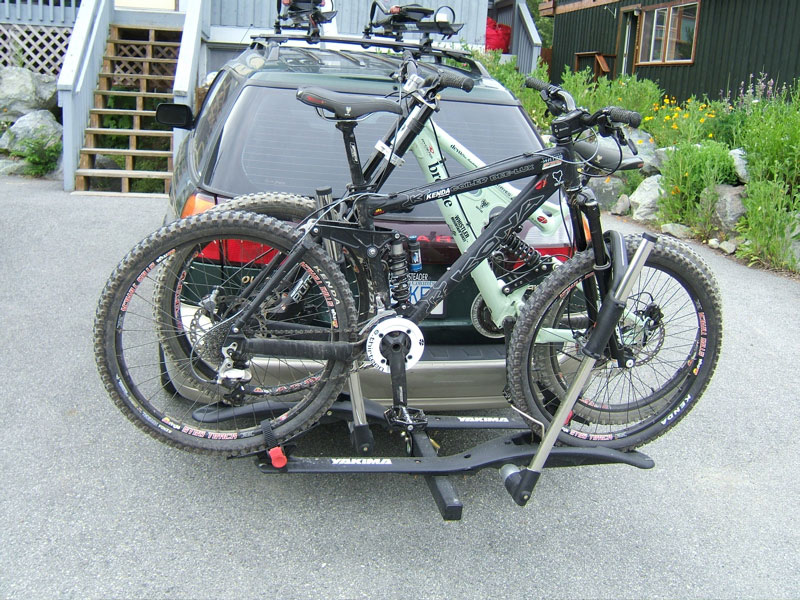 Yakima Hookup Hitch Mount Rack.
I had two other considerations in deciding on a new rack. First my wife would be occasionally using my car and something that would be easy for her was important. Second, something that wouldn't put me into the poor house if I had to take the occasional ferry trip.
Hitch mount was the obvious choice as I had a 1 ¼" receiver already installed on my car and the Yakima Hookup caught my eye. I had already tried the Sportworks T2 and subsequent Thule T2 racks.
The major difference between the Hookup and the T2 was that the Hookup has a cast steel tray. This makes the rack very stable and strong with absolutely no torsional flex. The rear wheel mount is fixed in on a pivot that works extremely well, I haven't had any problems with mounting bikes with different wheelbases and since it pivots around a fixed point it makes it quicker to attach the bike to the rack as you don't have to slide a piece back and forth.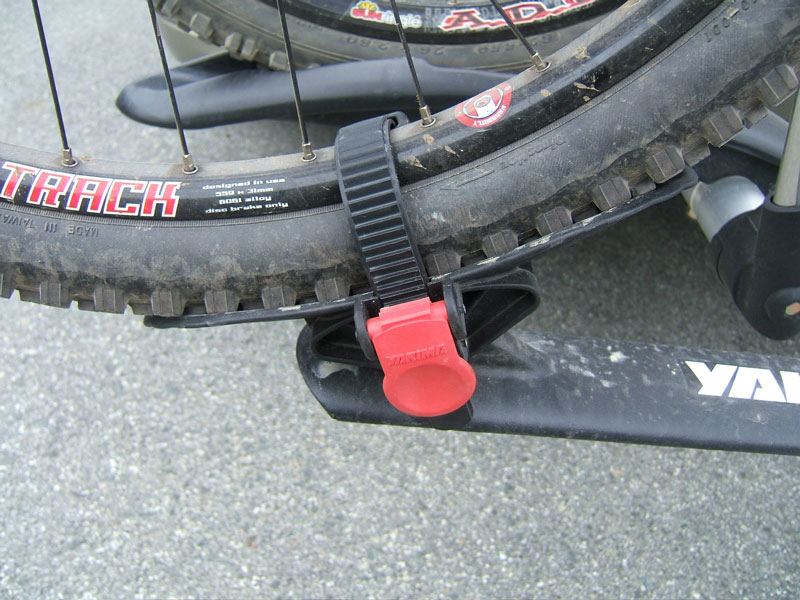 Yakima Hookup Hitch Mount Rack.
The ratchet system is fixed to the mount so that it can't get lost and works very well. The arm fits well over the front wheel and does a great job of holding down the bike, it doesn't touch the frame or fork so that you don't have to worry about your paint job. I found that I had to lean on it to get that extra click on the lock down, but once I had done that, it was secure and wasn't moving around.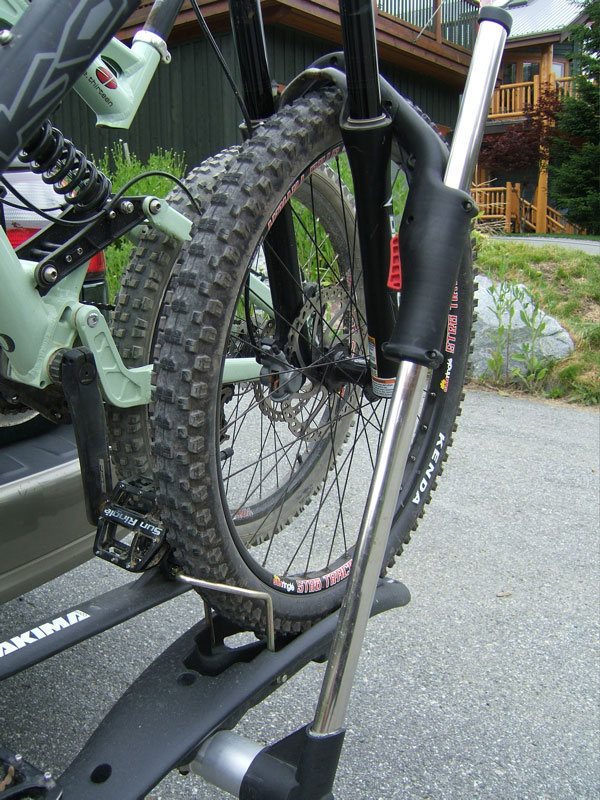 Yakima Hookup Hitch Mount Rack.
When not in use the rack folds up at 90 degrees to the car. It uses a cotter pin and bar to secure it in either position. I found that the pin wasn't as easy to use as the quick release system on the T2 and took some fiddling to get it to line up properly. I would love to see Yakima put their industrial design minds together and come up with a great and easy release system. The cotter pin just seems so 90's.
When the rack was folded up it was pretty tight to my bumper and was rubbing slightly on one spot. I had a similar problem with Sportworks rack, so it could be with the setback on the hitch on my car.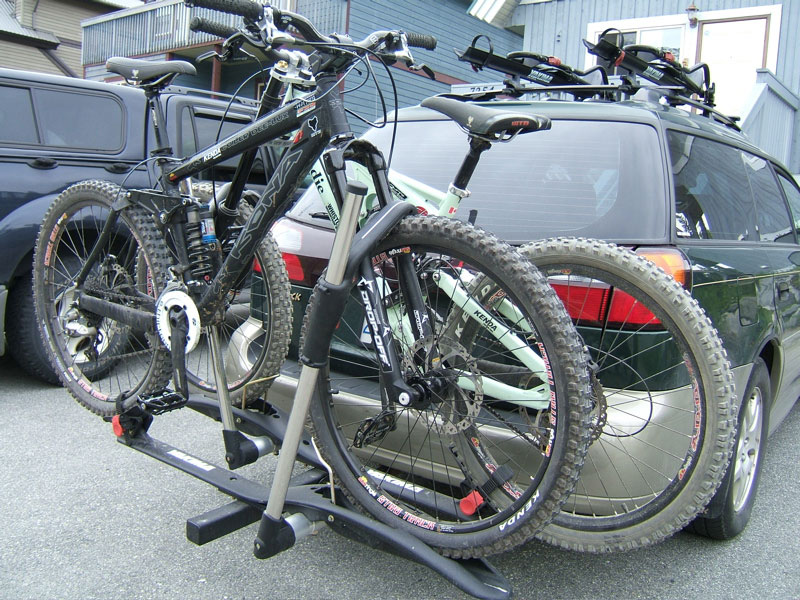 Yakima Hookup Hitch Mount Rack.
Colours: Black
Plus: Case steel tray. Wheel retention doesn't touch forks or frame. Pivot rear wheel mount is a snap to setup.
Minus: Bike tray cannot be adjusted horizontally. Quick release hinge would be a nice feature.
MSRP: $600 cdn 2 bike system, Additional $550 cdn for 4 bike system.
Website: www.yakima.com/Product.aspx?id=29
Rating: 4/5