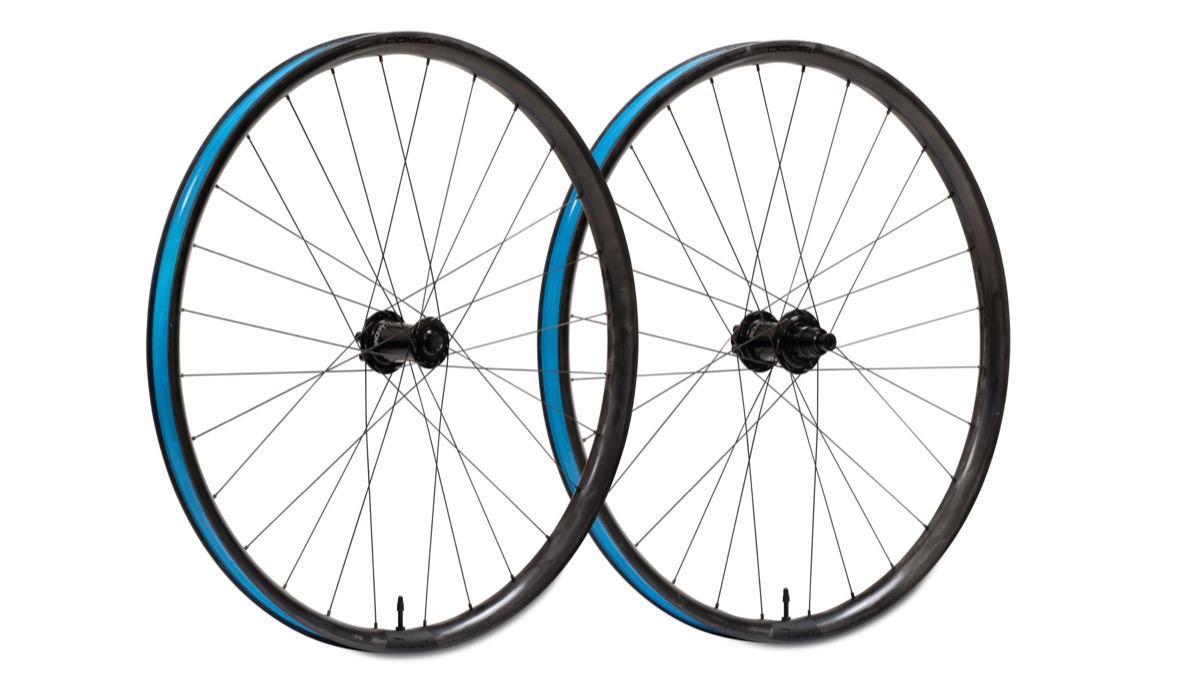 News
Revel Releases RW30 Rim & Wheelset.
---
Revels Bikes RW30 Trail and Enduro Wheels Just Got Better
Designed in Colorado, made in Utah, and built to last; Revel Bikes continues to reshape the industry. Building on experience from their 2020 FUSIONFIBER® rims, Revel Bikes has increased strength, fine-tuned the lay-up, and updated aesthetics in the all-new Revel RW30.
Welcome the next generation of Revel Bikes, a fully recyclable, made-in-America, rim. Using a FUSIONFIBER construction achieves best-in-class ride quality, and unlike traditional carbon wheels, FUSIONFIBER rims can be tuned for specific ride quality without compromising stiffness for compliance and vice versa. Finding this balance makes for a quiet, damped ride feel and pushes these rims into a league of their own compared to traditional thermoset carbon rims.
The Revel engineers were dedicated to making a stronger rim where it matters most, while also keeping the dampened and predictable ride feel the RW30 wheels are known for. Optimized for 28 spokes, you will find the new RW30 is bolstered with more material around the spoke holes and less in between each spoke. This increases strength where the spoke meets the rim while keeping weight down for a snappy and precise feel on the trail. By increasing the width of the bead wall (hook) on the new RW30, Revel achieved a 23% increase in impact resistance. Requiring significantly more force before damage is seen in the "single hook onset impact test" (One of the most practical tests with real-world representation). In summation, the new RW30 wheels provide a stronger and more reliable wheel, without a weight penalty.
Finally, a new surface finish, or lack thereof, gives each rim a subdued and stealthy look while showing off the beautiful FUSIONFIBER layup that makes these wheels so incredible. Each RW30 rim comes out of the mold with its final finish, deterring any harmful paints or epoxies, post-processing, or finishing required to achieve this beautiful high gloss look.
The RW30 is a versatile wheelset best suited for Trail and Enduro bikes with 130-160mm of travel and tire sizes ranging from 2.3"-2.6".
Details and Key Features:
NEW rim dimensions and profile for improved durability while maintaining the excellent ride quality the RW30 and FUSIONFIBER® are known for
485g rim weight. 1,850g complete wheelset weight *(from configuration listed above)
30mm internal width. 38mm external width
4mm bead wall (hook) thickness offers greater durability than before
Symmetrical angled spoke hole drilling
Lifetime Warranty and Crash Replacement
Configurations:
29" 28h rim only - MSRP: $799
29" 28h Complete wheelset – ​ MSRP: $2199
ncludes Sapim MG washers, tubeless tape, and valve
Industry Nine Hydra 15x110/12x148 6-bolt hubs (SRAM XD or Shimano MS)Sapim D-Light spokes and Double Square brass nipplesTubeless tape and valve installed
Complete Wheel Build Details:
Sapim MG nipple washers are required for builds and come included with each rim
ERD 592mm (including required MG nipple washer)
Brass/spherical head nipples only. Compatible nipples are:Sapim Double Square or Polyax
DT Swiss Squorx or Pro Head
Spoke Lengths (Industry Nine Hydra Boost): Front & Rear: Non-Drive Side (L): 292mm. Drive Side (R): 294mm