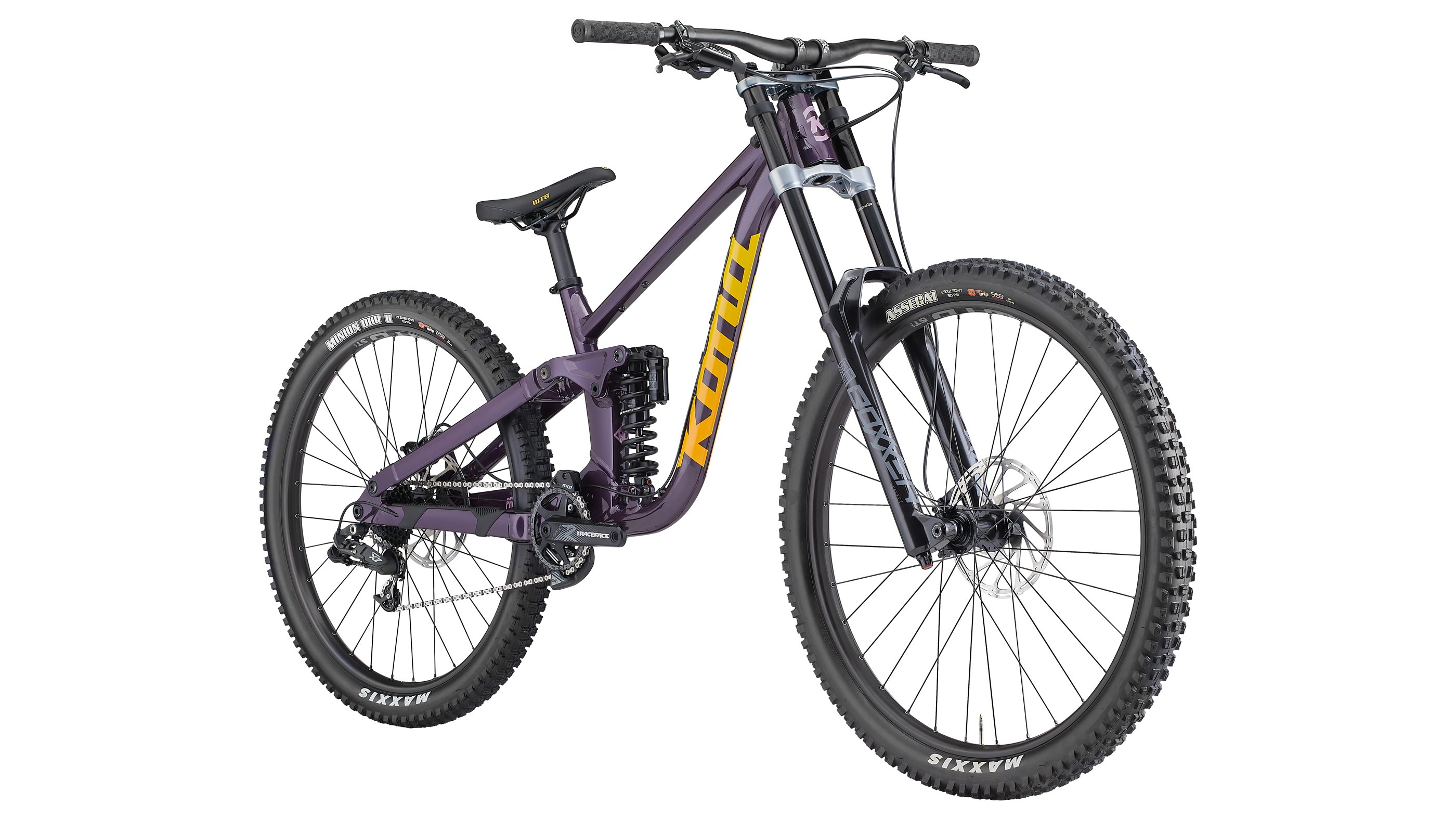 Articles
Kona releases Process X DH. Dual crown, but 162mm of travel.
---
Kona Bicycles Launch Aluminium Process X & Process X DH
Kona Bikes, a respected pioneer in the world of mountain biking, is thrilled to announce the launch of two rowdy aluminum additions to their beloved Process line: the Aluminum Kona Process X and Process X DH. Building upon the phenomenal success of the Process X Carbon, these new models take the essence of trail excellence to a whole new level.
The Aluminum Process X and Process X DH are engineered to offer riders an unparalleled blend of performance and durability for unmatched "Shredability." These bikes are designed to withstand the most demanding trails, allowing riders to push their limits and achieve new heights in their riding. For dedicated bike park aficionados and free-riders to tech singletrack and flow junkies, the new line of Process bikes is ready for long, sweet rides.
"We've always been at the forefront of innovation in the world of mountain biking. With the introduction of the Aluminum Kona Process X and Process X DH, we're reaffirming our commitment to providing riders with unparalleled performance and durability. These bikes encapsulate our passion and understanding of what the mountain biking community desires. It's not just about creating a product; it's about crafting an experience that will leave every rider exhilarated and yearning for more. We're proud to welcome these two models to our storied Process line and can't wait to see them on the trails, leaving a mark, and creating memories."
Process X lovers everywhere asked, and Kona delivered. Designed for progressive riders who want to elevate their riding to the next level, the Process X can handle long days in the bike park, endless shuttle laps with your mates, or a good-vibes-only jump session. No matter what you throw at it, the Process X Alloy is ready to put a smile on your face.
Highlights:
Designed for a 170-180 mm fork and 162mm of rear wheel travel
It ships as a full 29er for unmatched versatility and speed
12-speed Shimano drivetrain
A flip-chip allows for a 29" or 27.5" rear wheel
Sizes - S, M, L, XL
MSRP: USD: $4499 | CAD: $5399
Introducing the aluminum Process X DH. For downhill enthusiasts who like to ride outside of the lines, no side hit is safe from tires attached to the Process X DH. Agile enough in the rear end to win Whip Off's, yet stable enough to absorb some of the biggest hits and inside lines. It offers you everything you need in a bike to become a park rat overnight.
Highlights:
Designed around 190mm Dual Crown Fork with 110 x 20 front axle and 162mm of Rear Wheel Travel
It ships as a Mullet.
A flip-chip allows for a 29" or 27.5" rear wheel options
9-speed Sram DH drivetrain
Sizes - S, M, L, XL
MSRP: USD: $4699 | CAD: $5399
6061 Aluminum Frame, UDH Compatible and Long Dropper Friendly:
The heart of the Process X and Process X DH is a robust 6061 aluminum frame renowned for its strength and durability. This frame material is designed to withstand the toughest terrain, ensuring that these bikes will be your trusty companion for years to come. Thanks to a straight, robust seat tube, riders can run a long dropper post to ensure the saddle is high enough for the climbs but out of the way when things point downhill. The forged bottom bracket and main pivot junction ensure these frames are stiff and responsive in corners but ready to take any hit imaginable.
Shred-Ready Geometry, Mullet Ready:
Kona's legendary Process geometry ensures that both the Process X and Process X DH excel in all aspects of shredding. The Process suspension platform is easy to tune and easy to ride. Using a linkage-driven single-pivot design that gives more control over the ride feel. The pivot locations are selected to optimize the suspension feel for whatever you're riding. In choosing a progressive leverage curve, Kona has prioritized predictability and durability to deliver a workhorse design that ensures every day is ride day.
Suspension Excellence:
These bikes provide plush, predictable, and responsive suspension performance, equipped with top-of-the-line suspension components from RockShox, Fox, and Marzocchi. The Process X is designed with a 170-180mm single-crown fork in mind or a 190mm dual-crown for park lap smashing and rowdy shuttle days. The bikes are designed to inspire confidence, allowing you to tackle technical descents, rowdy roots, and rocks while still having the prowess to climb back up, thanks to the Beamer Suspension Design.
Leverage Curve and Anti-Squat:
For the Process X DH and the terrain it's intended for, Kona landed on a relatively low anti-squat number, so the suspension isn't working against you as you throw in a pedal stroke while smashing downhill. While on the single crowned Process X, If you're aiming for high alpine gnar, these same anti-squat numbers will give you ultimate traction without losing an enormous amount of climbing efficiency.
Designed for the seasoned rider looking for an aggressive all-mountain bike that won't flinch after a beating, the Kona Process X and Process X DH have something to offer.