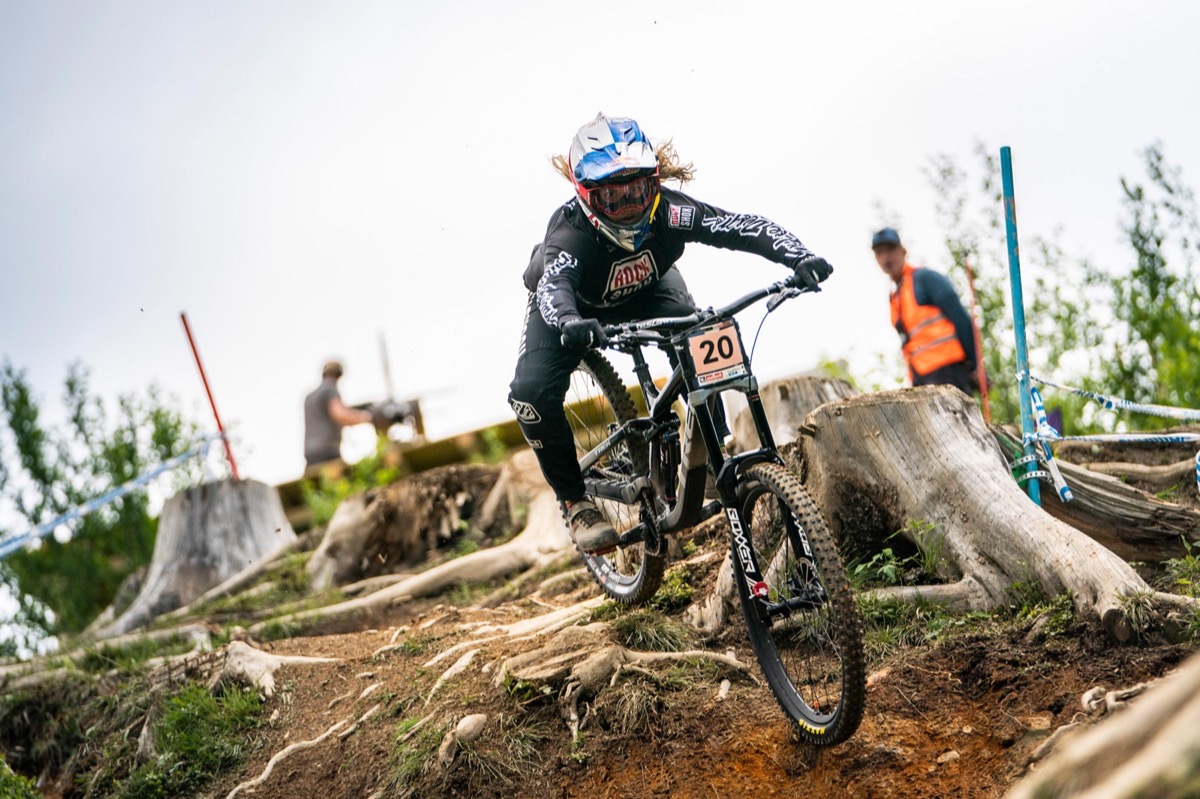 Events
Double World Cup in Saalfelden Leogang is days away
---
So far this season, Cross-Country and Downhill races took place hundreds of kilometers apart, but that is about to change.
Their two worlds will merge from 10 - 12 June as the first double World Cup of the 2022 season takes place in Saalfelden Leogang, Austria, as the Austrian town becomes the hot-bed of global mountain biking for a few days. Over 800 athletes from 44 nations will give it their all in the hunt for valuable World Cup points, and they will be cheered on by more than 20,000 mountain bike loving spectators. Spectacular side events complete this bike-action filled weekend. Tickets can be purchased online or at the box office and if history shows, it pays to be fast, as they're sure to sell out.

Tyrolean advantage? Swiss legend vs. British high-flyer?

While only a third of the Cross-Country season has come and gone, one rider's name has risen above all others so far: Rebecca 'Bec' McConnell, the new rider to beat. The Australian rider has won all three Olympic distance races and has been on the podium for all of the Short Track races as well, putting her on top of both rankings ahead of the races in Leogang. Apart from the usual podium suspects, two Austrians have risen through the ranks; Laura Stigger and Mona Mitterwallner, who are ranked fourth and fifth in the XCO Overall rankings. Cheered on by their "home" crowd, both are ready to prove their mettle. "The pressure is immense, especially the one that I put on myself. I'm excited to race and I want to have fun doing it, that's what I keep telling myself. First order of business is to show the spectators that we've got what it takes," says Mona Mitterwallner, who has won multiple times in Leogang as well as winning the U-23 Cross-Country Overall World Cup in 2021.

"The Short Track course is extremely demanding, right from the start. The meadow climb is quite physical, and you need to have good technique. Altogether, the Leogang track has the most vertical meters, but I think that suits the Tyroleans quite well and I'm looking forward to it." - Laura Stigger

In the men's field, this season has seen a battle unfold between Nino Schurter (SUI) and Tom Pidcock (GBR). The Swiss legend leads the Overall World Cup rankings thanks to a win in Brazil, as well as podium finishes in Nove Mesto (2nd) and Albstadt (3rd) and is one Olympic distance win away from calling himself the record holder for most World Cup wins. Meanwhile, Pidcock is second in the Overall with back to back wins, but he has yet to confirm whether he's racing in Leogang.

Score to settle for Austrian local? Leogang good luck charm for Balanche (SUI)?

If home advantage will play a role in the Downhill races, there is one rider that would capitalize on it is Austrian Valentina 'Vali' Höll. Growing up just a stone's throw away from the iconic World Cup stop, she knows the track like no other and has a score to settle with the 'Speedster' after crashes in 2020 and 2021 took her out of the running for an Austrian win. Camille Balanche, who sits in first place in the Overall rankings after winning the season opener in Lourdes and finishing second in Fort William, will be hoping that the idyllic town continues to be her good luck charm, especially after winning the 2020 World Championships and the 2021 World Cup in this very town. Hot on the heels of Vali and Camille will be current World Champion Myriam Nicole (FRA) and Nina Hoffmann (GER), who was the fastest woman in Fort William.

"It's crazy to witness the development of the World Cup, especially over the last three years. Back in the days there were maybe one or two riders who could say they won a World Cup, but now, there are six women who all have what it takes to win. Just to get into the Top 5 has become a challenge in itself. Of course, that's really motivating, but it's also a bit annoying that there are so many fast riders. Leogang is always an interesting race for me. I've qualified first every single time in Leogang, which gave me the "Quali-Vali" nickname, but I would struggle during finals. I think that that has to do with routines and the ability to deal with pressure. I know that as long as I don't crash, I'll have a good race." Valentina Höll.

With two wins in two races, French rider Amaury Pierron has become the man to beat. His closest rivals, including Laurie Greenland (GBR), Thibaut Dapréla (FRA), Benoit Coulanges (FRA) and Finn Iles (CAN), have yet to find a way to break Pierron's dominance. With Loic Bruni (FRA) out due to a collarbone fracture suffered in Fort William, who will prove fast enough to beat Pierron?

Electrifying atmosphere with 20,000 fans, a packed event schedule and more

Saalfelden Leogang World Cup weekend means a lot more than spectacular racing. It means party vibes, bike action on- and off the trails, signing sessions, an air show and more. For the first time since 2019, spectators are once again allowed trackside in the Epic Bikepark Leogang. "We're expecting between 7,000 to 10,000 visitors per day. The other World Cup stops have done very well, and it shows just how much the sport is booming. The scene is dying to be there again, to experience a race trackside, because that's an extremely unique feeling," says Kornel Grundner, director of the Leogang cable car and organizer of the World Cup.

It wouldn't be a Leogang World Cup stop without a packed schedule of side-events, including an air show of the Flying Bulls with the Trojan 28B and pilot Miguel Hochleitner, a BMX show hosted by Senad Grosic as well as a signing session with some of the best FOX Racing athletes. The Expo Area will be filled to the brim with the latest and greatest from the bike world and in the Team Area, visitors can get a look behind the scenes at the daily life of athletes during a World Cup weekend. Both areas can be visited on Friday (12:00 - 20:00), Saturday (10:00 - 20:00) and Sunday (09:30 - 17:00).

Tickets for this bike-action filled weekend can be purchased online or at the box office and if history shows, it pays to be fast, as they're sure to sell out. As a "Green Event Salzburg", the World Cup focusses heavily on sustainability. The organizers aim to reduce their ecological footprint to a minimum by, for example, providing free public transport and shuttles on site, providing the means to separate and reduce waste and motivating people to use the MTB World Cup app in order to reduce paper usage, but also use energy efficiently.


For more information about the Mercedes-Benz UCI Mountainbike World Cup in Saalfelden Leogang, head over to www.mtb-weltcup.at.