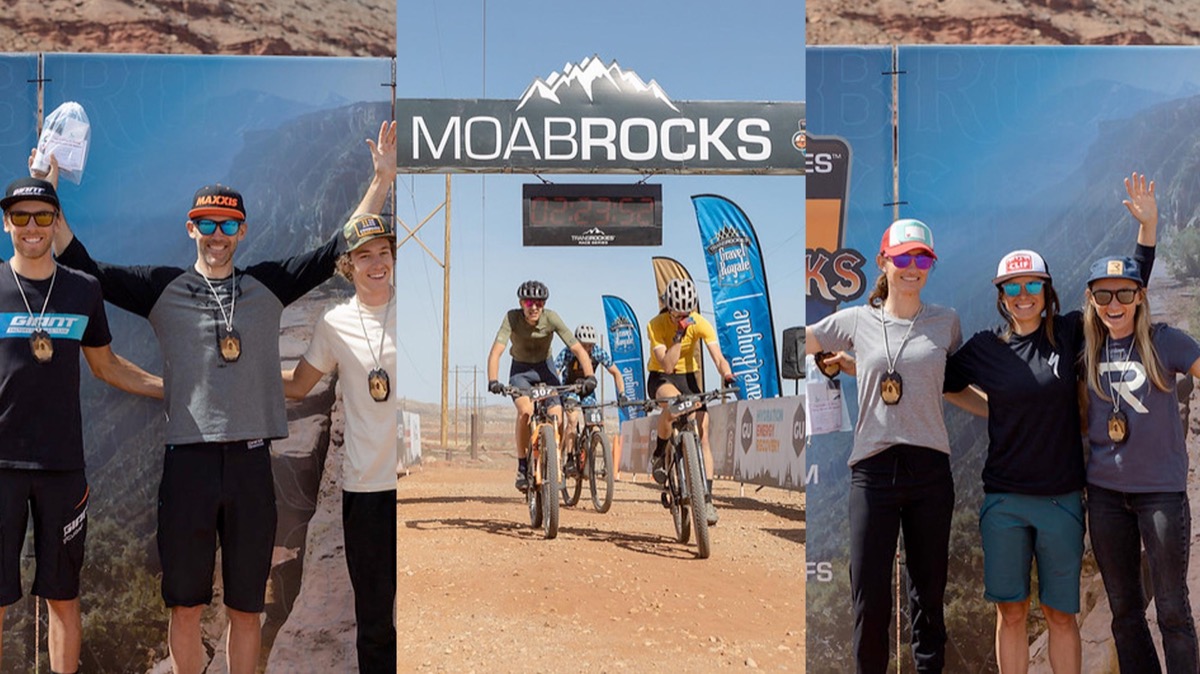 Competitions
Transrockies: Stunning Final Day of Moab Rocks.
---
The last stage started with a blue sky, warmer weather and less punchy rock compared to the last two stages.
Racers started their climb on the Gemini Bridges road, which is mostly accessible to off-road vehicles. The single track started at Arth's Corner and winds up to the Gold Bar Rim, continuing to climb Getaway to the top and descend Bull Run and Great Escape down to the finish where the leaders clocked in at just under two hours of racing.
Stage 3 Race Results
There was a lot of enthusiasm and anticipation at this last stage. Most categories stayed consistent to the previous stages, with most of the top 3 in each category rotating each stage.
Today, Stephan Devoust took an early lead and managed to stay just ahead of Geoff Kabush to take the stage win, with Bradyn Lange rounding out the top 3 spots. The overall Mens Open GC saw Geoff Kabush take the win, Stephan Devoust in second and Bradyn Lange in third. On the women's side Katerina Nash powered her way to the top spot with the closest rider, Lauren Aggeler, almost 4 minutes behind her, and Lauren Cantwell taking third on the stage. The final GC saw Katerina Nash sweep all three stages to secure the top spot. While Jennifer Gersbach took second and Karen Jarchow take third.
What a great three days! You can view the results HERE. Congratulations to everyone who took part.
Memories of the Moab Rocks trails
Stage 1: Porcupine Rim – This is one of the classics that riders love -- almost as much as the Slickrock Trail. The Porcupine Rim trail starts in partially shaded single track and as you descend there is plenty of slickrock with incredible views of Monument Valley and ending the race at the Colorado River. This ride has technical sections with drops, ranging from large to small, which are rideable.
Stage 2: Klondike – Dinos used to roam here. Really. These punchy trails are 17 miles west of Moab. The trails are a combo of old and new Klondike trails system. There are tough climbs and smooth fast descents and the scenery is spectacular. A dinosaur footprint hike can be accessed from the north end of the trail system.
Stage 3: Mag 7 – These trails are "mag-nificent" and include the Navajo Rocks and Gemini Bridges networks. In fact, there are 7 trails Bull Run, Arth's Corner, Little Canyon, Gold Bar Rim, Golden Spike, the north end of Poison Spider, and the infamous Portal Trail. For the TransRockies' Moab Rocks Stage 3, the first part starts on a double track on the Gemini Bridges Road then up bike specific single track and finishing on the Canyon Rim descending through slick rock.
Stay safe on the trails and we hope to see you soon! The next Moab Rocks race will be March 25-27, 2023 - Registration Opens: May 4th, 2022, 9 AM