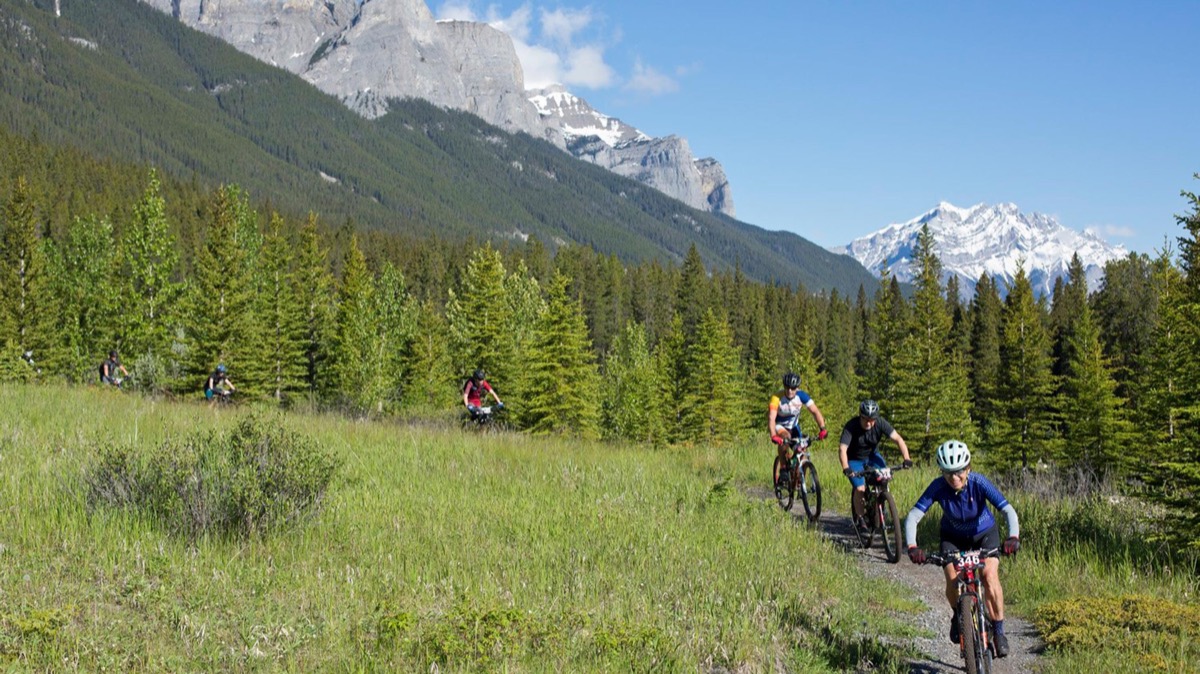 Competitions
Singletrack 6 2023: Stage 6.
---
Wi-Com Stage 6
Length: 35 km
Elevation gain: 800 m
Last, but certainly not least, Stage 6 in Canmore was a fitting end to six days of adventure in the Rockies. Being one of the shorter stages, it left racers one last chance to give it all with whatever gas they had left in their tanks! As riders gathered around the start line right on Main Street this morning, the overall mood was one of nervous anticipation. Everyone knew they were only one stage away from accomplishing something special, and for many, this would be a hard-won checkmark for their bucket list. With the gun going off at 8:00 am, and no neutral start, meant racers were free to race as hard as they could up the quiet Spray Lakes Road towards the Canmore Nordic Centre, where riders tackled a series of cross-country ski trails before hitting the first singletrack climb on Killer Bs. The stage continued on classic Nordic Centre singletrack broken up by small sections of ski trails. The newly connected Rundle Riverside connector trail was added to the far end of the first loop before riders returned to the Stadium area on EKG and FYI trails.
Riders then headed back out for the second loop, which featured the lower Odyssey, Blue Coal Chutes, Long Road to Ruin, EKG, and Orchid trails. With only 800m of climbing, this stage may have be the easiest of the 6 in this year's event, a fun and friendly way to wrap up six days of amazing singletrack riding in the Canadian Rockies.
The final race clock stopped before riders left the Nordic Centre, which meant that the final descent and ride into the downtown finish was a neutral parade finish for safety reasons. The downtown finish offered every rider on course an iconic backdrop to a week that conjures up legends of the original Transrockies Challenge finish in 2002, making it a memorable end to an amazing six days of racing.
Topping the podium for stage 6, and taking a total of 4 top spots through the week, was Cameron Jones in a time of 1:27:26, followed right behind by Carter Nieuwesteeg, with a time of 1:28:16. And in third spot today was Raph Couturier, with a time of 1:29:04.
In the Open Men's GC, Cameron Jones took first place with a total time across all six stages of 11:36:27, while Carter Nieuwesteeg took second, with a total time of 11:47:45, and Justin Homewood in third with an overall time of 12:43:05.
On the Women's side, Hannah Simms crossed the line first on stage six—for her 5th stage win—with a time of 1:46:48. And in second place was Chelsea Pummel, with a time of 1:49:14, followed by Imogen Smith in third place at 1:54.56.
In the Open Women's GC, Hannah Simms took first place overall with a total time across all six stages of 15:07:05. Chelsee Pummel finished second, with a total time of 15:17:48, and Imogen Smith in third in a total time of 15:45:54.