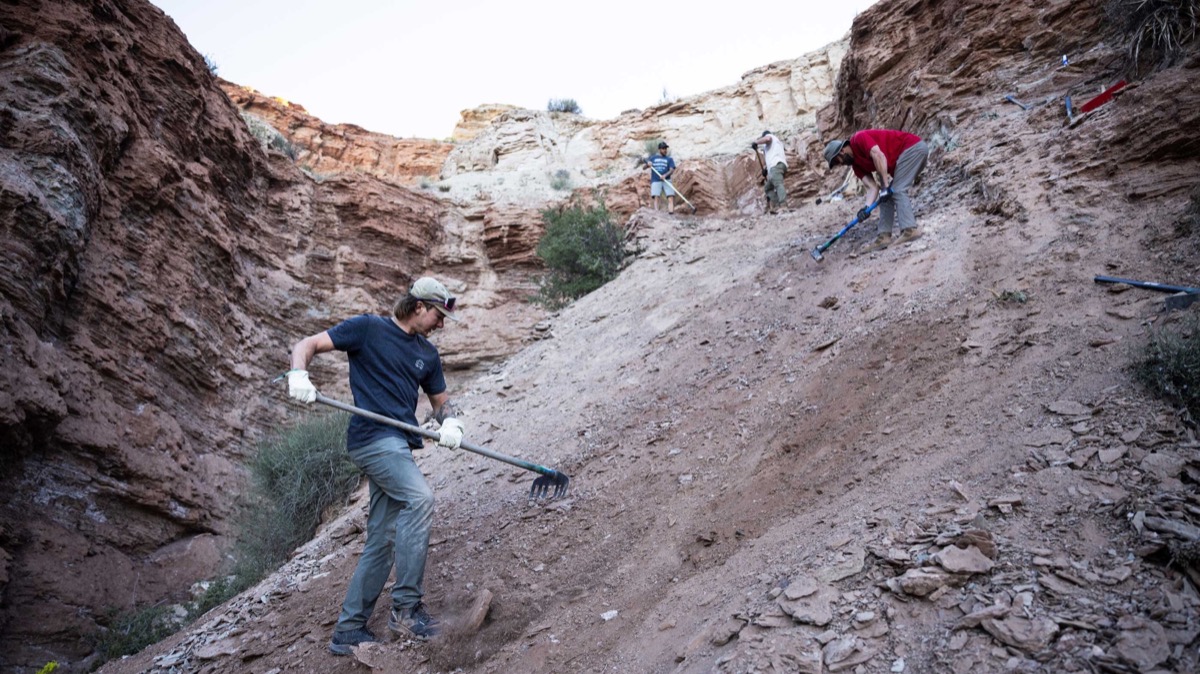 Competitions
Red Bull Rampage is this week. Looks very scary.
---
Biggest worldwide mountain bike stars compete in Utah this Friday down daunting steep cliffs.
Red Bull Rampage has built up a reputation as the Super Bowl of the extreme sports world with the best mountain bike stars just happy to get down the course safely as the 2023 edition launches this Friday on the ochre-colored cliffs of Virgin, Utah, USA. Here is all you need to know:
- The only worldwide event that comes close to Red Bull Rampage is the Natural Selection Tour that sees backcountry freestyle snowboarders take on nature's biggest lines, with the most extreme and intense mountain bike test thrilling fans since 2001 - the 2023 event this week, its 17th edition.
- Slopestyle star Nicholi Rogatkin has stoked fan enthusiasm for this year's edition by travelling to New York City where the event's emblematic start gates appeared in iconic locations including Domino Park and Liberty State Park plus an immersive experience took place at LUME Studios that leveraged state-of-the-art projection to transport guests to the wide-open spaces of Virgin, Utah.
- The American, 27, said: "New York City is famously fast and frenetic, the complete opposite of the wide, open deserts of Virgin, Utah and it was great to explore the contrast between the two."
- Unlike the traditional mountain bike slopestyle course of wooden ramps and smooth terrain, Red Bull Rampage is more of a freeride event that takes place on loose ground that offers hardly any grip with riders using robust downhill bikes boasting a lot of suspension and large tires.
- Riders and their small dig team can craft the natural terrain for their lines within the marked area over the first four days with shovels, picks and 75 sandbags before a rest day and then a further four days to practice.
- The riders have two runs of three minutes each to impress the judges with riders scored throughout on difficulty level of the line, tricks and style, fluid and control and finally altitude over the breathtaking cliffs, dizzying exposure and almost vertical gullies that connect the lines.
- The top five riders from 2022 were automatically pre-qualified for this year's event, while the other 13 wildcards and five alternates were selected by a committee of former Rampage competitors, pro athletes, judges and industry experts based on competition results and video submissions.
- Four former winners and three event rookies are among those set to compete, highlighting a blend of seasoned veterans and hungry newcomers ready to leave their mark on the event.
- Five events have been held at this location, where some of freeride's most iconic moments have occurred, including Cam Zink's huge 360 off the Oakley Icon Sender in 2010 and Kelly McGarry's legendary backflip over the 72-foot road gap in 2013.
- There is no return for defending champion Brett Rheeder, who has retired from competition. Four-time winner Brandon Semenuk was also pre-qualified based on his third-place finish in 2022, but scheduling conflicts have put paid to his appearance at this year's event, with Gee Atherton stepping in as his replacement. The undeniable king of mountain bike slopestyle Emil Johansson is on the list as a wildcard however, making it his second appearance at Rampage following his 2019 debut.
- 2022 runner-up Szymon Godziek said: "Red Bull Rampage is the ultimate test of your skill on a mountain bike. I'm excited to return to Utah for my seventh Rampage invitation, reconnect with the top riders in the freeride scene and put together a run that showcases my style and technique."
2023 Red Bull Rampage riders
Pre-qualified athletes:
Szymon Godziek (POL)
Reed Boggs (USA)
Thomas Genon (BEL)
Carson Storch (USA)
Wildcard invites:
Adolf Silva (SPA)
Alex Volokhov (CAN)
Bienvenido Aguado Alba (SPA)
Brendan Fairclough (GBR)
Cam Zink (USA)
Clemens Kaudela (AUT)
DJ Brandt (USA)
Emil Johansson (SWE)
Jaxson Riddle (USA)
Kurt Sorge (CAN)
Kyle Strait (USA)
Talus Turk (USA)
Tom Van Steenbergen (USA)
Gee Atherton (UK)
Reed Boggs (USA)