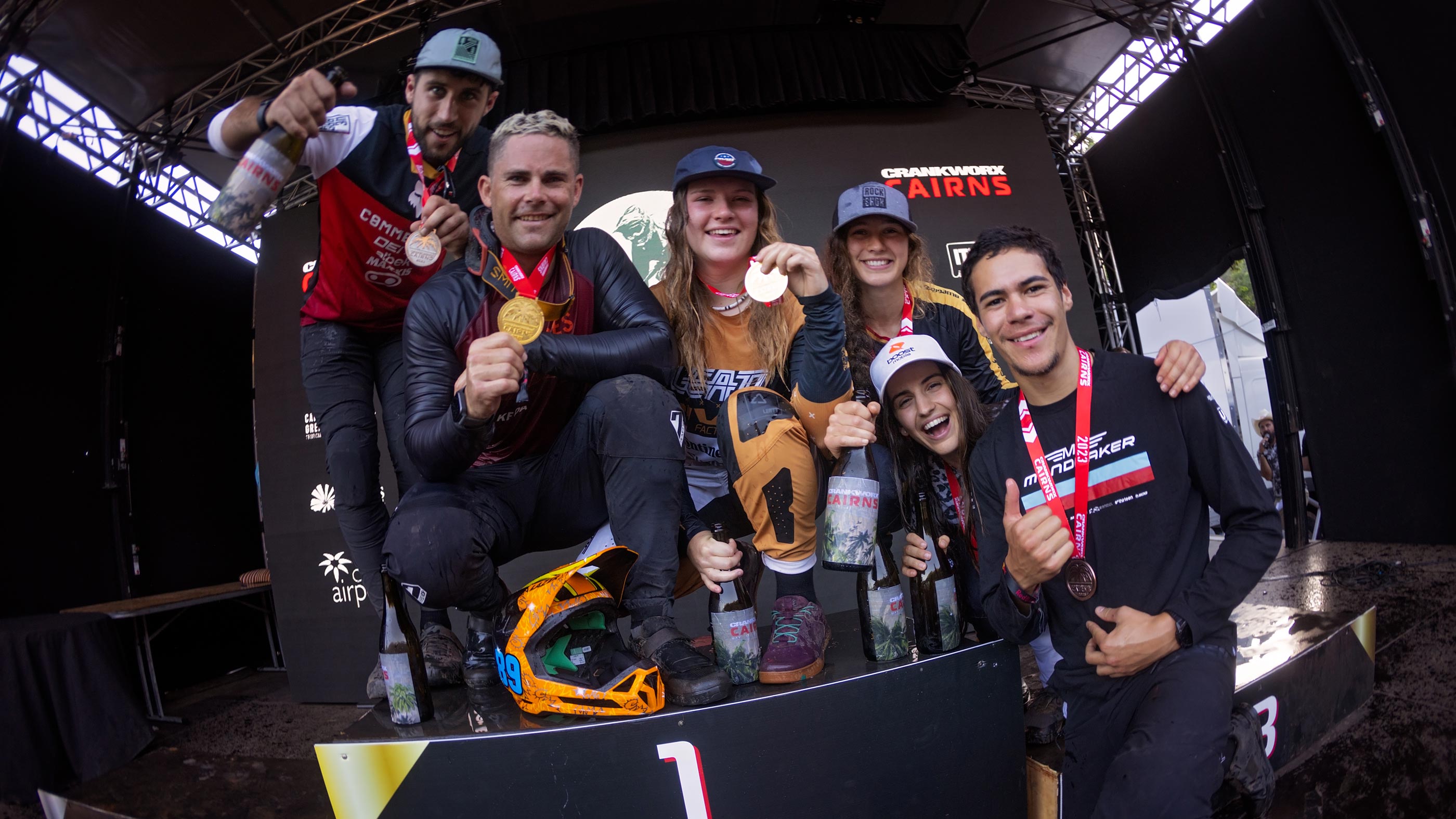 Competitions
Mik Hannah is still pretty good at bikes.
---
As the sun beat down on the final day of competition in Crankworx Cairns, riders battled a raw, rowdy and fast-rolling track, chocked full of jumps, roots and rock gardens.
Featuring a magical mixture of loose granitic soil and dry volcanic clay, racers had to think fast and adapt on the fly to the changing terrain. The race saw top international riders and impossibly fast locals lock horns in a race against the clock, as they navigated steep and gnarly lines before going all out in a full-throttle sprint across the finish.
While some riders agonized over endless training laps to try and find the fastest lines down the perilous track, others found confidence in a familiar course that hasn't changed much since its build in 2006. Not surprisingly, one of these riders happened to be the fastest on the day, thanks to over 30 years of experience on the track. "Sik Mik" Hannah couldn't have drawn up a better result for himself as he took home the win in front of a roaring crowd of fans, friends and close family.
"It's amazing! It's maybe the 5th international race I've had here. I've had 2nd's and been very close. I was third here last year, so to get the win was really special," said Hannah. "Today is my mom's 60th birthday so it makes it extra meaningful. We had lots of family here for that, so for all the people who had been following me online for so long to finally see me in person and take the win, it was awesome."
Despite the decades of practice on the challenging track, "Sik Mik" was acutely aware of how calculated he had to be out there in race that was ultimately decided by three tenths of a second.
"This is a finicky track to race, you have to be quite precise," said Hannah. "It's such a fine line to push the limit and still ride clean enough. I made a few little mistakes, but I felt pretty good. I just buried myself in the sprint in the end and it ended up being enough."
Joining Hannah on the top step of the podium was New Zealand's Jenna Hastings, who returned to her winning ways after an extended series of close second's and podium finishes.
"I've been getting podiums a lot…seconds, thirds, fourths and I just really wanted to win again," said Hastings. "I think I just wanted it a lot today and left it all out there in the sprint, I think that was the deciding the factor. Coming into the final stretch you're toast and you just have to dig deep and sprint your ass off."
Hastings touched on what it was like to barely come up short at last year's race and the motivation that provided coming into today.
"Last year I had a little more in the tank and had more to give (when I finished), so this year I wasn't leaving anything to chance and went all out," said Hastings. "I tried to keep it clean the whole way and leave nothing on the table. This was only my second gold medal, my first was in 2021 when I was 17. I wanted it really bad, I sprinted as hard as I could, and it feels pretty damn good."
Coming a close second behind Hastings was the blazing fast Brit, Louise Ferguson who was elated to finally put down a clean final run after being plagued with unfortunate mishaps in recent races despite early success.
"I'm really, really happy with my result. I've been seeding first a couple times and this is the first time I haven't crashed after that," said Ferguson. "I pushed hard, kept it smooth, didn't really have any mishaps in my race run, so this is something I can really build off of. This track is so fast, you have to be so precise, it's kind of like a constant balance of trying to carry your speed through sections, but not go too fast and make a mistake because it can cost you quite a lot."
Also taking home the silver today, Jackson Frew narrowly missed taking down Hannah, the hometown hero by three tenths of a second. Despite being disappointed by the result, the feeling of despair would be short lived as he appreciated the beauty in losing to the local legend.
"It felt really really good. Any time you're that close to Mick, its a really really good day in the office," said Frew. "Unfortunately it was that close which kind of stings, but its Mick and I've got so much respect for him. I've looked up to him for such a long time, so to be that close here (on Mick's home track), that feels absolutely incredible."
Bringing home the Bronze was 17-year-old phenom Ellie Smith and King of Crankworx contender Tuhoto-Ariki Pene, who weren't far off the pace as they put down impressive runs in their own right on the technical Cairns course.
Following the closely contested racing action today, the battle for the 2023 King and Queen of Crankworx titles was further intensified. Jenna Hastings' second place finish brought her within only 26 points of Caroline Buchanan and the top spot. On the Men's side, Tuhoto-Ariki Pene's third place finish inched him 82 points closer to Bas van Steenbergen and his crown.
And just like that, the live broadcast action from Crankworx Cairns comes to a close. Tune in next month as the Crankworx World Tour returns to Innsbruck, Austria!
To catch up on all of today's exciting downhill action, visit Red Bull TV for the official event replay.
Results: Crankworx Cairns RockShox Downhill
Mick HANNAH (AUS) – 3:28:306 / Jenna HASTINGS (NZL) – 4:01:888
Jackson FREW (AUS) – 3:28:652 / Louise FERGUSON (GBR) – 4:03:480
TUHOTO-ARIKI PENE (NZL) – 3:32:768 / Ellie SMITH (AUS) – 4:07:968
Full results: crankworx.com/results/