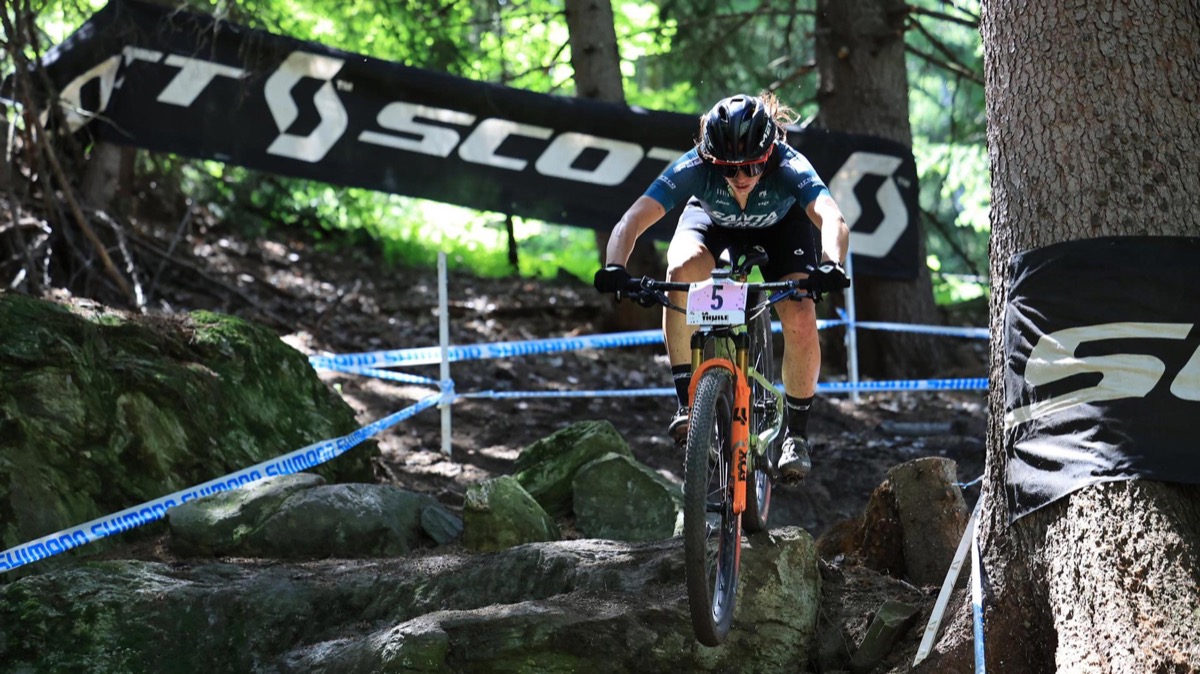 Competitions
Luca Braidot and Martina Berta shine in La Thuile's finals
---
Braidot and Giada Specia won the Internazionali d'Italia Series' overall classification. Evie Richards solid third in racing comeback after back issues.
With the grand finale of La Thuile on Saturday June 25th, the 2022 season of Internazionali d'Italia Series has come to a conclusion. The most important Italian XC series has once again offered top class events and protagonists through San Zeno di Montagna, Nals and Capoliveri until its final act in Aosta Valley.

The last stage of the series was held in a beautiful sunny day on the demanding 4,5 km course designed by Enrico Martello in the La Thuile Bike Park. The event offered some spectacular displays to the many attending fans and crowned the new champions of the series managed by CM Outdoor Events, in synergy with the Italian Cycling Federation.

Luca Braidot (Santa Cruz-FSA) and Giada Specia (Wilier-Pirelli) have deservedly succeeded to Vlad Dascalu and Chiara Teocchi in the golden book, thanks to their consistent performance through this first part of the season. Their highlights were, respectively, the success in San Zeno di Montagna for the 21-year-old woman and the HC-double clinched by the 31-year-old from Friuli, who managed to repeat his Capoliveri success also in La Thuile.

In Aosta Valley, the fans could also celebrate the glory day of a home rider, Martina Berta (Santa Cruz-FSA), whose performance was even more impressive, less than ten weeks after her very severe accident in Capoliveri.

BRAIDOT TAKES IT ALL IN LA THUILE: STAGE VICTORY AND GC

For a long time, the Internazionali d'Italia Series' races looked doomed for Luca Braidot (Santa Cruz-FSA). Be it bad luck, technical mishaps or physical troubles, things never seemed to align for the 31-year-old in Italian races.

In 2022, however, the wind has changed: Braidot got on the podium already in the season opener in San Zeno di Montagna, and then the big HC win in Capoliveri finally brought a decade-long drought to an end.
Having broken the spell, Luca doesn't look like stopping anymore. The Italian clinched another HC win in the series finale in La Thuile, sealing the Open Men category's overall success in the process.

After the first lap went through without major gaps, the second time on the La Thuile ring began to make a selection, leaving a trio in the lead. Luca Braidot, fellow Italian Juri Zanotti (Absolute Absalon) and South African Alan Hatherly (Cannondale Factory Racing) moved to the fore, chased by Italian National Champion Nadir Colledani (MMR Factory Racing) and Daniele Braidot (CS Carabinieri) 20 seconds behind.

In the following lap, Luca Braidot showed his punch by getting clear of his rivals, putting 30 seconds between himself and his two former companions, joined in the meantime by Colledani.

The Italian National Champion was the one with the best pace behind the leader, succeeding in distancing Zanotti, while Hatherly faltered nearly halfway through the race, falling well outside of the top 10.
Braidot had the time to savor his double success through the final lap, saluted by the La Thuile crowd with a 56-second advantage on Colledani, and 1.24 over Zanotti. The all-Italian top-3 will leave a smile on the face of Italian National Team coach Mirko Celestino. New Zealander Ben Oliver (Mitoq - NZ Cycling Project) was fourth on the day, followed by Anton Sintsov (Orbea Club) in fifth.

"I had done two weeks of altitude training before this race, so I was kind of cautious early on," Braidot told afterwards. "When I realized I had more gas than the rest, I pushed on and it worked out. I am excited to have achieved a double goal. Last year was a really difficult one, characterized by the huge disappointment of the Olympic Games. After that, I have changed everything, from preparation to nutrition, and I am seeing results. And finally, my fate at Internazionali d'Italia Series has changed, too."

Ninth in La Thuile, Filippo Fontana (CS Carabinieri) secured the overall GC victory for the Under 23 Men's category.

BERTA IMPRESSES IN LA THUILE, SPECIA SECURES OPEN WOMEN'S TITLE

Just over two months ago, Martina Berta (Santa Cruz-FSA) suffered a severe crash during a pre-race training in Capoliveri, resulting in a vertebral column fracture. With that in mind, to see the 24-year-old from Valle d'Aosta winning La Thuile MTB Race among Open Women in great fashion was even more impressive.

The Italian rider made a clear difference in the second half of the race. American Haley Batten (Specialized Factory Racing) was the first to accelerate out of the gate, opening a 20 second gap on the closest chasers, World Champion Evie Richards (Trek Factory Racing), Berta and Internazionali d'Italia Series GC leader Giada Specia (Trek-Pirelli).

Already in the second lap, though, Berta and Specia got back in Batten's wake, whilst Richards had to concede some ground to her opponents.

Lap 3 was when Berta started pushing hard, making the best of her power and technical prowess on the steep climb and technical descents of the 4,5 km loop in La Thuile. Her margin on Specia extended to 18 seconds in that lap, and was nearly a minute at the end of the fifth of six laps, while Batten was rejoined by Giorgia Marchet (Trinx Factory Team) and Greta Seiwald (Santa Cruz-FSA).

The final lap had more sparkle in store. Berta secured to take home a very emotional win, ending 32 seconds ahead of Giada Specia, who sealed an awesome Internazionali d'Italia Series season with the overall victory in both the Open and Under 23 Women's categories. With an impressive late charge, World Champion Evie Richards secured the third place at 50 seconds, ahead Haley Batten and Giorgia Marchet.

"This victory means so much to me, after what I have been through," Berta said afterwards. "I was eager to test myself in an XC race and see how my body would react, and today it all panned out really well, on a course on which I always had some troubles in the past. It was a great race, and an amazing feeling winning on home land: I dedicate it to all those who stood by me in this tough time, starting with physio Michele Ricci and my trainer Andrea Tiberi."

World Champion Evie Richards was all smiles too at the finish: "It was my first race in a few weeks, I really wasn't sure what I could have done today, and actually the feelings exceeded my expectations. For the first time in the race this year I didn't have so much back pain, in the final lap I saw that I could still push, and I dug deep. I am happy, it's a step in a good direction, and I love racing here every time."



JUNIOR MEN IN LA THUILE: HERZOG ENJOYS JUNIOR SERIES WIN, BETTEO TAKES THE OVERALL CROWN

The Internazionali d'Italia Series programme for the season finale in La Thuile on Saturday, June 25th, was opened by the Junior Men's competition, also valid as stage 12 of the UCI Junior Series.

German Emil Herzog (Stevens Schubert Racing Team) clearly emerged to take a commanding win at the end of five laps on the La Thuile circuit, ahead of Frenchman Paul Magnier (Veloroc-Lapierre, +-0.36) and the Internazionali d'Italia Series Junior Mens's winner, Italian Marco Betteo (Scott Racing Team, +1.09).

The Junior Women's race was won by Kathrin Embacher (Austrian National Team), with a big 1.54 gap on Ukraine's Mariia Sukhopalova (Carbonhubo Cmq) and 2.20 on Italian Lucrezia Braida (Team Rudy Project). Sixth place was enough for Valentina Corvi (Trinx Factory Team) to defend her overall lead and celebrate the Internazionali d'Italia Series' crown among Junior Women.

HIGHLIGHTS ON FACEBOOK AND YOUTUBE AT 9 PM (CEST)
On Saturday night, an extended video highlight feature of Internazionali d'Italia Series stage 5 will be aired at 21:00 CEST on the series' Facebook and Youtube official channels.