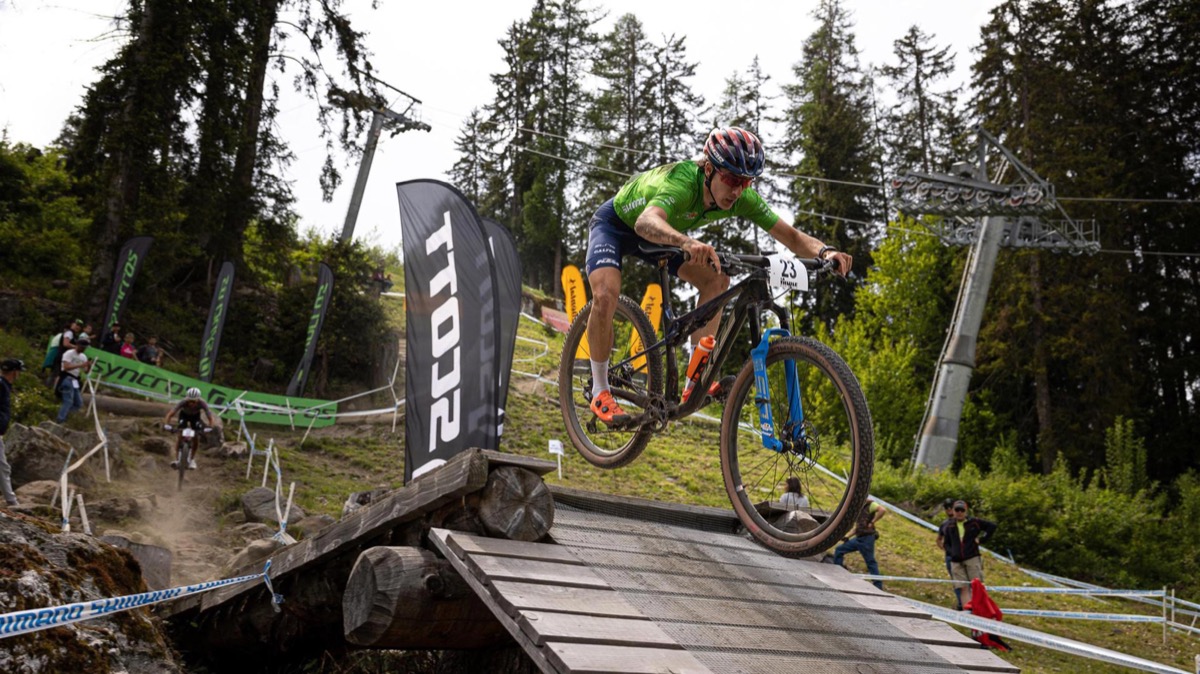 Competitions
In La Thuile, Daniele Braidot and Martina Berta dominate Internazionali d'Italia showdowns
---
In Valle d'Aosta, Luca's twin brother achieved a long-awaited victory and took the lead in the overall standings. The Italian Champion confirmed her dominance in her home race, positioning herself as a main contender for the upcoming World Cup events.
If there's one thing that La Thuile MTB Race has consistently shown in its first four editions, it's that its outcomes never lie. The physical and technical challenge of the circuit charted by Enrico Martello, which hosted the fourth stage of the 2023 Internazionali d'Italia Series on Saturday, June 3rd, has always provided precise indications for the core of the MTB racing season.
Notably, it was precisely the victory in La Thuile in 2022 that propelled Luca Braidot to his double World Cup stage victory last year, and projected Martina Berta towards her best performances on the World's main series.
With three World Cup events and the European Championships taking place in June, top-class mountain bikers will have plenty to play for in a few weeks' space. For Berta and Braidot—Daniele, this time— winning in La Thuile carries great significance. Their neat and solid victories leave no doubts about their current form as they enter the crucial phase of 2023.
This period also includes the grand finale of the Internazionali d'Italia Series, which will take place in Chies d'Alpago in just over a month. Daniele Braidot and Martina Berta will get there wearing the leader's jerseys in the overall standings. This comes as no surprise: after all, the outcomes in La Thuile never lie.
MEN'S OPEN: DANIELE BRAIDOT SEIZES HIS CHANCE
After Luca Braidot's success in 2022 in La Thuile, where he secured the stage victory and the Internazionali d'Italia Series overall classification, Saturday, June 3rd marked another happy day for the Braidot family. This time, it was Daniele Braidot who etched his name into the golden book of La Thuile MTB Race, 2023 Internazionali d'Italia Series stage 4.
It was a long-sought victory for CS Carabinieri rider, who has performed consistently well in the early part of the season. Finally, his efforts were rewarded with a prestigious result in a Hors Cetegorie race. that not only holds great significance but also secures him a more favorable starting position in the upcoming World Cup races.
Simon Andreassen (Cannondale Factory Racing) launched a blazing attack right after the start, establishing a significant lead through the first lap. However, he was forced out of contention soon after due to a technical issue. This allowed Daniele Braidot to take over the lead, accompanied by Cameron Orr (Wilier-Pirelli) and Brazilian Xavier de Oliveira (Specialized Racing Brazil). Not far behind, local favorite Andreas Vittone (KTM-Protek-Elettrosystem) and talented Under 23 French rider Adrien Boichis (Trinity Racing) trailed closely.
It was in the fourth of the seven scheduled laps that Daniele Braidot realized he was the strongest. He distanced himself from Orr after having dropped Oliveira, while an impressive Alessio Agostinelli (KTM-Protek-Elettrosystem) emerged behind him, delivering his best career performance in the Internazionali d'Italia Series. Boichis and Vittone (despite a crash in a descent) formed a tandem in pursuit of the third position.
As Braidot began the final lap, he held a nearly one-minute advantage over Agostinelli, while Vittone managed to create a 15-second gap between himself and Boichis. Surprising Brazilian Xavier De Oliveira squeezed in between the two Under 23 riders in the last loop, securing an unexpected fourth place.
Braidot finished 55 seconds ahead of Agostinelli, with Vittone trailing by 1.23, Xavier de Oliveira by 1.55, and Boichis by 2.10. "Finally, my moment has arrived," exclaimed a radiant Daniele Braidot. "Several times this season, I came close to achieving a victory, but it always eluded me for one reason or another. Today, a few good names were missing, but I had great legs, and it wouldn't have been easy for anybody to beat me on the day. I made the best of my opportunity. Last year, Luca began his winning streak here, maybe La Thuile will bring me good luck as well."
Staring the day as the Internazionali d'Italia Series overall leader, Simone Avondetto (Wilier-Pirelli) provided a disappointing performance, ending in tenth place without contending for top positions. As a result, the top spot in the standings shifted to Daniele Braidot with only one race remaining. In the Under 23 category, Vittone continues to lead, having essentially secured his leader's jersey with today's third-place finish.
BERTA DOMINATES THE WOMEN'S OPEN CATEGORY
She was the clear favorite, but winning as the favorite is never easy, especially at home in front of your own fans. However, Martina Berta certainly showed no signs of pressure in La Thuile, claiming victory in the fourth stage of the Internazionali d'Italia Series with a flawless performance throughout the six laps of the race.
Berta
The athlete from Team Santa Cruz-Rockshox had Giada Specia (Wilier-Pirelli) on her wheel only during the first lap. From then on, it was a solo effort, with her lead growing with each lap until she crossed the finish line with a comfortable margin of one minute and 45 seconds ahead of Specia. Powerful on the climbs and effective on the technical descents of La Thuile, the Italian rider found a course that highlighted her strengths, supported by excellent condition.
"I'm thrilled to have secured back-to-back victories in my home race. It always has a special flavor," Berta stated. "I didn't expect to ride alone for so long, but it was the best-case scenario for me. I struggled a bit in the first two laps, but then I realized I could create a gap with Giada, so I pushed the pace. From the halfway point, I felt better and could manage the race until the finish line. A few days of rest after the World Cup did me good, and this success is the ideal motivation to dive into an important and intense month."
Specia's second-place position was never in doubt, while Chiara Teocchi (KTM-Protek-Elettrosystem) held the third position for a long time but dropped back as Estonian rider Janika Loiv (KMC MTB Racing Team) made a strong comeback and eventually claimed the third step of the podium, finishing 2 minutes and 17 seconds behind Berta.
New Zealand's Samara Jackson finished in fourth place ahead of Chiara Teocchi, while Esanatoglia winner Sofie Heby Pedersen (Wilier-Pirelli) had to settle for sixth place. Her result allows her to consolidate her leadership among the Under 23 category, while dropping further down from Martina Berta in the battle for the Women's Open classification jersey.
With 280 points, Berta now commands the standings with a 60-point lead over Giada Specia and a 90-point advantage over Pedersen with only one race remaining in Alpago.
Paccagnella
Corvi

PACCAGNELLA AND CORVI SHINE IN LA THUILE'S JUNIOR SERIES
Elian Paccagnella is on a winning streak and shows no signs of stopping. Following his success in Esanatoglia, the talent from the Junior Team Südtirol has claimed victory in the UCI Junior Series race in La Thuile, the opener of the fourth stage of Internazionali d'Italia Series on Saturday, June 3rd.
After a first lap led by a small group by short measure, and in which home rider Gabriel Borre (KTM Protek Elettrosystem) suffered a broken rim while passing through the new "The King" rock garden, Paccagnella took control from the second lap. He first caught up with Sofian Corniglion (France) and Jonas King (Germany), and then distanced himself from them by half a minute in the third lap.
From that point on, the South Tyrolean rider managed the race with ease, displaying full confidence in his well-known technical skills, now also supported by consistency. That's not a case that he also took over the Internazionali d'Italia Series leader's jersey with one race remaining.
Behind him, the French riders Julien Hemon and Sofian Corniglion claimed second and third place respectively. Italy's Gabriel Borre finished fourth and could have possibly aimed for more if not for his issue in the opening lap. Swede Anton Unger rounded out the podium positions. Diego Milan (ASD Rock Bike Team), the former leader of the Internazionali d'Italia Series, finished in tenth place.
Italy also celebrated success in the women's UCI Junior Series, with Valentina Corvi (Trinx Factory Racing) securing a dominant victory after four laps of racing. German rider Carla Hahn finished in second place (+27 seconds), and Elisa Lanfranchi (KTM-Protek-Elettrosystem), the leader in the Internazionali d'Italia Series junior category, claimed the third position, 55 seconds behind the winner.
Podio Uomini Open
NEXT STAGE: CHIES D'ALPAGO
An intense month of events now separates the athletes from the fifth and final stage of the Internazionali d'Italia Series, scheduled for Saturday, July 8, in Chies d'Alpago.
The HC race will bring the best of the Cross Country MTB discipline back to one of the historical venues in Italy, with the final verdicts of the overall standings yet to be written.
HIGHLIGHTS ON FACEBOOK AND YOUTUBE
On Saturday, June 3rd, at 9:00 PM (CET), a comprehensive summary of La Thuile MTB Race will be broadcasted on the official Facebook and YouTube channels of the Internazionali d'Italia Series.
Tomorrow, Sunday, June 4th, Youth competitions for the Rookies and Cadets categories are scheduled to take place in La Thuile.