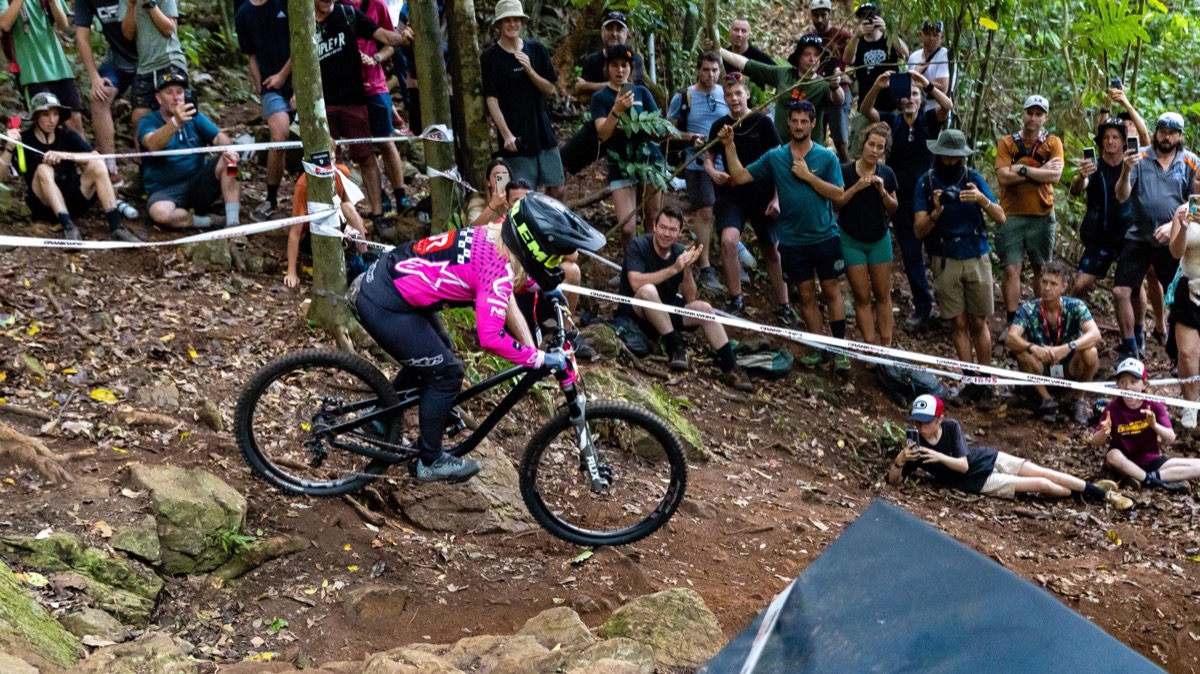 Competitions
Home country gold for Tracey Hannah + Troy Brosnan in Cairns DH
---
HOME COUNTRY GOLD MEDALS FOR TRACEY HANNAH & TROY BROSNAN AT CRANKWORX CAIRNS DOWNHILL

Plus full Aussie sweep for the Elite male podium on infamous Smithfield track
While most of the Crankworx events are new to the scene in Cairns, today's downhill event brought the riders and spectators back to an iconic track in the history of downhill racing. A lot of sweat and tears have been shed on this historic course, and today was no exception.

There's a lot of pedaling on this track, with a few flat spots, climbs and the last section to the finish line is an all out sprint. The experience on this track really paid off for both Australian rider Troy Brosnan and Cairns local Tracey Hannah. They seems to know exactly where to stay off the brakes and turn up the watts to come out on top.

Hannah, a decorated racer, knows this track like the back of her hand. She's also snagged 21 podiums in Crankworx history, with her most recent gold at Crankworx Downhill at Whistler. The local legend knocked Australian Sian A'Hern out of first place by just under six seconds. Her winning time was 3:59.277.

"Getting this win is pretty important for me," said the veteran racer. "Having Crankworx at home and my background racing for so long, to finally have it here, and have the opportunity to win again is amazing and I'm super stoked."

Sian A'Hern takes the silver medal, having shaved a few seconds off her seeding time. Third place went to Scottish ilabb rider, Louise Ferguson who absolutely greased her run even with a few issues.

The Elite male category was a real nail biter. Troy Brosnan ride with textbook precision through the switchbacks at the top section and attacked through the bottom pedal section straight into a finish corral of roaring cheers.

"I was really putting this bike to work," said Brosnan. "It was the hardest thing ever, but when I saw the crowds cheering at the bottom, I thought I better send it with the pedaling. I brought a smaller bike than my normal downhill bike and I really wanted to pedal hard so I'm happy. I've been to Whistler so many times and all the other Crankworx events, but to have one at home and get a win at home is just amazing. I am very stoked and the crowd is awesome."

Taking home the silver medal for Elite male today is the seasoned Australian world cup racer, Connor Fearon. Fearon was able to get the flow and generate enough speed to take Mick Hannah out of the hot seat by 0.3 seconds. Mick Hannah got the local crowd going wild with how hard he was pushing through the bottom section of the track.

"That pedalling section is just 14 seconds, so you just have to bury yourself into it and there's no reason to hold back," Hannah told the spectators of his strategy to make back time on the clock. "I made a few mistakes at the top and lost a little bit of time so its good to pull back a bit at the bottom. "

Results: Crankworx Cairns Downhill

Troy Brosnan (AUS) // Tracey Hannah (AUS)
Connor Fearon (AUS) // Sian A'Hern (AUS)
Mick Hannah (AUS) // Louise Ferguson (GBR)

Full results: crankworx.com/results/

Event replay: Red Bull Bike

Vaea Verbeeck remains at the top of the Queen of Crankworx standings after coming in 7th place. Coming in 11th place in the Elite male category, Bas Van Steenbergen's earned more points toward his battle against leader Tomas Lemoine for the top of the King of Crankworx rankings.

A huge Saturday is being served up at Crankworx Cairns starting with Crankworx Cairns Pump Track Challenge at 11:00 a.m. AEST, followed by Crankworx Cairns Slopestyle event currently scheduled for 3:30 p.m. AEST. Both crowd-pleaser events are sure to put on a show, in particular with the potential Triple Crown of Slopestyle which could be awarded to Emil Johansson for the second year in a row.