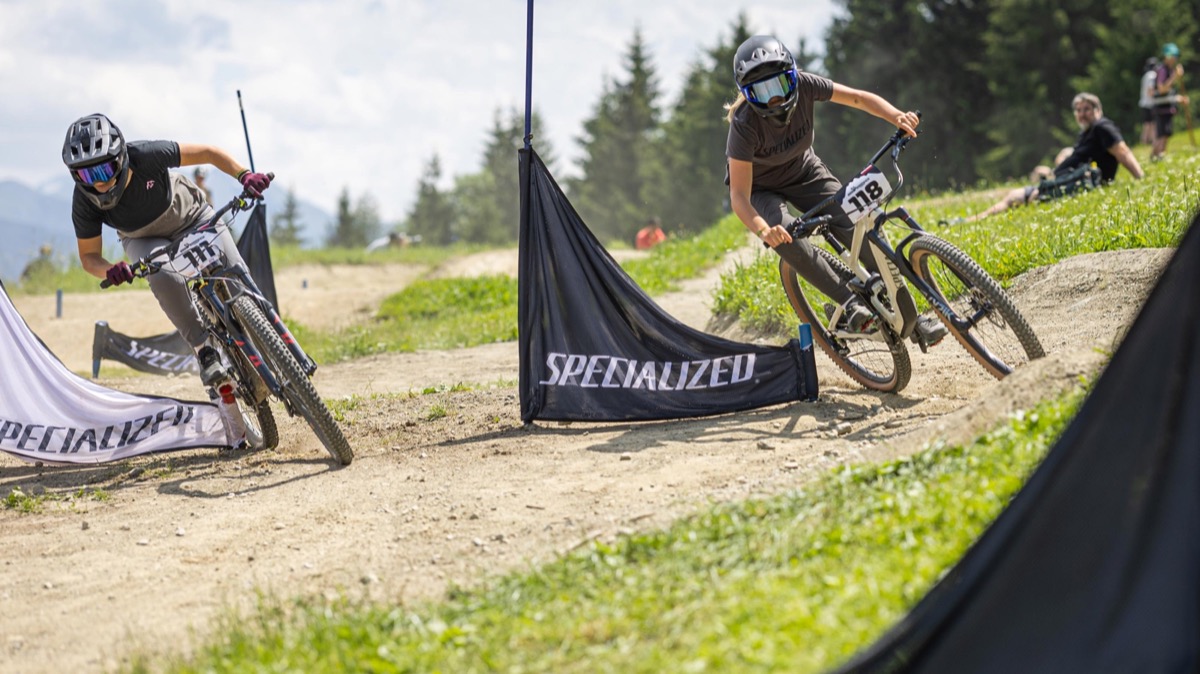 Competitions
Hoffman & Kolb take Crankworx Innsbruck Dual Slalom.
---
Big day for German and Austrian Downhill riders who each take the W in muddy race in front of home crowd.
"Track's getting loose," a rider said as the round of 16 was winding down ahead of finals, referring to the dry dirt loosening up as riders logged lap after lap. The morning had kicked off with sun, but the light was swiftly disappeared behind the clouds as riders got on track. Eventually, a rumble of thunder grumbled in the distance and the heavens slowly opened. Next the rain, then finals. And from that point, everything changed in the Specialized Dual Slalom Innsbruck presented by Thule. Riders slipped. Gates were ridden over. Chains were snapped. In the end, the riders who managed to ride the fastest and most consistent, while staying upright, claimed the wins.
"I'm stoked. But to be honest, everybody was making mistakes," said Nina Hoffman who claimed the W amidst a series of errors that came fast and furious from the surprise slick conditions. "So it's not the way that I want to win. I'm stoked but not too stoked. It would have been good if Vali would have won because she was riding better than me, but anyway."
Despite the bittersweet win, Hoffman was clearly on her game all day. She knocked out the first qualifier Vaea Verbeeck in the Round of 8, then advanced to the finals after Anna Newkirk went down in the quarter finals.
After her first gold medal matchup with Höll, Hoffman had the advantage after the Austrian snapped her chain in the final corners. Höll, who came in third in the event in 2021, did manage to take back the time in the second run, crossing the line with a commanding lead. Hoffman was celebrating her fellow rider's win when race officials notified them that Höll had run over a gate.
"I'm actually surprised that I came here and raced after Leogang," said the 20-year-old. "That one really hurt, and I don't really feel ready mentally yet. It actually worked out better than expected. I really messed up in the round of 16 because I hit the gate as well, so it was hard to make up those 1.5 seconds. I tried really hard and it worked out, and I made it through to the finals. It was tough conditions. I feel like the DH riders had a lot of advantage because we know how to ride in the mud, and tire choice and stuff. All the BMXers they were on slick tires, and it's impossible to ride. It was a sick race, and I can't wait for Sunday because I really want to win." Höll and Hoffman were 1 and 2 in the DH in 2021, so will revisit their (friendly) rivalry in a few days.
"I'm feeling great at the moment," added Hoffman. "With the win at Fort William I got such a boost of confidence and have taken this into the season. At the moment enjoying Crankworx and can't wait for the Downhill."
The supremacy of the DH riders was echoed in the men's final matchup, with Austrian local Andreas Kolb lining up at the start gate against New Zealand's George Brannigan. Brannigan led by a small margin after both crossed the finish line in their first matchup (just 0.054), but officials added the max differential to his time after determining that he had rolled over a gate. Kolb would hold his lead, crossing the line first on his second run.
"I'm feeling really good," said Kolb. "When I made it into the top 8 because Jackson Goldstone wasn't here I thought, 'Ok, maybe I can go another round.' And then top 4 I thought 'Oh, this is good.' And now I won it. It's pretty sick. I didn't expect it for sure."
Kolb echoed (as did Hoffman) Höll's comments about the advantage DH riders had in the race.
"I think it played into the game of the downhill bikers because we're more used to it," said the 26-year-old. "Our bikes are a bit better set up for it. The tires have a bit more grip. And," he added, laughing, "I just love the rain."
"It's so sick," he said of his 2022 season overall. "Last week first World Cup podium in Leogang, now I won Dual in Innsbruck. And I've always done not too good in Austria at the Austrian races, so looks like I switched it around this year."
Both winners said the support of racing on (or close to) home soil added a little something special to their race day.
"Over there are friends of mine and people from home and Germans, and Austrians also, all German-speaking people," said Hoffman. "It's nice. It's cool to share all the emotions with spectators."
The track that challenged racers today was first built in 2019 for Crankworx Innsbruck, but featured an extension in 2022, with the start moving further up the hill. The course features five berms and rollers over 220m.
Specialized Dual Slalom Innsbruck presented by Thule – results:
Nina Hoffman (GER) // Andrea Kolb (AUT)
Valentina Höll (AUT) // George Brannigan (NZL)
Anna Newkirk (USA) // Collin Hudson (USA)
Full results: https://www.crankworx.com/results/