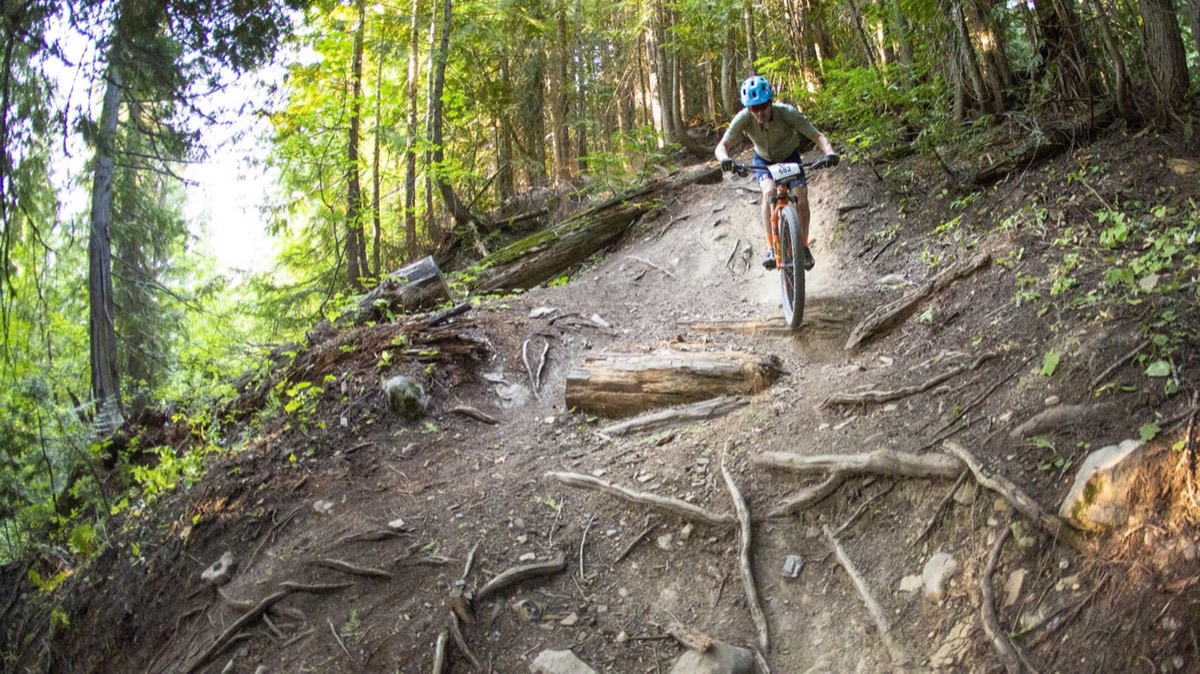 Competitions
Hello Singletrack 6 - Stage 2!
---
The Racks Unlimited Stage 2 began and ended in the heart of the Fernie Alpine Resort (FAR) this morning, with the gun going off at 8 am.
Vital Statistics - Racks Unlimited Stage 2 in Fernie, BC
Length: 25km
Elevation gain: 1,160m

Temperatures were cool once again but began to warm up quickly once racers were out on course. The field had a full slate of singletrack on tap for the day on both the the slopes of the FAR as well as in the neighbouring Mount Fernie Provincial park.

Like stage 1, stage 2 began with a winding gravel climb to help sort racers based on ability before they entered the singletrack. Overall, the day's route was short (compared to stage 1) and steep. During the previous day's racer meeting, Singletrack 6 course coordinator Trevor Gavura described it as "a more Kootenay-like" day. And by all accounts, he was right!.

Once off the gravel climb—aptly named "Summer Road"—riders got right into the thick of things on an advanced descent named "TNT-Lower". Steep, technical, rocky and smooth are all words that can be used to describe this trail. It has a little bit of something for everyone so —needless to say—it was popular among the racers. Once off of TNT, the field continued their descent and, just before reaching the resort village, turned to begin their traverse over to the trails of Mount Fernie Provincial Park.

One of the highlights of the provincial park portion of today's route was the "Verboten" descent. Steep with gnarly stretches of huge roots, Verboten would test the skills of even the day's best descenders. Once through Verboten, racers were treated to gentler terrain as they climbed their way back up and across to the Resort on the "Sherwoody", "Ben Emmet", "Black Forest" and "Old Goat" trails, to name just a few.

Back on resort terrain, racers soon reached the day's Timed Descent: "Top Gun". And it was a fast one! Unlike stage one's steep and technical Timed Descent, "Today's Special", "Top Gun" is fast, flowy, wide and punctuated with large berms and table tops.

From the finish of the timed descent, it was a short downhill ride—with a crowd-pleasing downhill wooden bridge-like feature that marked the beginning of the home stretch—back to the resort village and the start/finish line.

Crossing the finish line first overall for the second stage in a row—with a time of 1:33:05—was local Fernie racer Carter Nieuwesteeg. He was followed again by Mackie Franklin of El Prado, New Mexico who posted a time of 1:40:55.

For the Open Women, Emily Williams of Salmon Arm, BC also repeated her stage 1 victory, finishing first with a time of 1:59:33. She was followed again by Emma Maaranen of Bend, Oregon who posted a time of 2:04:09.



Tomorrow, racers and TransRockies crew will make their way to Kimberley, BC for stages 3 and 4. Kimberley is a ski town with a newer, but ever-expanding, network of mountain bike trails. It punches well above its weight when it comes to trail building and the local mountain bike community and we can't wait to show racers just a little bit of what this Bavarian-themed town has to offer. To help make the transfer a little bit smoother, tomorrow's start time will be at 10 am.

What do the racers have to say?

"[The course] was super fun! It started with some good climbing and then into a fun, flowy descent. Then back into the most popular trail out there [Verboten] and then it finishes in the bike park, which was super rad. Riding with some fast locals was also pretty sick!"
-Emily Williams from Salmon Arm, BC riding for team Ellevate XC

"The course is really fun. What I like about Fernie is that you can cross the valley and the riding is totally different. Riding at the resort, it's fun going from the loamy old school downhill trails to the wicket fast burms. That really tests your tires."
-Mac Potter of Fernie, BC

As it turns out, Mac may have enjoyed the trails a little too much (we're not convinced that's possible not though)! He ended the day enduring two flats and a twisted chainring.

"I had a catastrophic day. I thought I dropped my chain and then I looked down and my chainring was completely folded…so I just enjoyed the hike. I stopped at the aid stations. I stopped at the bacon checkpoint. I don't usually stop at the aid stations, so this way I really got to enjoy the day."

But even through all of that, Mac managed to cross the finish line on foot and lives to race another day. Our friends over at GearHub also helped him get his bike back into racing condition and we're excited to have him back racing with us tomorrow. Great work Mac!