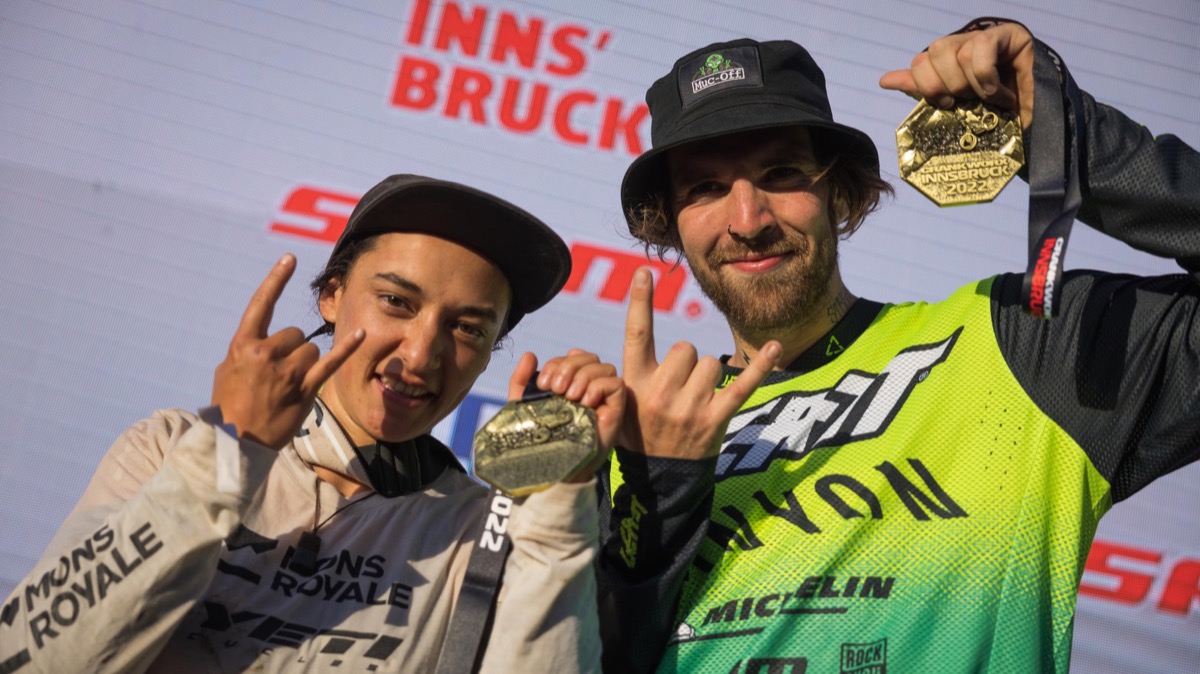 Competitions
Gomes & Lemoine are your gold medal winners at Crankworx Innsbruch speed & style.
---
Robin Goomes makes history throwing one foot cans and backflip nacs in Women's Speed & Style, and Tomas Lemoine continues to hold the gold medal position, winning his 6th Speed & Style Crankworx event.
"I think it was one of the best competitions we've seen." said Lemoine after winning his 6th gold medal in Speed & Style. "We've seen maybe 5 people doing double back flips today," he added. On top of the doubles, there was a host of other groundbreaking inversions going down, including some doubles of a different sort.
Last year Robin Goomes did the first backflip in women's competition. This year, Goomes was throwing down backflip nacs and backflip one foot cans, alongside Caroline Buchanan's backflips. Suffice to say, the game has changed once again.
Thanks to her deepening bag of tricks, Robin Goomes wins her first Speed & Style gold medal today.
"I don't know if it has settled in yet, I didn't really expect to win. I just expected to at least come out and try to do the tricks I want to do. I got them done and am just stoked that it led to a win," said Goomes, wiping the Red Bull off her face as her entire crew rushed her at the finish line with a good ol' fashion Red Bull shower.
The energy of the crowd and riders was at an all-time high to be able to watch just how far the progression of the sport has come.
"The level is getting very high for boys and girls, so it is amazing," Lemoine remarked when asked about the riding today and how it feels to still come out on top. "I was not feeling like it was going to be easy, so I was more stressed for sure, but more happiness in the end."
The happiness from the riders was palpable and many were sure to have caught the feels this evening.
"I'm just trying to set goals and do my thing, and it's crazy how much of an impact that has. I saw some tears today and that almost had me going too, but I had to stay focused," the Kiwi gold medalist said.
Results – CLIF Speed & Style Innsbruck
Tomas Lemoine (FRA) // Robin Goomes (NZL)
Teodor Kovac (CZE) // Jordy Scott (USA)
Mike Ross (AUS) // Caroline Buchanan (AUS)
Full Results: https://www.crankworx.com/results/
The men's Silver and Bronze medalists, Kovac (CZE) and Ross (AUS) respectively, put on quite a show in the second run of the semi-finals when they rode in what announcer Mikey Harderer accurately described as "synchronized style." Kovac and Ross were racing pedal for pedal, pump for pump, and throwing down double backflips, side by side. Kovac charged his runs with slightly more speed, beating Ross by 0.431 bringing him to win the Silver medal against Lemoine. Mike Ross from Australia and relatively new to the Crankworx circuit, kept many of the men's riders on their toes today by sending double backflips all day long like it was nothing.
"I didn't know that third guy on the podium [Ross], and he did maybe 20 double back flips and 20 cashrolls in a row today and never missed one," said Lemoine about Men's Speed & Style sleeper, Mike Ross.
Today also marked the largest qualifying field for the Women's category as the number of female athletes has grown since 2021 from a round of 8 to a round of 16. This speaks volumes to the progression and growth of female riders in the realm of freeride.
And while she missed the top step, the 2021 Speed & Style Innsbruck champion Jordy Scott didn't hold back today. Scott got the advantage on both tricks and speed in the round of 8 against Red Bull Australia rider, Harriet Burbidge-Smith, then went on to beat the reigning Queen of Crankworx, Vaea Verbeeck (CAN) with both speed and style points for the extension on her tuck no handers.
Taking home the bronze, Caroline Buchanan brought no shortage of both speed and style, but losing out to Goomes' variations on her backflips in the semi-finals. Caroline will be bringing her success (and hunger for more) in Speed & Style back to Australia, home to this year's new Crankworx World Tour location in Cairns. Australian fans will be stoked with two bronze medals from the CLIF Speed & Style Innsbruck today.
The excitement ain't over yet. Tomorrow marks the beginning of the Crankworx FMBA Slopestyle World Championship (SWC) season for 2022.
The Crankworx Innsbruck Slopestyle will be live on Red Bull TV in all markets but the US, where it will be live on ESPN+. The US audience will be able to watch a replay of the slopestyle on Red Bull TV as soon as it becomes available. On Sunday, Crankworx Innsbruck will wrap with The Deuter Downhill Innsbruck presented by Raffeisen Club which will be live globally (including the US) on Red Bull TV.