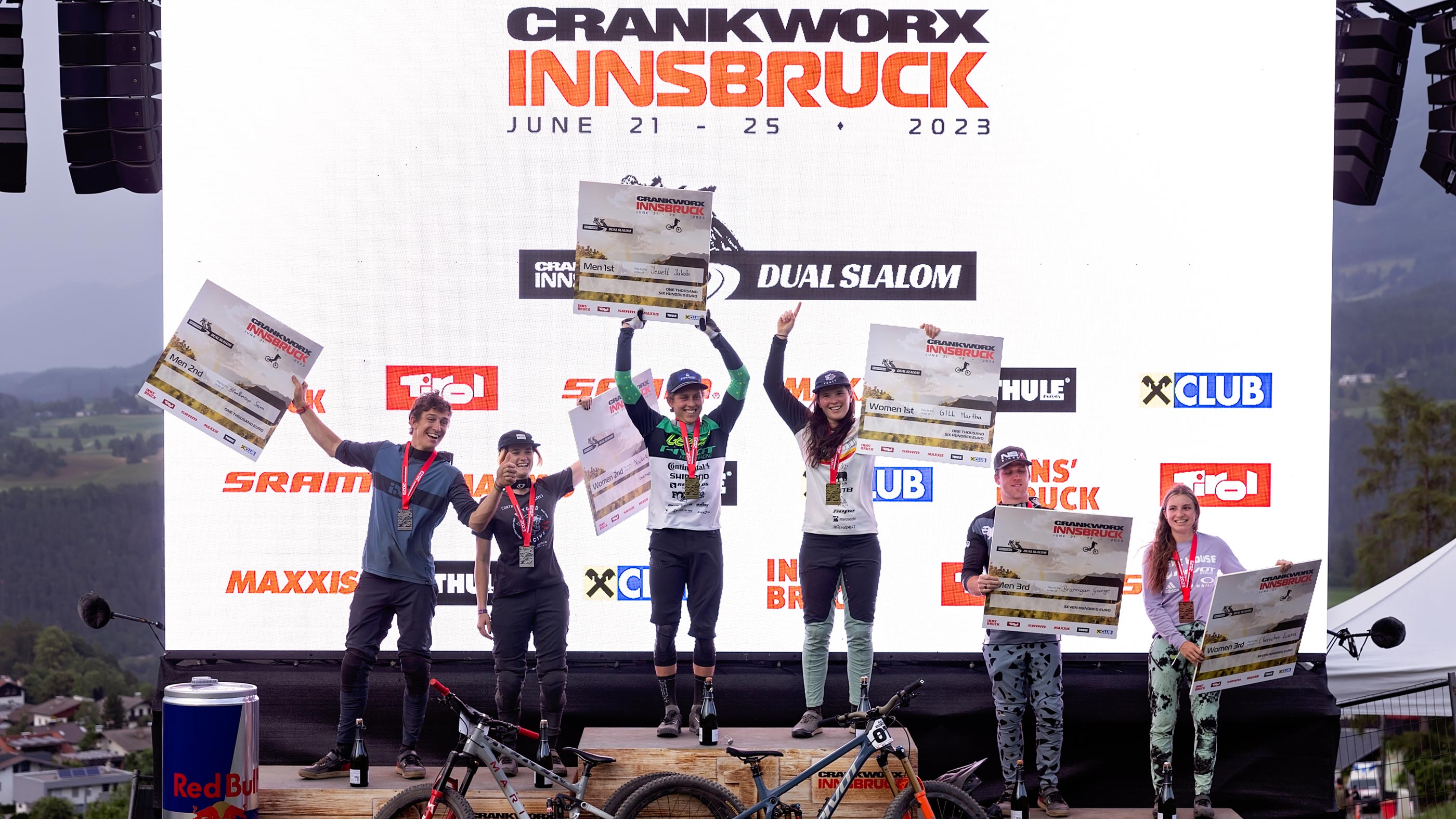 Competitions
Gill & Jewett Tackle the Loose & Rowdy Dual Slalom Course for the Win
---
Day two of Crankworx Innsbruck, and the heavy heat made for some exciting conditions on the Crankworx Innsbruck Dual Slalom track.
Loose, dry, and cut up with deep ruts, the course was proving to run rowdy and fast for the riders.
First place qualifier Martha Gill stayed consistent through the rounds taking home her second dual slalom gold medal, beating American downhiller, Anna Newkirk in the gold-medal match-up. Best described by many of the riders today as being quite a downhill-style slalom course, it was fitting to see the final four men for the bronze- and gold-medal match-ups all downhillers. Canadian, Jakob Jewett dominated throughout the rounds to take home the gold-medal in the finals against Sam Blenkinsop.
60-Second Recap: Crankworx Innsbruck Dual Slalom
Here's what some of the riders had to say about the racing and the course today:
"I think this course suits the downhill guys," said Jewett when asked for his thoughts on the slalom course. "The top four today was all downhill racers so I think it definitely suited us. I think mainly the speed of the track, we are used to just railing corners and those fast grass corners and being on the pedals a lot so it just worked out!"
"I think I was feeling pretty confident on the course," says Martha Gill on how she tackled the loose conditions. "I think a lot of people were struggling with the loose conditions, but I thought that it suited me a bit more maybe. I think that played to my strengths and I was quite mentally positive throughout the whole day more or less."
"We were kind of all complaining about the track at the start because the conditions were so dry, but in the end we're all racing the same track so it's fun and it was blown out," thoughts on the course from Sam Blenkinsop. "It kind of suited us downhillers because we could just be aggressive on the loose stuff, and I feel like it was awesome. Probably one of the funnest tracks I've ridden because it was hard, not too technical, and it made for head-to-head very close racing. I'm happy as, can't complain!"
"The course was good," Anna Newkirk said of the racing. "It was super difficult with the conditions and just how dry it was but it was a lot of fun. It was tricky to figure out but it was a blast! I'm happy with how I rode, but Martha was super pinned and she absolutely deserved to win. I'm stoked for her!"
Results: Crankworx Innsbruck Dual Slalom
Jakob Jewett (CAN) // Martha Gill (GBR)
Sam Blenkinsop (NZL) // Anna Newkirk (USA)
George Brannigan (NZL) // Luana Chereches (ROU)
Full results: crankworx.com/results/
Event replay: Red Bull Bike