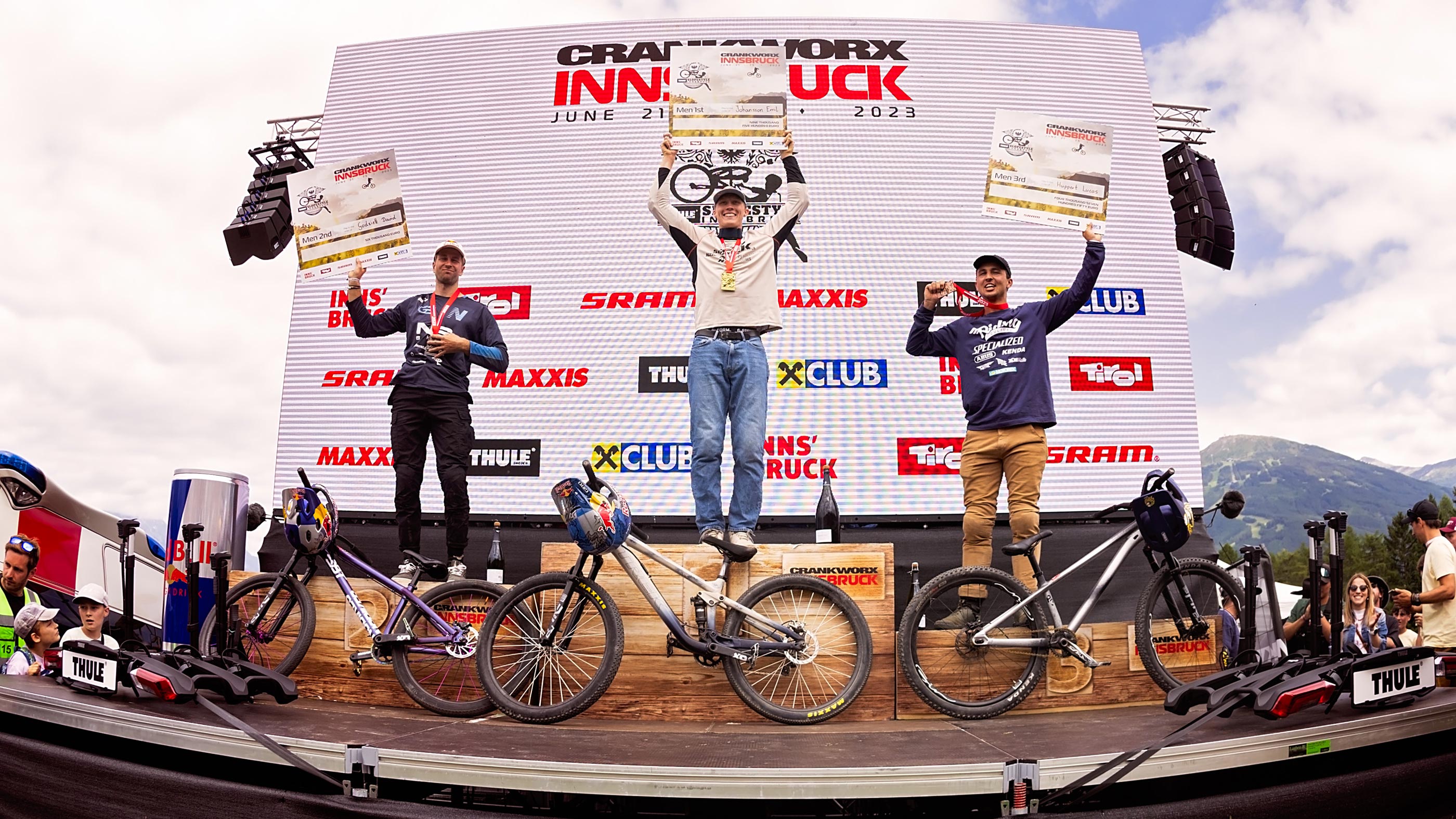 Competitions
Emil Johansson Takes the 'Triple Triple' & Breaks Record for Winningest Crankworx Slopestyle Athlete
---
Emil Johansson has now made history.
Breaking the record held by Brandon Semenuk for the most number of Crankworx World Tour Slopestyle gold-medals (12 gold medals!!!), not to mention securing the Triple Crown of Slopestyle Award for 2023. Today was no easy feat for the Swede after battling through some wind conditions and getting his top score of 92.5 from run 1 bumped by Red Bull rider, Dawid Godziek.
Many of the riders struggled to put down a clean run, including Dawid Godziek who had a banger first run but then crashed on the landing of the final jump. When Johansson laid down a clean run and getting a score of 92.5, it appeared that he was going to have the competition in the bag, but Godziek was out for blood.
Godziek knew he had to give it his all to dethrone Johansson. Throwing down impeccable combos like triple tailwhip on the first hip to then a cashroll barspin on the next jump, to then stomping a cashy whip on the final jump, Godziek succeeded in knocking the Swede off the top box, earning himself a score of 95.25. Rumour has it, Emil had a big smile on his face when he saw Godziek's score. He knew he now had to step it up on his second run; a moment he has been eagerly waiting for.
"It was unreal," Johansson said. "I felt like I nearly had a heart attack after the first run because the wind was affecting me so much. When I got halfway down the course, I could just feel the wind and I thought 'I just gotta make it down this time, please!'. Then making it down, I was so out of breath, I'm glad that one worked out. Then sitting up top and seeing when Dawid bumped me – it's tough knowing that you actually have to pull out the things you've been prepping for. I've been prepping for so many contests prior, I've been put in this scenario where if I haven't crashed the first run, then my second run is usually a victory lap. But now I got an amazing score on the first run, and then Dawid pulled a great run out and the judges thought that was better than my first run. I've been waiting for this! Honestly, it makes it way more exciting if you do the first run and then second run starts and I have been prepping with all these thoughts in mind, but then usually someone pulls out or someone crashes, and then I can drop off, but now I knew I needed to be hyper-focused until the end and pull the run down. When I pulled off the 2nd run, I had a bit of a bobble, but I still felt like I compensated enough from the other features compared to my first run where I was just hoping that that was going to be enough and sure enough – it was. That felt great. It was good fun!"
Johansson most certainly compensated pulling out two world's firsts in a Crankworx Slopestyle Contest: "I did an oppo 3 windshield wiper on the last one, I did an oppo 3 unturndown to regular double downwhip. I brought the switch truck to double downwhip out in Rotorua and that kind of opened up my mind to how I can flip this and make it different. I thought about it and I came up with this trick that I started working on later on and all of a sudden I felt like it was close enough to try it. The jumps back home doesn't really allow me to try it and it goes for all riders, these jumps are generally at least a midpack in the first jump or bigger than what we usually ride so they allowed for a bit more tricks. Which was great!"
Not only did Johansson earn himself the Triple Crown of Slopestyle in today's event, he also broke the record held by Brandon Semenuk for most Crankworx Slopestyle gold medals. Here is what he had say about it:
""It feels unreal as Semenuk for me is the GOAT. He's for me, looking at inspiration growing up, it would be a lie to say that he hasn't been the most influential like he has been. He's made an immense path for himself and to see how many gold medals he was able to take throughout his career with less available Crankworx events then kind of in the pioneer days of the whole sport. When he was a bit younger than me the world tour was formed and he has been a huge influence for me as well as multiple other riders at the Crankworx scene throughout the years. Definitely a surreal moment."
Thule Slopestyle Innsbruck Results:
Emil Johansson (SWE) – 97.25
Dawid Godziek (POL) – 95.25
Lucas Huppert (SUI) – 85
Rounding out the podium and fresh off a shoulder injury was none other than Lucas "Huppe" Huppert. The Specialized athlete is celebrating his first Crankworx World Tour podium which in his words is "an insane feeling!".
"The level was insane, the conditions were super tough," Huppert said. "One of the reasons I cased the first hip and had to do a tailwhip on the second one was due to the wind. Somehow I could muster through it and make a run happen. It probably helped to have pretty smart tricks which were not really affected by the winds. That's probably why I had a good one, maybe some luck involved, and I worked hard but that's how I made it here to the Crankworx podium."
Crankworx Innsbruck is nearly wrapped and the next FMB Diamond Level Slopestyle Event will be the pinnacle of Slopestyle: Red Bull Joyride at Crankworx Whistler.
Catch the replay on Red Bull TV, and stay up to date on all things Crankworx at Crankworx.com