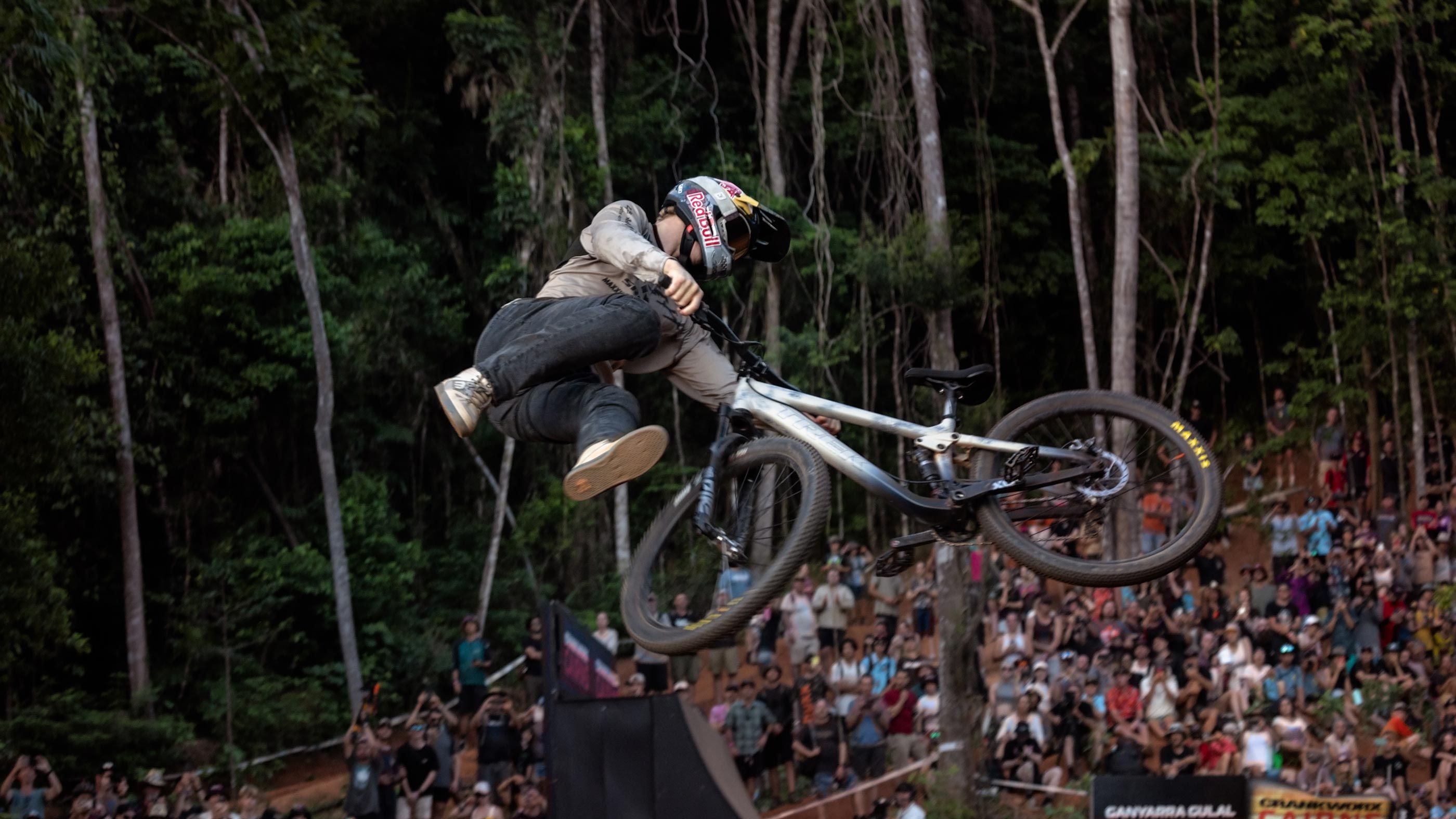 Competitions
Emil Johansson is now tied for most winningest slopestyle athlete at Crankworx.
---
After a crash in Run 1 forced Emil Johansson out of competition in Cairns last year, the high-flying Swede returned with redemption on his mind in 2023.
The 23-year-old found redemption as he put down a run good enough for 91.50 points, clinching the victory and tying Brandon Semenuk's record of 11 Crankworx Slopestyle wins.

Looking effortless with his precision from top-to-bottom, Johansson once again proved why he is the man to beat in the sport of slopestyle. It's hard to single out any one maneuver from the historic run, as the Red Bull athlete showed his versatility, throwing down a multitude of stunning tricks like 360 downside tail-whips (in both directions) and a topside double-whip in the quarter pipe. Johansson soared to lofty new heights, seemingly defying the laws of physics, and once again redefining what is possible on a mountain bike.
Johansson spoke about what it was like to bounce back from last year\'s unfortunate result and rise to the occasion.
"It feels awesome! Last year I didn't really get to do what I was looking to do here, it's definitely been haunting me a bit ever since," said Johansson. "So, to be able to put a run down, despite struggling with the weather conditions with the sun and stuff, having all these factors play in and still being able to put down a run…feels awesome!"
When asked about the what the impressive record tying achievement meant to him, Johansson was quick to give praise to his record co-holder.
"Honestly, it's hard to grasp. Semenuk is a phenomenal rider, he is one of the most influential riders in the legacy of our sport," said Johansson. "Growing up looking up to him and many other riders thinking that one day I would be in the same position as they were with the medal count for Crankworx, it's too big to grasp, honestly. It's a big accomplishment for me, but it definitely hasn't been a goal I would say, I have just been focusing on staying consistent and taking one event at a time."
The now 11-time slopestyle champion offered some insight into the work that went into his momentous victory, "I have been training and focusing on putting down the most complicated and technical run that I can put down in a contest, while still feeling I can put down good executions on things and I think the overall picture speaks for itself".

Coming in just behind Johansson with a score of 90.25 was Dawid Godziek. No less impressive in terms of overall technicality, Godziek pulled deep from within his bag of tricks in Run 1. From opposite tail-whips to no-handed twisters, the Polish rider pulled out all the stops, stomping one of the cleanest and most impressive runs of the day. With a podium worthy run already in the bag, Godziek decided to go one step further in his final run in hopes of catching Johansson, who sat just a single point ahead. After leveling up his first run down the course with even more style and amplitude, the Red Bull athlete threw caution to the wind and attempted a world's first cash-roll (360 front flip) windshield wiper (tail-whip to tail whip back). Unfortunately, the back tire barely slid out from underneath him and was unable to land his second run.

Despite coming up just short on the podium, Godziek's spirits remained high as he focused on the high points from today's performance.
"Feeling super good, couldn't be more stoked to almost stomp both runs, super stoked to try the world's first on the last jump on the last run."

Godziek was asked about how he had the confidence to try a risky maneuver such as a "world's first" in competition, the Polish rider shared some insights to his methods.

"I tried it a few times at home, and it looked like it was ready to go to contest," said Godziek. "But, its a different situation at the contest when you go to the last jump and your legs are super tired and you can't even pedal to get the speed, it makes it a lot harder."
Ending up in third place was France's Tim Bringer, who consistently impressed the crowd and judges alike with massive maneuvers like a double backflip over the on-off box or his mind-blowing backflip double-whip to double barspin.

To watch the full replay from all of today's exciting slopestyle action, visit Red Bull TV for the official event replay.

Results: Crankworx Cairns Slopestyle

Emil Johannson (SWE) – 91.5
Dawid Godziek (POL) – 90.25
Tim Bringer (FRA) – 87.75

Full results: crankworx.com/results/