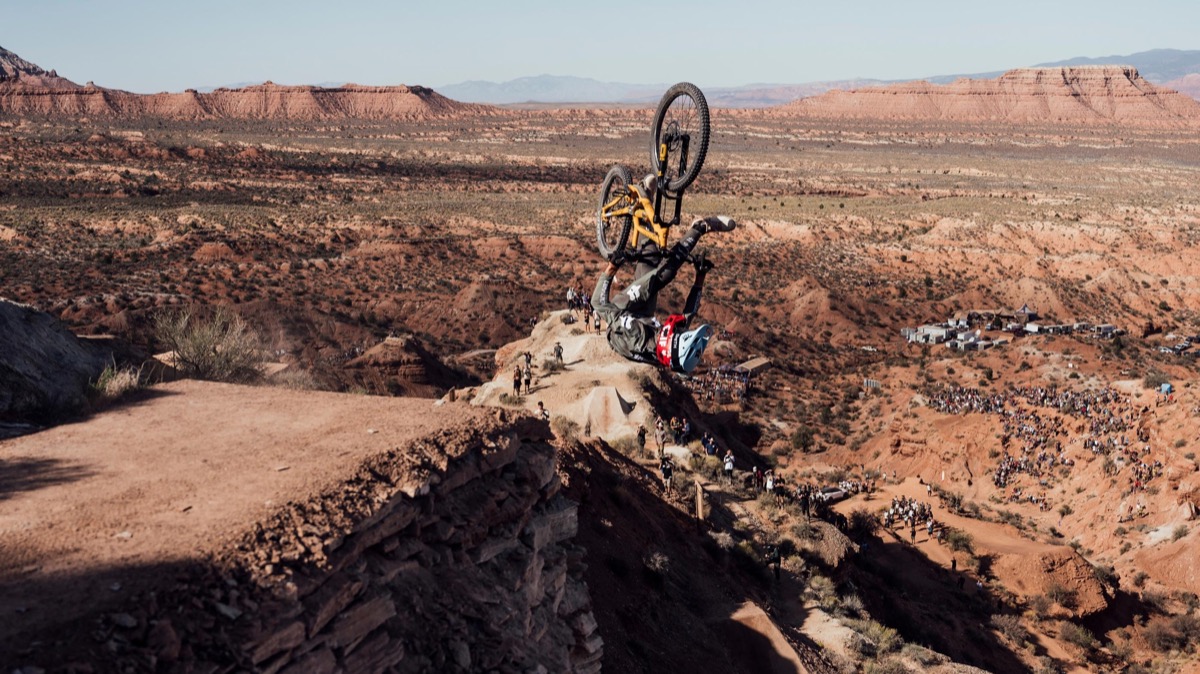 Competitions
Canadian rider combines complex tricks with technical riding to triumph in Utah.
---
Brett Rheeder came out on top at the 16th edition of Red Bull Rampage after delivering one of the biggest and baddest lines of the day at the legendary big-mountain freeride event in Virgin, Utah. Here is all you need to know:

- This year's event saw 16 of the world's best freeriders bring their A-game to the Utah desert as they looked to once again push the boundaries of the sport.
- Having won the event in 2018 and finished as runner-up in 2019, Rheeder was determined to return to the top of the podium and delivered a remarkable run.
- After nailing his massive entry drop, Rheeder aced a flip can on a burly 48ft drop to tail whip only seconds later. The Canadian then kept the tricks coming, combining complex tricks and steep technical riding to earn a score of 90.66 and secure a second Rampage title.
- Rheeder, 29, said: "I was pretty unsure what was going to happen this year. I had a lot of changes I went through as a person, and I didn't know if I'd ever get back to this level of riding. So, I didn't come out to win, to be honest. I just wanted to make sure whatever I did was for me."

- Rheeder was not the only rider to deliver a complex run, with Szymon Godziek inking together a daring run with no shortage of awe-inspiring moves.
- The Polish freerider opted to ride Kelly McGarry's infamous canyon gap, throwing in several manuals and some huge tricks – including a flat drop 360 and a backflip over a 75ft gap – to wow the judges.
- Pumping the air in celebration at the end of his ride, Godziek was awarded a score of 86.33, enough to secure second place and his first-ever podium finish at Rampage.
- Godziek, 30, said: "I wasn't sure if I should do the 360 in the first run or the second run. It was a last-call decision, and it was super scary. It was by far the scariest thing of my life. It worked out but it was super heavy."
- Rounding off the podium was four-time champion Brandon Semenuk, with the Canadian flying down the start chute before he aired his signature tail whip on the flat drop.
- He finished his run with a 360 flat spin knack to secure a final score of 84 that earned him third place, while the caveman air at the start of his run saw him walk away with the Best Trick award.

- Semenuk, 31, said: "The line shouted out at me. I wasn't the only athlete who looked at it, but I decided to keep going because I thought it could work. It was such a cool feature and hard to pass up on because it was a unique opportunity with how they built the start platform, and you might not have that opportunity again. So despite being gnarly, it was worth the risk in my mind."

- Semenuk was among the many riders who wanted to drop in for a second run, eager to improve his score. However, the wind had other plans as it refused to let up, meaning there was no window to ride and the podium places were cemented.
- Beyond the top three riders there were plenty of moments that wowed the crowd. Jaxson Riddle once again claimed the Michelin Style Award for his run chock full of moto-inspired tricks, while freeride legend Cam Zink won the BFGoodrich Toughness Award for his perseverance and grit.
- Tom Van Steenbergen rightfully earned the McGazza Spirit Award after his incredible return from a life-changing crash, with the Kia Digger Award going to Brett Rheeder's team of Phil McLean and Austin Davignon.