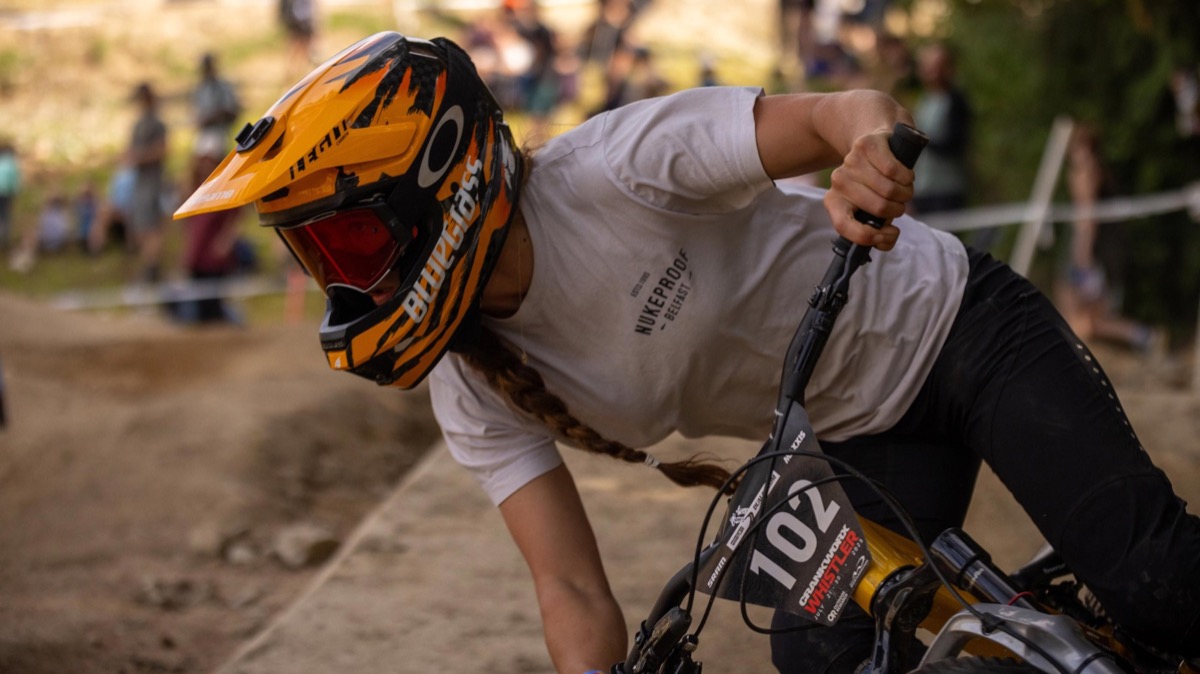 Competitions
Burbidge-Smith & Frew take Crankworx Dual Slalom titles.
---
The Crankworx Whistler Dual Slalom event reached a fever pitch yesterday as spectators were treated to an intense back-and-forth battle on the track.
Ultimately, it was Harriet Burbidge-Smith who stood atop the podium in the Elite Women's category, while Jackson Frew claimed victory for the Elite Men. Additionally, Tuhoto-Ariki Pene once again displayed his mastery and versatility in the saddle, building off his thrilling win in yesterday's pump track event. The red-hot kiwi secured a third-place finish, earning him enough points to clinch the overall title and proudly claim his first ever King of Crankworx Crown.
Harriet Burbidge-Smith's incredible performance in the Elite Women's category showcased her relentless drive and exceptional skills. The Aussie affectionally known as Haz, couldn't hold back her excitement as she reflected on her dominant season in dual slalom. "Winning three out of the four slalom races is insane. It was not what I expected coming into the year. But, I have just been feeling really good at all the slaloms and just felt like I could build on my momentum all day and get faster." 'Haz' expressed her elation at achieving her first career podium finish in Whistler, stating, "I think it's always been a dream of mine to win a medal, any medal in Whistler. It brings me back to like 2018 when I came to my first Crankworx fresh out of BMX and was like 'what is this world?'. I saw people on the podium and thought 'that is what I want, that is the dream to medal here'. It was the only place I hadn't got a medal, so I'm pretty stoked."
Jackson Frew's victory also marked a significant milestone in his career. Much like his fellow Aussie 'Haz', Frew also captured his first ever win at Crankworx Whistler. Nearly at a loss for words, Frew was taken aback by the moment, "It hasn't quite sunk in yet, the first time to win a pro event in the Boneyard like this is pretty sick," "It's (Dual Slalom) become a bit of a specialty, I think. So, to turn up here, I was pretty confident, and then to put it down and get through the day with solid runs was incredible, I'm stoked."
Louise Ferguson, who took second place in the Elite Women's category, expressed her pride and gratitude in the moment as she shared the excitement with her close friends, stating, "I'm really proud, proud of me, proud of Haz, proud of Tuhoto. It's been such a sick year, everyone's done so well, and it's the best place to finish it up with all our friends, and yeah, it's been really good. I didn't expect that."
Reflecting on the intense competition and her evolution of skill over year's past, Ferguson added, "You know, me and Haz battled last year at dual slalom, and it was super tight in the end. It came down to the flat corners in the end. It's all come full circle, and I feel like we've all learned so much and gotten so much faster. It was just a really nice way to round out the year."
As the electricity of Crankworx Whistler continues, today's Outdoor Research Speed & Style event promises another heart-pounding spectacle, featuring the world's top mountain biking athletes throwing down on the final head-to-head battle of the festival.
To watch the full replay from all of today's exciting downhill action, visit Red Bull TV for the official event replay.
Crankworx Whistler Dual Slalom Podium:
Jackson FREW (AUS) / Harriet BURBIDGE-SMITH(AUS)Ryan GILCHRIST(AUS) / Louise FERGUSON (GBR)Tuhoto-Ariki PENE(NZL) / Martha GILL (GBR)
Click HERE for full results.
Click HERE for Photo Gallery.
Click HERE for video recap.