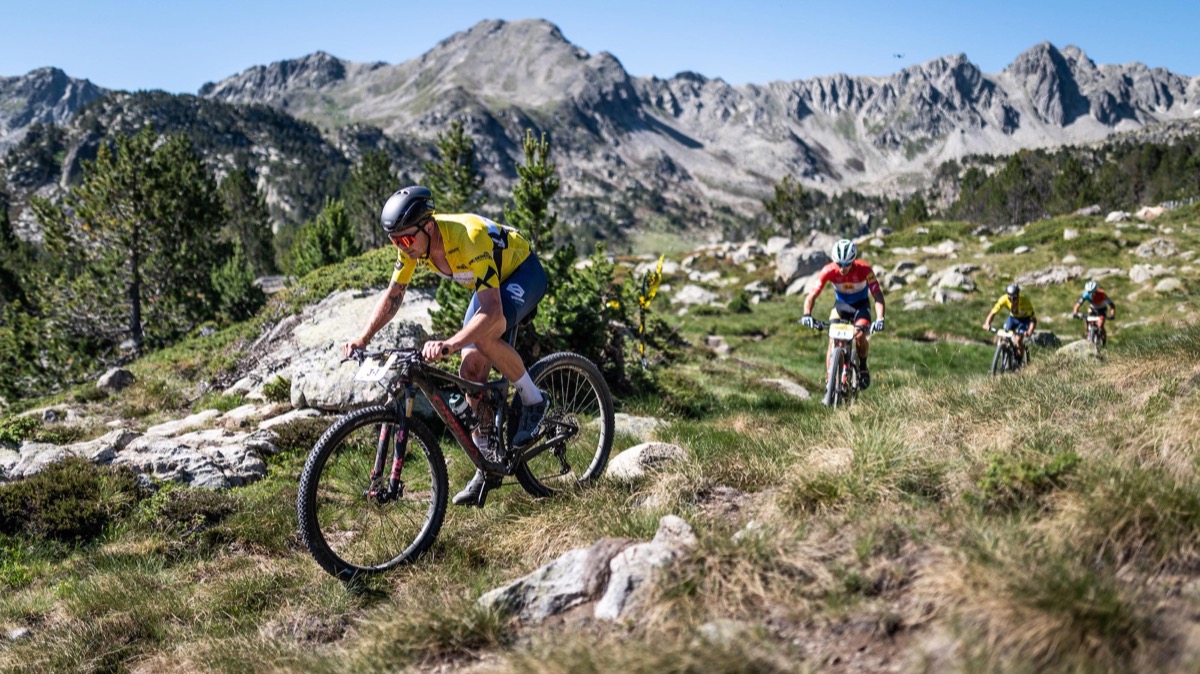 Competitions
BUFF MEGAMO Reign Supreme on Andorran Queen Stage
---
BUFF MEGAMO's elite men's and women's teams doubled up once more at the 2022 Andorra MTB Classic-Pyrenees, on Friday's Queen Stage.
Stage 2 saw Hans Becking and Hugo Drechou wrestle the yellow jerseys off Speed Company Racing, while Naima Madlen and Txell Figueras continued their dominance of the women's race.
Stage 2 of the 2022 Andorra Classic-Pyrenees started in Canillo and raced back to La Massana; on Friday, 1 July. The 60 kilometre course was expected to break up the field and potentially prove decisive in the determining the final victors. That may yet prove to be the case as BUFF MEGAMO's Hans Becking and Hugo Drechou raced to their second successive stage win, in so doing claiming the general classification lead. While in the women's race Naima Madlen and Txell Figueras added a further 46 minutes and 35 seconds to their commanding overall lead.
Having started the day with a 25 second buffer, to Becking and Drechou, the Speed Company Racing team went on the attack early in the stage. Despite Georg Egger and Lukas Baum's best efforts they could never fully distance BUFF MEGAMO. Becking and Drechou fought their way back to parity with the men in yellow summiting the final climb, Coll d'Ordino, together. On the Beixalis Enduro trail, down to the finish at La Massana, Speed Company Racing had established a slight lead but a mechanical put pay to their chances of stage victory.
Their misfortune was BUFF MEGAMO's gain. Becking and Drechou's stage victory sees them move into the overall lead, with only Saturday's Stage 3 remaining. "It was an amazing day! It's exactly how I like to race," Becking said, looking resplendent in the yellow Ciovita jersey. "We had a problem in the beginning, we chased, caught them. They attacked. We attacked. Then in the final they had a problem and we were a bit lucky. But that's racing. We went incredibly fast and were on the limit all day. It was cat and mouse all day. And maybe, because I'm old and went a bit slower on the downhill we were able to stay safe and claim the leader jerseys."
Following Stage 2, BUFF MEGAMO lead Speed Company Racing by 1 minute and 13 seconds, which is anything but a safe buffer. After a strong showing on the longest stage of the race, Team BULLS moved up into third on the men's general classification. Simon Schneller and Alban Lakata are 9 minutes and 1 second down.
In the women's race, the BUFF MEGAMO team are on course to claim a clean sweep of stage honours. Madlen and Figueras stormed away from their rivals early in the Queen Stage and extended their lead throughout the day, eventually crossing the line in a time of 4 hours, 9 minutes and 37 seconds. "This was the best route I've ever ridden," Figueras praised, on the finish line. "I didn't want it to end! But at least we have one more day to enjoy tomorrow."
Madlen and Figueras were joined on the stage podium by second and third placed teams in the overall standings, Guambras Ecuador and ANDBANK MTB. With just one day left, Karina Neumann and Margarita Endara are in second place, 6 minutes and 51 seconds ahead of Marta Ballus and Carla Boj Guerra, in third.
Stage 3, the final stage of the 2022 Andorra MTB Classic-Pyrenees, takes the teams 49 kilometres from the picturesque Naturland nature reserve back to La Massana. The course is punctuated by singletrack descents but still requires climbing to 2 203 metres above sea level and gaining 1 300 metres in accumulated elevation. A 14 kilometre uphill drag provides the final challenge of the race, which could exacerbate any fatigue riders may be feeling. Conserving energy for that decisive portion of the race could be the difference between first and second, or perhaps even holding onto a podium place.
Stay tuned to the Andorra MTB Classic-Pyrenees' social media handles to see if Speed Company Racing can repeat their Absa Cape Epic heroics, or if BUFF MEGAMO will hold on to win the title. Like Andorra MTB Classic on Facebook, and follow @andorramtbclassic on Instagram to stay updated.
Selected Results: Andorra MTB Classic-Pyrenees
Elite Men | Stage 2
BUFF MEGAMO: Hans Becking and Hugo Drechou (2:51:39)
Speed Company Racing: Georg Egger and Lukas Baum (2:5317 | +1:38)
Team BULLS: Simon Schneller and Alban Lakata (2:56:03 | +4:24)
Cannondale TB: Roberto Bou Martin and Pablo Guerrero Bonilla (2:57:01 | +5:22)
ESMTB.com: Ismael Ventura and Ismael Esteban Agüero (2:04:54 | +3:52)
Elite Women | Stage 2
BUFF MEGAMO Women: Naima Madlen and Txell Figueras (4:09:37)
Guambras Ecuador: Karina Neumann and Margarita Endara (4:58:35 | +46:35)
ANDBANK MTB: Marta Ballus and Carla Boj Guerra (5:00:52 | +48:52)
Titan Girl: María Sierra Sanchon and Desirée Moya Navarrete (5:34:00 | +1:22:00)
he Blue Butchers1: Annemieke Stas and Renate Weber (6:27:10 | +2:15:10)
Elite Men | General Classification after Stage 2
BUFF MEGAMO: Hans Becking and Hugo Drechou (5:29:37)
Speed Company Racing: Georg Egger and Lukas Baum (5:30:50 | +1:13)
Team BULLS: Simon Schneller and Alban Lakata (5:38:38 | +9:01)
Cannondale TB: Roberto Bou Martin and Pablo Guerrero Bonilla (5:40:16 | +10:39)
SCOTT CALA BANDIDA: Sergio Mantecon and Jose Maria Sanchez (5:43:41 | +14:04)
Elite Women | General Classification after Stage 2
BUFF MEGAMO Women: Naima Madlen and Txell Figueras (7:58:57)
Guambras Ecuador: Karina Neumann and Margarita Endara (9:24:24 | +1:25:27)
ANDBANK MTB: Marta Ballus and Carla Boj Guerra (9:31:15 | +1:32:18)
Titan Girl: María Sierra Sanchon and Desirée Moya Navarrete (10:06:01 | +2:07:04)
The Blue Butchers1: Annemieke Stas and Renate Weber (11:40:27 | +3:41:30)