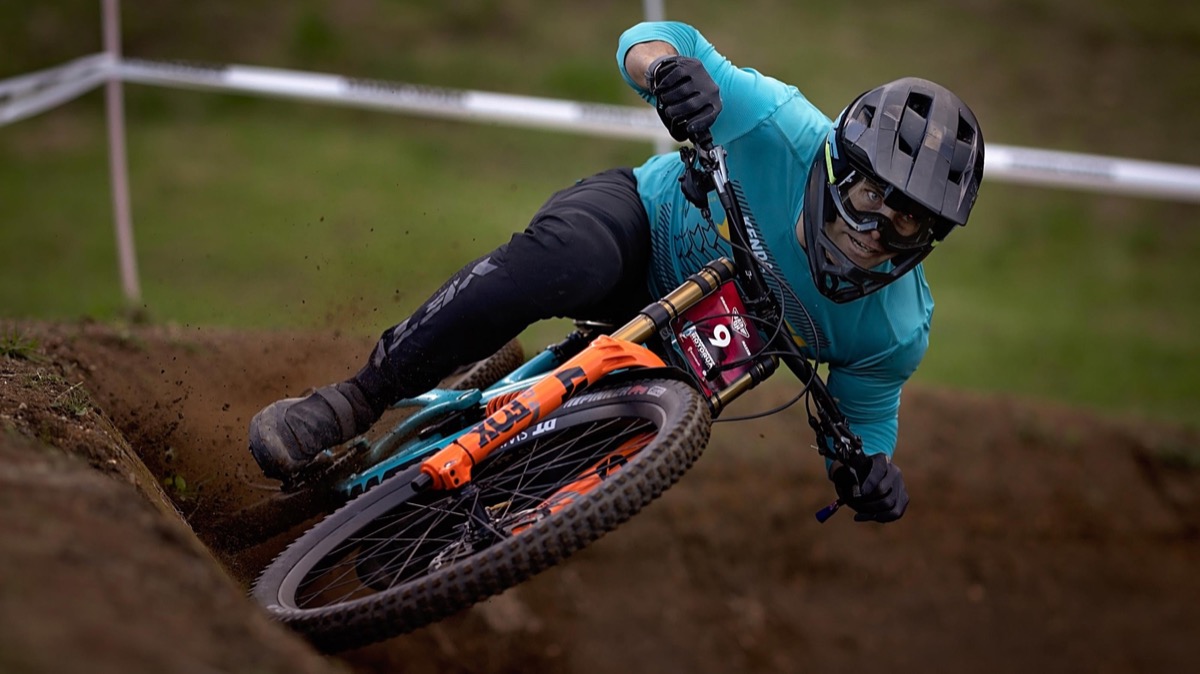 Competitions
BUCHANAN & HANNAH PROVE SMOOTHEST ON THE CRANKWORX ROTORUA AIR DOWNHILL TRACK
---
It's the midpoint of Crankworx Rotorua and the world's fastest and smoothest riders could be found ripping down Skyline's iconic Mr. Black track for the return of the Crankworx Rotorua Air Downhill.
This is one of those races where the track is seemingly simple to ride which makes it harder to race. There's no margin for error on Mr. Black, and putting a podium run together, all comes down to the rider's ability to squash jumps, ride the corners fast, and put down as much power as possible. It's a two minute sprint where even a little more power than one's competitors, goes a long way.

The reigning Queen of Crankworx, Caroline Buchanan came out on top with her ability to keep pushing and keep it smooth no matter how gassed she got further down the track.

"Everything just came together, and I took my first win - pretty hyped," the Queen beamed. "Normally I am like mid 10s to 12th positions on Air DH, but since pre-Cairns last year, I started going to sprint classes with friends and started getting fitter. I think that's really paid off that I had the ability to sprint, in addition to a really good bike setup."

A little under 2 seconds behind Buchanan was Louise Ferguson, no stranger to a Crankworx podium.

"I feel pretty gassed and happy because I wasn't expecting a podium," the Scottish downhiller said of her race run. "I think I was looking down most of the way because I was just trying to pedal in between all of the jumps. You think it's going to be real mellow because of the track because anyone can ride them, but when you are actually racing it, it's very high paced."

Rotorua local, Jenna Hastings earned the third place position for Elite Women and also the top spot in the Queen of Crankworx standings.

Putting down the watts and earning the fastest Elite Men time was none other than Mick Hannah with a time of 2:10.523.

"My run and Air DH finals was awesome," Sik Mik said in his smooth as way. "The conditions were quite wet earlier in the week, so the course felt a little bit more sticky than it usually does. I had to maintain my forward momentum and keep grinding away."

The King of Crankworx, Bas van Steenbergen, also made an appearance on the Air DH podium, earning the second fastest time of 2:13.834. Kiwi rider, Sam Blenkinsop followed very closely behind van Steenbergen with less than a tenth of a second between them, taking home the bronze medal for Elite Men.

"I'm pretty happy with today," van Steenbergen said of his first podium of the Crankworx World Tour. " I wasn't feeling amazing coming into the race run so to get a second place made me very happy. There is obviously some really strong competition being between Mick and Sam – those guys are both pedalling machines and they're super fast at this kind of stuff."

Mick Hannah is now in the lead for King of Crankworx standings. Here's what Hannah had to say about being in the current lead:
"It's awesome to be in the running for King. I love Crankworx and hopefully I can keep it rolling for the rest of the season."

Results – Crankworx Rotorua Air Downhill

Mick Hannah (AUS) - 2:10.523 // Caroline Buchanan (AUS) - 2:27.339
Bas van Steenbergen (CAN) - 2:13.834 // Louise Ferguson (GBR) 2:29.074
Sam Blenkinsop (NZL) - 2:13.924 // Jenna Hastings (NZL) - 2:30.433

Full results: crankworx.com/results/

Getting into the final few days of Crankworx Rotorua, and from this point onward, we resume the live broadcast pro final events on Red Bull TV. Crankworx Rotorua Pump Track Presented by Torpedo7 is on first under the Friday night lights.