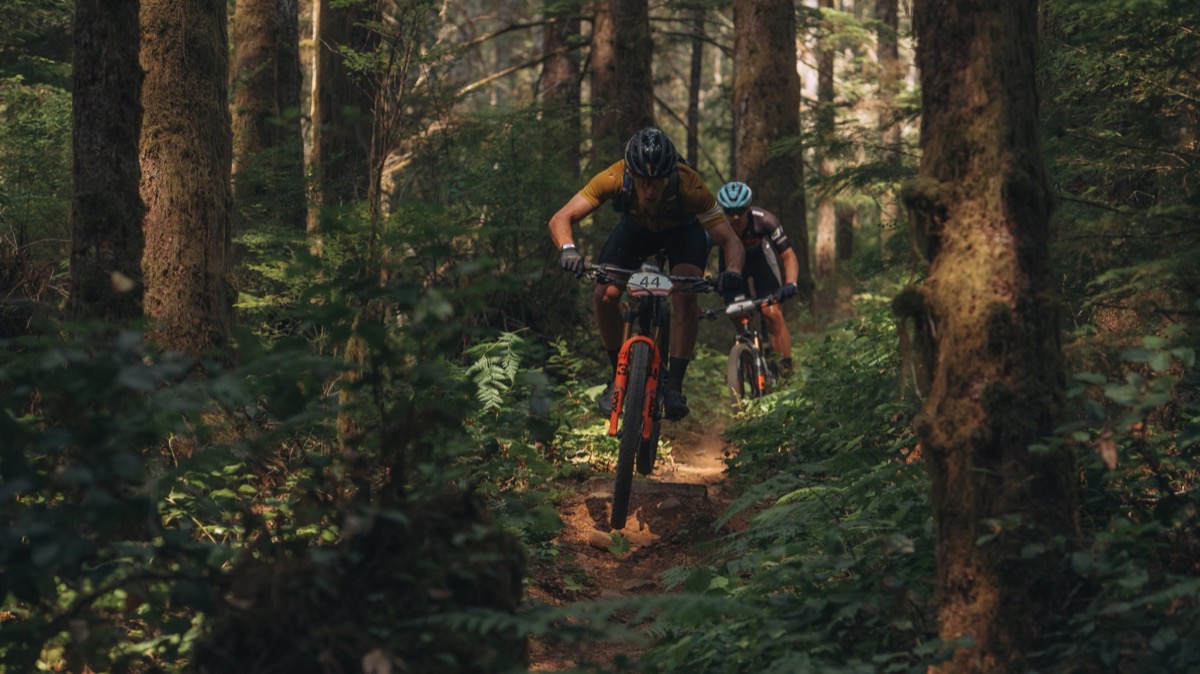 Competitions
BC Bike Race Day 6: Cumberland serves up BC Bike Race's Queen Stage 

---
Campbell River Lights up the Green Room/strong>
<
While "The Ultimate Singletrack Experience" is never easy, this week has been hard. On Saturday, racers had a bit of reprieve with easy speed and cooler temperatures in Campbell River.
While there was a lot of pedaling, each watt expended on the rolling Stage 6 course was rewarded with acceleration and, even without the tech and gnar, adrenaline. There's nothing quite like flying down a ribbon of trail through lush, green forests to get the blood pumping and to lift the spirits. An absolute ripping finishing sequence down Dean Martin, Stickman, Alligator Rock and Ridge Trail had riders thrilled as they crossed the penultimate finish line of the 2023 BCBR.
Women's Race - Eva Poidevin Takes the Win, One Kilometer at a Time
One racer that had a little more reason to smile was 23-year-old Eva Poidevin. The Albertan was the first to finally break Katerina Nash's winning streak at this year's BC Bike Race with a late attack on the final return to the finish line.
"My day was really good. It was a fast start, I just tried to stay at the front near Katerina because I know she knew what she was doing. I think it paid off, it was really hard to pass in there."
What was the secret to finally taking the win?
"Honestly, I was just trying to take it one kilometer at a time. Just get to the next kilometer and hold her wheel, and then get to the next kilometer and I was able to keep doing that. When it opened up I thought, it's now or never, I may as well try!" With one day of racing left, the Canadian was happy to share, with a laugh, how she'll approach the final day: "One kilometer at a time!"
For the young racer, it's not just another win or another race. Going up against Nash, Evelyn Dong, and Sandra Walter was already an experience, never mind grabbing a win.
"It's really exciting. I have definitely looked up to every single one of those riders for a really long time and followed their racing. So to be here and racing with them is super cool. And they're so amazing, they're so helpful. It's great."
Evidence, if you need it: Nash was the first to roll up to Poidevin and congratulate her after the line.
While Poidevin was tracking Nash, Dong trailed off in the early kilometers before rejoining the leaders in the dying kilometres of Stage 6.
"At the start, I was really not feeling the vibes of doing the road race thing. It just gets me in a bad headspace so I backed off a little bit. But I got in the flow a little bit more and more," the Utah racer said. Sweet miles of singletrack has a way of turning anyone's day around and Dong soon found her way back to Poidevin and Nash's wheels.
"I wasn't really thinking of chasing them down, just focusing on riding smooth. I think today was a good day to be riding on your own. Having 'line of sight' on corners meant you could be more efficient instead of braking and sprinting. I saw them in the last three miles or so, and I was just happy to be there and ride in with them."
Men's Race: Chipping Away until Cracks Show
Light was firing, as was the competition. With Andrew L'Esperance and Peter Disera drawing close to Craig Oliver in the overall standings and time running out in this year's BCBR, the two Canadians were out for blood. The Kiwi has rarely put a foot wrong this week, but knows he was racing with a target on his back. Fireworks started on the rolling forest service road leading to the first section of trail.
"Yeah, They're just chipping away at me. They seemed like they were almost on the same page today. One would go up the road, one wouldn't chase. The other would go up the road, and the first wouldn't chase, just trying to work me over. Fair enough, that's stage racing."
"Just treat it as another day, mate. When I was coming over here I was going to be pretty stoked to win a stage, which I've managed to do. I was hoping to get in top 5, as a realistic goal for my first 7-day stage race, and I've achieved both of those, so everything else is just a bonus. But I'm a competitor, I always want to win. So it's all or nothing tomorrow. Unless a massive disaster happens, I'll hopefully get on the podium in the top-3. So full gas and treat it like a cross country race tomorrow. Nothing to lose, everything to gain.
First 7-day stage race, how's it going?
"It's all just learning, I'm stoked to mix it up with a couple of guys that are pro. I'm having a great holiday! Cheers"
An Enduro Racer Finds his XC Legs
Remi Gauvin is another top rider in his first stage race. While Saturday's course profile might not seem friendly to the Rocky Mountain Race Face enduro racer, Remi "the Semi" was at full steam in Campbell River.
"I actually enjoyed it. It felt … I don't want to say the most XC because I don't really know what "proper" XC is, but you were pretty much on the pedals the entire time. Because there were no really long, steep climbs, it felt like I had the best legs of any day, actually."
Skills are skills, of course, and Gauvin had no trouble applying his extensive skills to the flatter course.
"Because the average speed is so high, with all the little twists and turns and chicanes, you really had to not touch the brakes. I feel like I'm good at picking a line, not touching the brakes and wiggling through. But just having the legs today felt nice."
While the technique lasts, even Gauvin is feeling the accumulated effort of six days of racing.
"Oh man, I'm so broken. The energy levels are getting low. it's harder and harder to do anything but chill."
Campbell River Recovery and One Final Showdown
There were many tired bodies happier to have an easier day Saturday, but it was really the Campbell River's trails that won racers over.
"Today was amazing! I just finished and I want to do it again. That last loop, with the view and the lake, the singletrack was so fast and smooth. It's much better for me," said Andre Luiz Colombini Lima of Brazil with some added wooshing sound effects to describe the wooshing trails. "It's a day to remember for the rest of our lives. Next year we're going to bring a big group of people!"
Word of mouth from past racers is a common way racers end up at BCBR. Emma Briggs is at her second edition on the recommendation of a friend she and her husband met in Croatia. Originally from the U.K., but living in California for over a decade, Briggs is racing with her husband after riding her first year solo. She also counts Saturday as a highlight.
"Probably the best day I've had all week, super fun! Lots of fast pedaly stuff, still lots of single track in the trees. It was beautiful. Still technical but nothing too crazy. Not as many roots as yesterday."
Like many, Briggs is enjoying rallying through the week's challenges. How is she feeling with one day remaining?
"Pretty good, yeah! The legs are holding up. I had a big crash two days ago, but I'm pretty happy, and I'm bouncing back."
One rider that knows a thing or two about making it through BC Bike Race is Mike Sarnecki. The Calgarian is a long-time Rocky Mountain rider and BCBR's Zwift coordinator and was loving today's 44.9km ride in the real world.
"You could really have fun, no matter which end of the race you were at. It was just long enough, I don't want any more of that."
Sarnecki is riding in his fifth BC Bike Race and, no matter how many times you come back, it's always a bit of an adjustment. His advice, other than "go back for seconds at dinner" is to just let it ride.
"The stuff I ride at home isn't quite as chunky, but it's nice that the Rocky Mountain Element I ride, kinda smooths stuff out. You've just gotta remember to ride fast. If you go slow, it gets worse right?"
That applies no matter what bike you're riding. Jason Colestock and Nic Hertzler are up from Missoula, Montana and enjoying the week despite not really being on XC bikes and the temperatures.
"It's tough, but it's fun as hell. I wish I could turn down the thermostat," says Jason, quickly seconded by Nic, who adds "I just wish I had an XC bike, but I'm having a really fun time.
Nic is riding what he describes as a "cobbled together Alititude/Instinct combo." Overgunned for Saturday's racing, maybe, but not the wrong choice for the rest of the week at all. After successive punishing days in the saddle, the pair has their sights set on the finish line.
"I'm excited for the short day for the last day. Just the feeling of it being the last day will push me through. I'm looking forward to that."
Saturday's change of pace has racers stoked and feeling refreshed going into the final day of this week. At 31.3km, all on the clock, the return to Cumberland will be shorter than some days this week but, for those battling for podiums or deep in the cumulative hurt locker, this won't be an easy victory lap.
The day starts with a return to Sobo no Michi and a ride down local-favorite Vanilla to ease into the day. It's still "The Ultimate Singletrack Experience" though, and the final send-off is a hefty serving of B.C. gnar. Blockhead, Bear Buns, Scat/Brat and, finally, Bonestorm, that will carry riders down to the final finish line.
2023 BC Bike Race - Day 6 Results
Open Men's Results
Peter Disera - 1:53:12
Andrew L'Esperance - 1:53:25 (+0.13)
Craig Oliver - 1:57:20 (+4.08)
Open Women's Results
Eva Poidevin - 2:18:58
Katerina Nash        - 2:19:32 (+0.34)
Evelyn Dong - 2:19:34 (+0.36)
Full Results BCBR