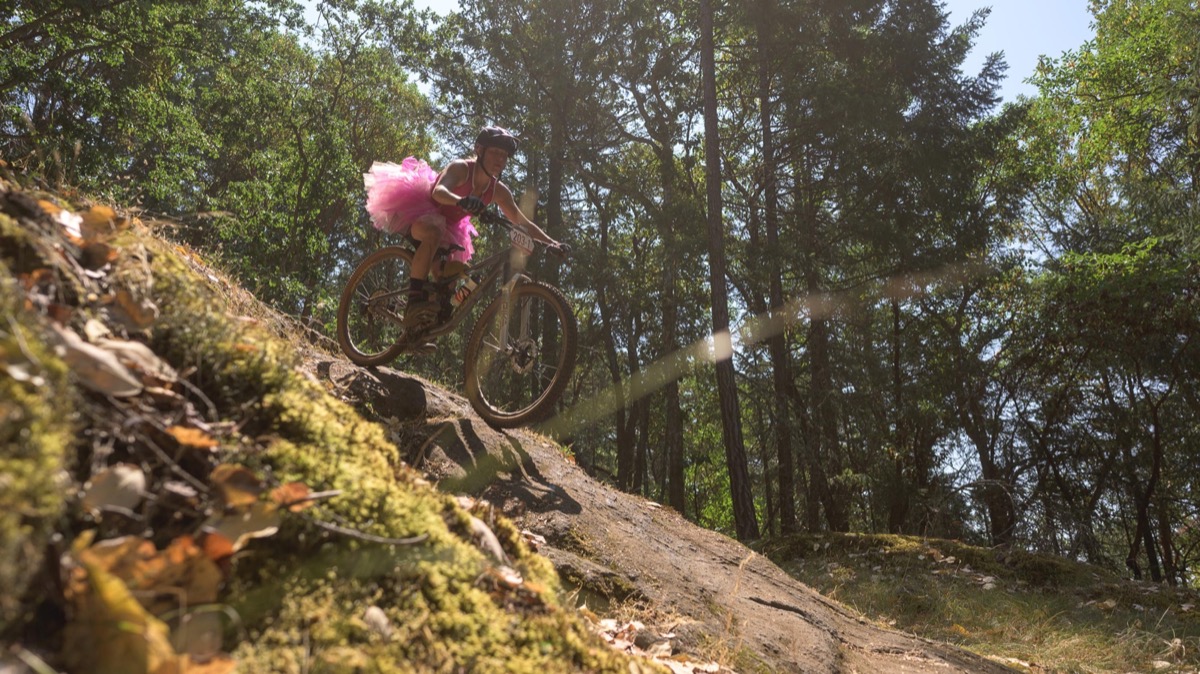 Competitions
BC Bike Race Day 3. Making moves on Maple Mountain
---
Stage racing is all about accumulated miles and fatigue. On Wednesday, the miles started to add up for some riders more than others. From the front of the field to the back, Day 3's full serving of Maple Syrup shook up the standings.
Maple Syrup remakes men's race
On the men's side, it was again Craig Oliver duking it out with a Disera brother. But, after two days of Quinton pushing the pace, today it was Peter Disera going punch-for-punch with the Kiwi.
"Yeah, man, one of them tries to kill me one day, the next one tries to kill me the other," Oliver said of his Disera duel with a laugh. On course, it was all business. While just 25.2km, the day's effort added up. "It was super hot. All the climbing was rough. You just had to grind, which really loaded up your legs."
The race was close. Oliver only gained four seconds of separation from the elder Disera, the biggest winning margin this week. The overall looks different, though. With Quinton dropping to eighth on Wednesday, Oliver now has a 3:27 advantage. Peter Disera leapfrogs Andrew L'Esperance to take over second place from his brother. L'Esperance is in third, 4:48 back, with Carter Nieuwesteeg, Geoff Kabush and Ryan Standish next in line. Oliver isn't taking anything for granted yet, of course.
"At the moment I'm just taking it day by day. Now, I'm in a pretty sweet position but I mean, it's my first 7-day stage race, so I'll just see how the body shapes up."
Like many that have traveled from afar, Oliver and his partner are making BCBR the centerpiece of an extended visit to Canada.
"We came over 10 days before and did the BC Cup in Whistler, just because we've been in hibernation in New Zealand and I wanted to head out and wake the body up."
"It's pretty sweet. It's cool to have the guys that are a bit more serious mixing with the guys that are just out to get around," Oliver said of his BCBR experience so far. "And the ones that are just out to get around, they're just so pumped when they get back. That's super amazing to see because I think when people get really fatigued you start to see them drop their heads a little bit. But I've seen no one like that so far, it's been good!"
Battle brewing in the open women's race
In the women's race, the top three were locked together as they climbed Xylem toward the Maple Mountain summit. Katerina Nash eventually shook Eva Poidevin and, eventually, Evelyn Dong. But the past BCBR champion only put 47 seconds into Dong by the day's finish line.

"Eva took it out real hard today, that was more like an XC start. But I thought, Katerina's just going to ride up to us because she's smart and didn't go out super hard. Sure enough, she rolled up," Dong said of her race. "Eva started flagging a little after the first descent, so it was just me and Katerina. She knows the trails here real well, so I was just trying to follow her. It's cool just seeing what she does on a bike."

The Park City, Utah racer is at her first BC Bike Race and, despite the intense competition, is enjoying the courses.

"I think we're having a pretty good time. Every bit of trail's been something that I would ride for fun, it's amazing"

Poidevin dropped into Maple Syrup a little behind the lead duo but was making passes through the men's field on her way down from the summit. The young Canadian rolled across the finish line in Crofton 2:53 behind Nash. But, as the men's race proved today, there is still a lot of racing to come and, in stage racing, anything can happen.
How sweet is the Maple Syrup?
While some suffered in the heat and gnar, others were enjoying the sweet taste of Maple Syrup.
Zoe Dawson and Sara Archer (Ride Hubba-Hubba) of Squamish, B.C. were racing in matching pink tutus on Maple Mountain.

"We wanted to have fun. Everyone seems pretty serious and, in Squamish, it's just something the ladies do when we race." Sara explains, with Zoe adding "It was definitely more fun rocking the tutu. People were nicer to us, too."

Crossing the Salish Sea from past BCBR, Team Ride Hubba-Hubba was thriving on Maple Syrup's most challenging sections.

'Whenever was rock, I was happy," Sara enthused. "Rock rolls, rock slabs, yes."

After a successful debut, will the tutus be back?

"Yeah, I think so. Whenever it feels like it's going to be a suffery day," Sara starts, "The tutus make it less suffery," Zeo finished. "They're very light actually," Sara explained, with Zoe adding "The airflow is amazing!"

The pair's strategy worked out on Wednesday. Whether it was due to Hubba Hubba's skills or style, they finished second in the Open Women's Team of 2 division.

Professional enduro racer Remi "The Semi" Gauvin also thrived on the extended descent off of Maple Mountain's summit.

"It was nice to have some consistently downhill trails. Up until today, they've thrown a climb at you quickly after you start descending. So today I got to get into my rhythm. I'm Just enjoying riding the XC bike on the trails. I'm getting more comfortable on it every day."

Compared to his usual Rocky Mountain Altitude enduro rig, you would think the lightweight Element and XC tires would be a completely different beast. Until, that is, you see Gauvin descend on one.

"I mean, it's the same it's just a bit bouncier and doesn't feel quite as comfortable," Gavin explains. "But the feelings are the same. The skills are the same. I did have a couple of scary moments where I put my front wheel into a hole, but the skills take over and you do what you need to do."

Feeling at home on the more technical course, Gauvin rocketed up the standings almost as fast as he plummeted down Maple Mountain. Having a clear course to get up to his full speed required some tactical racing.

"For me, my strategy is to hold onto the top guys as long as I can. I think I was 13th or 14th going into the first climb but I had to back off and hold my own pace. I pulled a lot of time back on the descent," Gauvin said, adding that his momentum carried into the flats at the bottom of the course. "By the end of the descent, I could see them again. I was feeling pretty fresh and I had some pretty good legs to finish Solar Coaster so I caught three guys on there. It felt really good."

When the course wasn't open, Gauvin says he's settled into a routine to resolve the opposing strengths of the riders around him.

"They're getting out of the way. They know who I am and that I can go a lot faster than them on the descents, so they're very respectful," Gauvin says, adding with a laugh, "I'll get out of their way on the climbs and they can get out of my way on the descents."

Gauvin will be in his element on the Element again on Thursday when BC Bike Race relocates to Nanaimo for the day. A 35.5 km course, with just a 3km neutral return, will squeeze in a vertical gain, and loss, of 1,034 metres. Westwood Lake and the South Benson trails promise long, continuous descending on fast, occasionally rough trails, connected by the occasional punchy, steep climb.

With the shift to Nanaimo trails, BCBR Basecamp is also on the move. The tent community travels north to settle into Cumberland for the remainder of the week.

2023 BC Bike Race: Day 3 results


Open Men's Results

Craig Oliver - 1:25:43
Peter Disera - 1:25:47 (+0.04)
Andrew L'Esperance - 1:27:52 (+2.09)


Open Women's Results

Katerina Nash - 1:44:37
Evelyn Dong - 1:45:24 (+0.47)
Eva Poidevin - 1:47.30 (+2.53)



Full Results BCBR (see cumulative here)