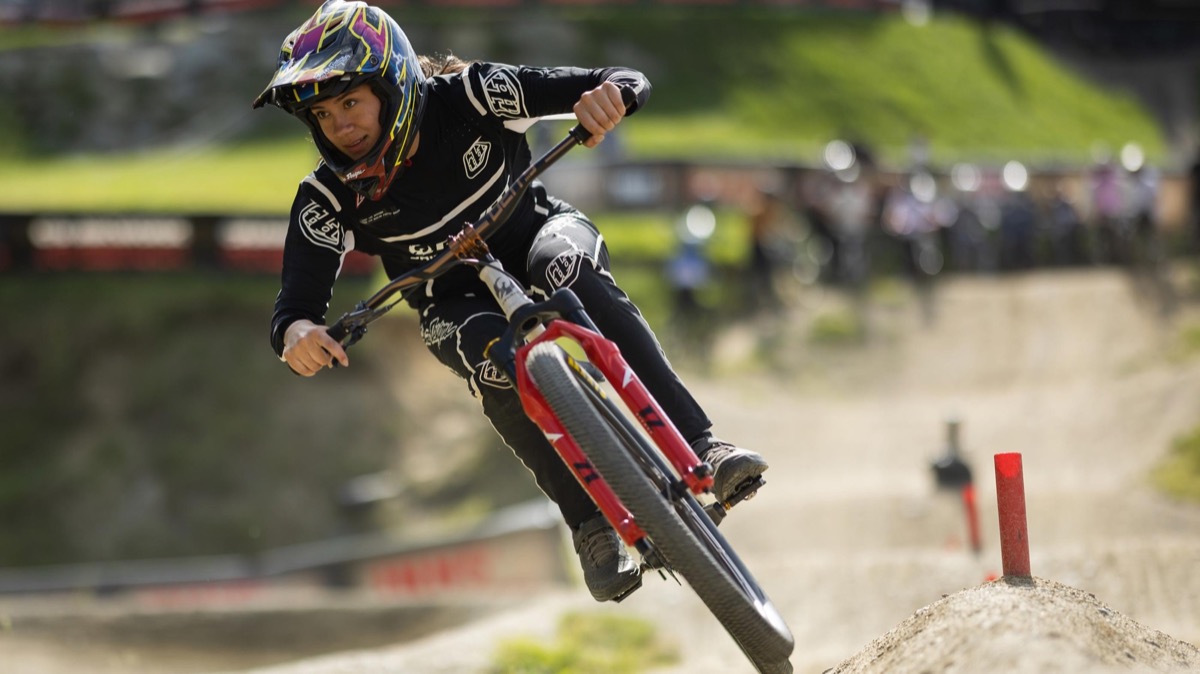 Articles
Bensink & Hines are your pump track Crankworx Innsbruck champs.
---
The second race event of the day made for a proving ground of energy levels and who will come out on top
A double header day is sure to be a crowd pleaser and a rider punisher, and this year did not disappoint. Both gold medal winners of tonight's Rockshox Pump Track Challenge Innsbruck also threw down some respectable results earlier in the day at the rain-soaked and challenging Specialized Dual Slalom presented by Thule. Read the press release here for a full recap. As the saying goes: 'after the rain comes a rainbow', and this year's pump track certainly had some gold at the end of its rainbow. We're talking about the post-rain, sun-baked dirt gold variety that made for some amazing riding conditions for the athletes.
Pro Women's winner Kialani Hines shared how she was feeling after the double race day, "Sometimes I think all of us don't really know how we keep going and keep pushing even when tired. You just have to shut out the tiredness even though it's super loud and just kind of count the laps, like it's nice to think of it like 'there's only 3 more laps' for example. Even though it's a lot, it helps to reassure yourself it's going to be over soon, but in a good way. I think we just push through, it's what you gotta do. Racing in general, you shut a lot out, so when you're tired, you just gotta pretend you're not tired."
Speaking of shutting out the distractions, tonight's pump track crowd was so loud that even the announcer had to ask several times for everyone to quiet down so the riders can hear the start gates.
"I think we're not used to the crowd anymore after COVID! In the end I'm glad the crowd was super wild tonight and that's why we're here. That's what makes pump track fun," said Niels Bensink, who took the win for the men, when asked about the first round of the gold medal matchup against Bas Van Steenbergen where there were some difficulties with the riders not able to hear the start gates drop due to all their cheering fans. Bensink continues, "it was hectic with a lot of stuff happening with the gate and waiting and all that, but happy to be on top at the end of the day. All the stress is gone now!"
Oh Niels, how stressful it must be to have such adoring fans cheering you on. Kidding aside, today's athletes pushed it to the max on the pump track tonight and the results will show how closely fought this battle was for the top 3 medalists.
Results – RockShox Pump Track Challenge Innsbruck
Niels Bensink (NED) // Kialani Hines (USA)
Bas Van Steenbergen (CAN) // Caroline Buchanan (AUS)
Tommy Zula (USA) // Jordy Scott (USA)
Full Results: https://www.crankworx.com/results/
The men's win was hard-fought, even before the broadcast cameras were rolling. Past winners Chaney Guennet and Adrien Loron were noticeably absent from the ladders as finals rolled on, having been knocked out in the round of 16. As the action moved toward the pointy end, it was Bas Van Steenbergen and Bensink who were lined up at the start gates and ready to battle it out for gold, a battle that was a bit of a homecoming for both.
"I was really happy that I could progress my laps every time," said Bensink. "Every lap time was faster except the one where we didn't hear the gate – that was a bit slower, but I think it was a very good pace and I'm happy with that. Even under pressure I could deliver so I'm stoked, and the best part is racing against Bas. We grew up together and trained together so it's fun to line up and know each other's secrets and stuff."
The incredibly close racing was seen on the women's side as well, with some familiar names lining up alongside some up-and-comers. Of note, New Zealand's Jenna Hastings gave one of Crankworx's strongest competitors, Caroline Buchanan, a run for her money. In the end however, Buchanan's experience and dominance prevailed, and she pushed her way to the gold medal matchup against Hines. Their race was a nail-biter, with the American besting the Australian by a mere 0.161 after two rounds. Hines picks up where she left off in December with her win on the Pump Track in Queenstown during the Crankworx Summer Series in New Zealand.
Leading into the weekend and Day 3 of competition, Crankworx riders will be out-racing and out-tricking their opponents in the head-to-head CLIF Speed & Style Innsbruck tomorrow, as well as a good old fashioned, Open Air movie night, the European premiere of "Esperanto" by Teton Gravity and "Tea & Biscuits" by Misspent Summers. Get your popcorn and get stoked!